Jill Duggar Seems to Be the Only Sister to Comment About Jinger Duggar's New Podcast
There's plenty of exciting news for the Duggar family as of late. Not only is Counting On coming back on, but Jinger Duggar and Jeremy Vuolo announced they're adding another little one to the family. Jinger took to Instagram to tell everyone about her pregnancy, and fans are elated for little Felicity Vuolo to become a big sister.
That's not all Jinger's announced, either. She's also creating a podcast with Jeremy, and the two have episodes that are already released. While many of Jinger's siblings are on Instagram and typically take to the comments to offer congratulations, it seems Jill Duggar is the only sister to reach out. Here's what we noticed.
Jill Duggar is notoriously on the outs with her family
Duggar family followers have speculated for years regarding which of Jim Bob and Michelle Duggar's kids would break free. And no one ever expected it to be Jill.
At the end of 2019, Jill Duggar's husband, Derick Dillard, told Instagram followers that he and Jill rarely see the rest of Jill's family — and that's because Jim Bob requires Jill to have permission to come over to the family home. Not only that, but Derick's also talked with YouTuber Without a Crystal Ball regarding where Jill stands. And it seems she's certainly on the outs with her parents and with TLC.
As for Jill, she hasn't spoken out regarding any family feuds. Instead, she seems to leave small hints on her social media that indicate she's living her own life. She's officially wearing whatever she wants, and she even enrolled her oldest son, Israel, into public school.
Jinger Duggar announced she and Jeremy Vuolo are making a podcast
Jinger doesn't live anywhere near Jill or the rest of the Duggars, as she's in Los Angeles with Jeremy. But she's still keeping everyone informed regarding what's going on with her life. And it looks like her latest project involves creating a podcast for her fans.
"It's official official, @jeremy_vuolo and I launched a podcast! I hope this will allow us to connect and share in a more meaningful way, along with sharing hope and encouragement with you all," Jinger wrote on Instagram.
Just a day after the initial post, she then added a photo of her and Jeremy to her Instagram. "Jer and I have been a bit overwhelmed by the positive feedback and support you've given for the new podcast!" she added.
Jill appears to be the only Duggar sister congratulating Jinger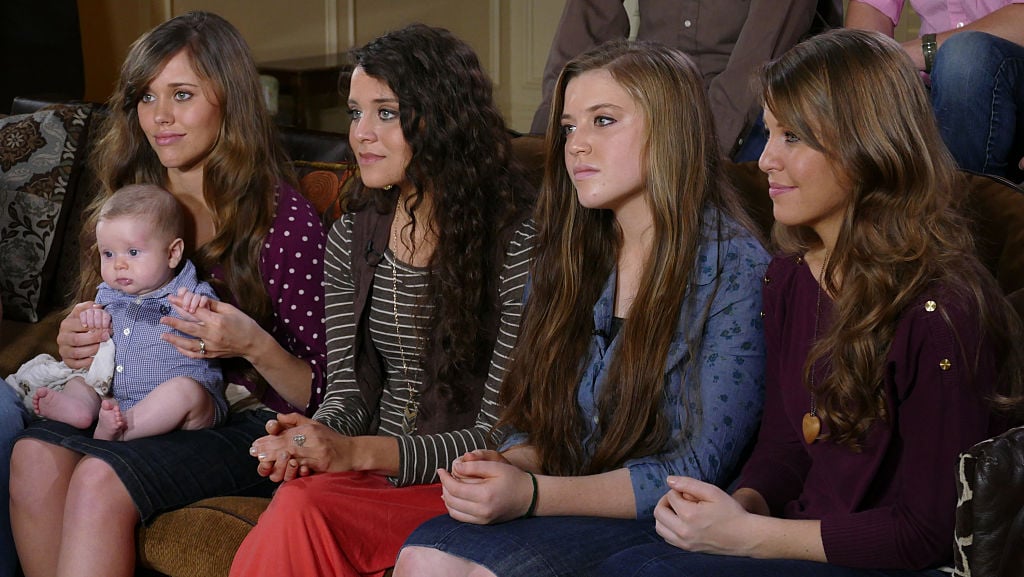 Despite Jill potentially being on the outs with Jim Bob and the TLC crew, it seems her bond with her sisters is still strong. She publicly supports them and their endeavors via Instagram quite often — and they do the same for her. And it looks like Jill is showing her support for Jinger even when the rest of the Duggar women with Instagrams are choosing to remain silent.
"Yay! Congrats sister," Jill commented on Jinger's initial post announcing the podcast.
To that, Jinger commented back some emoji hearts along with, "thank you!!"
Not everyone's been as kind as Jill has been when it comes to Jinger and Jeremy's podcast, though.
"Must be hard work not having jobs and begging for donations all the time. You guys look exhausted," a follower commented.
"I have to admit they are starting to aggravate me too," another wrote, "but I am pretty sure he is a Pasteur in LA … and she gets paid from TLC that millions of people tune into every season just to watch babies being born and weddings."
Aside from Jill, Joe and Kendra Duggar also offered their support. Will Jessa, Jana, Joy-Anna, or the Duggar Family as a whole show their excitement over the podcast? We're not so sure.
Check out Showbiz Cheat Sheet on Facebook!