Jill Duggar's Followers Think She Just Told Everyone She and Derick Dillard Go to Therapy
Reality TV might temporarily halt production due to the coronavirus (COVID-19), but the Duggars are still finding ways to maintain a presence. Jim Bob and Michelle Duggar are famous for having 19 children and raising them in a strict Christian household. But it's Jill Duggar who's getting the attention now.
It seems Jill had a falling out with her family — at least, that's according to her outspoken husband, Derick Dillard. Now, Jill, Derick, and their two kids, Samuel and Israel, no longer take part in holidays, events, and gatherings at the Duggar family home.
That doesn't mean Jill's disappearing, though. She posted about having date night during the coronavirus outbreak — and she mentioned a bit about attending couples therapy. Here's what she said and what her followers think.
Derick Dillard called Jill Duggar an 'abuse victim' on Instagram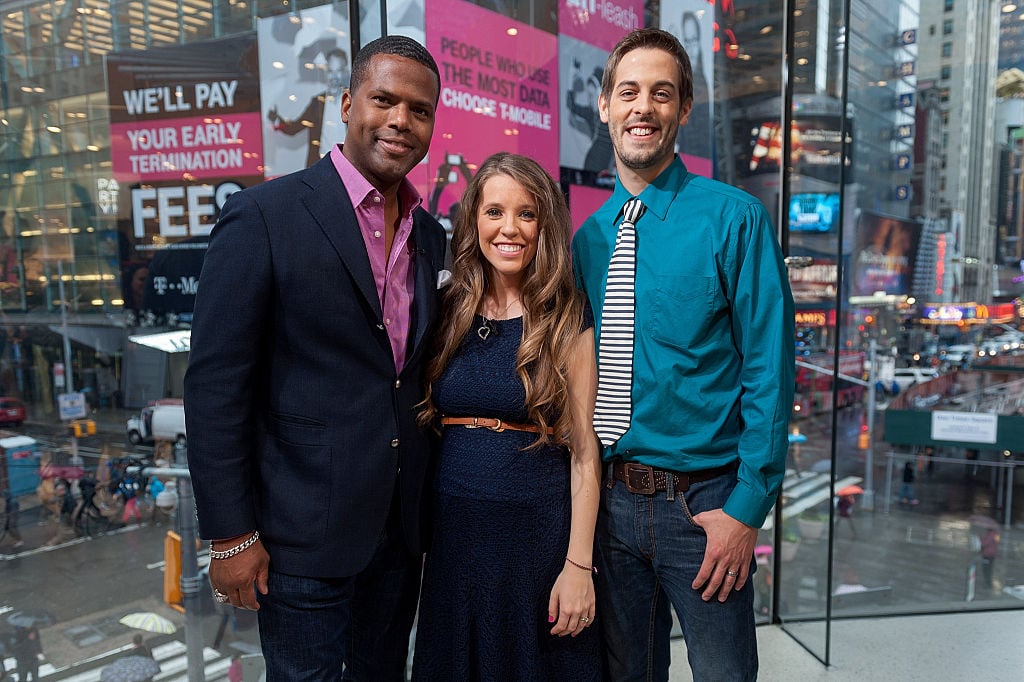 Derick has spoken out against the Duggars in the past. During the 2019 holiday season, one of his Instagram followers asked whether he and Jill would be attending any of the gatherings hosted by Jim Bob and Michelle — and Derick unloaded about Jill's relationship with her family and where they stand with TLC.
Derick mentioned that he and Jill aren't allowed at the Duggar home if Jim Bob isn't present. "Jill even had to ask JB permission to go over to the house to help her sister when she was in labor because her sister wanted her help, but Jill couldn't provide the assistance until we got it cleared with JB," he noted.
Not only that, but Derick even called Jill an abuse victim. We know Jill was involved in the Josh Duggar sex scandal from 2015. And this may be what he was referring to here.
"… It's not going to look good for TLC when it's exposed that they pressured an abuse victim to continue filming when we tried to quit, just so they could continue with Jill & Jessa: Counting On after 19K&C," Derick added.
Jill mentioned couples therapy on a blog post about coronavirus
Jill hasn't said much about her family situation. But she has shared what she's doing for her date nights with Derick now that she's practicing social isolation. On her Dillard Family blog, she shared how she's using this time to get closer to her husband — though she noted it's more difficult than anticipated.
"While we are grateful for the extra bonding time as a little family during this social distancing thing with the coronavirus looming, we have also found it challenging to get uninterrupted quality time for our marriage relationship," Jill wrote. "Combine that with spending more of our time at home and stress levels being higher than normal, we find ourselves having to be more intentional in a lot of ways."
Jill noted intentionality is key here, as it's easy to get lost in the stress of the day-to-day. She suggested trying a marriage questionnaire or personality test with your significant other. And she also noted that "keeping up with couples therapy sessions" was a good idea.
Her followers have thoughts about her therapy comment
Since Jill mentioned couples therapy, we're wondering if this means she and Derick partake.
"In her blog post, she recommends asking your couples therapist to continue your sessions online during the shelter-in-place," one Reddit user noted. "Considering she stresses seeing a licensed therapist every time she mentions therapy, I'm sure this one's legit, but I'm not sure theirs would be THAT kind of couples therapist." The user also commended others utilizing therapy solo or with their partner. "Good job. Healing and growing is some of the hardest work you'll ever do," they added.
"Wow they are seeing a therapist? If there were issues I am glad they are instead of Jill just putting up with everything," another Reddit user wrote.
"Jill recommends therapy in her blog a lot! So does Derick," another wrote. "They haven't said one way or another, but I think they've tried it."
We're not sure if Jill will elaborate on her therapy comment, but we're happy she's making this recommendation, as it can certainly help while practicing social isolation.
Check out Showbiz Cheat Sheet on Facebook!