Jill Duggar's Husband, Derick Dillard, Retweeted a Cryptic Quote About 'Forgiveness'
Jill Duggar's husband, Derick Dillard, exposed the Duggars on Instagram, and he later took to Twitter to tweet a quote about 'forgiveness.'
From scandals with Josh Duggar to rumored rifts among family members, it's hard to keep up with all the drama that's occurred with the Duggars over the years.
When they first ascended to fame over a decade ago, it was Jim Bob and Michelle Duggar who thrust their 19 kids into the spotlight. Now, it's their adult children who are leading the way with Counting On. But there are a few Duggars who aren't featured on the show, like Jill Duggar.
Jill Duggar and her husband, Derick Dillard, are followed via social media since they're not on reality TV. And at the end of 2019, Dillard took to Instagram to tell his followers what's really going on between the Duggars, himself, and Jill. As Dillard shocked everyone with his revelations, he later took to Twitter to post cryptically about "forgiveness." Here's what we posted.
There have been consistent rumors of a rift between Jill Duggar and her other family members
While Counting On viewers are used to seeing Jessa, Jinger, and Jana on the small screen, Jill seldom makes appearances on the show. This is partially because of Dillard's relationship with TLC. Dillard wrote transphobic tweets about TLC co-star Jazz Jennings, which got him and Jill removed from the show, but fans don't believe that's the whole story. Fans have also noticed Jill and her husband don't make time for notable Duggar family events.
Back in August 2019, Joy-Anna Duggar posted a photo of her family members enjoying game night — but Jill and her husband weren't present. Not only that, but Jill posted photos of her Thanksgiving festivities in 2019, and they didn't include any of her family members. From the looks of Instagram, it seems she didn't spend Christmas with her family, either, despite Jim Bob and Michelle hosting a huge celebration at their Arkansas home.
Dillard just claimed Jill has to ask permission before visiting the Duggar family home
Dillard has spoken out against the Duggars in the past, and his Instagram comments at the end of 2019 did not disappoint. On Dec. 27, In Touch Weekly reported that Dillard took to social media to share why he and Jill seemingly don't spend much time with the other Duggars.
When one of his followers asked him if he and Jill ever see Jill's family, Dillard responded, "yes, but it's just harder now because we're not allowed at the house when JB isn't there."
Dillard then added that Jim Bob has to give express permission to Jill before either of them go over to the Duggar family home. "Jill even had to ask JB permission to go over to the house to help her sister when she was in labor because her sister wanted her help, but Jill couldn't provide the assistance until we got it cleared with JB," Dillard added.
Not only that, but Dillard also added that he and Jill were on 19 Kids and Counting and Counting On because they thought they didn't have a choice in the matter. "We were made to believe we didn't have a choice, and that we would be sued if we refused," he wrote.
He just retweeted a quote about 'forgiveness'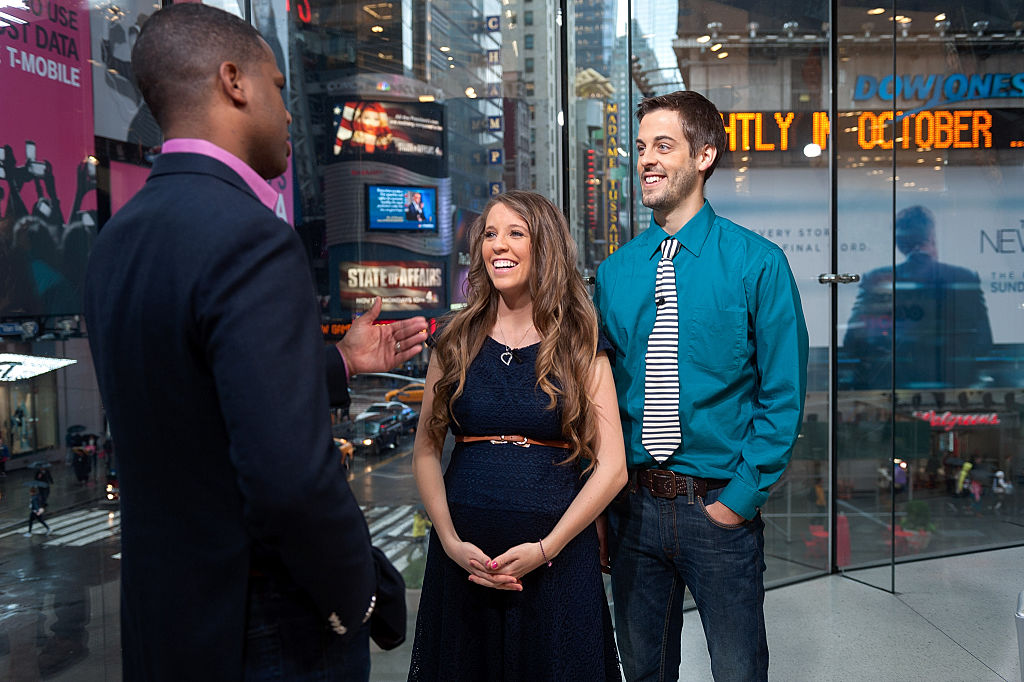 Duggar fans are still reeling over what Dillard shared with his Instagram followers. And while he didn't share these same sentiments to Twitter, he did add his own cryptic tweet on Dec. 27.
"'Forgiveness does not mean excusing.' – C.S. Lewis," Dillard tweeted. And it certainly got the attention of his followers.
"Forgiveness just means that you're not angry any more. I would hope you would never stop being angry about what happened to your wife when she was a defenseless child," one follower tweeted back.
We're not sure what else Dillard will reveal to the public. But if he really does write a tell-all book about the Duggars, we're curious to see what else he's willing to share.
Check out Showbiz Cheat Sheet on Facebook!