Jill Duggar's Husband, Derick Dillard, Showed Off a Bit of His Childhood Stomping Grounds
Those who are familiar with the Duggars certainly know all about Derick Dillard. Jill Duggar and Derick have been married since 2014, and they now have two sons together. While they were once featured on Counting On, Derick's unsavory activity on Twitter got the both of them removed from the show. And now, Derick is divulging even more secrets and revealing a family rift between Jill and her father.
Derick is certainly one of the most outspoken of the family. And now, we're seeing a bit about his childhood stomping grounds in a video Jill put together of him and his kids fishing. Here's what we saw thanks to Jill's glimpse into Derick's past.
Jill Duggar and Derick Dillard recorded their sons fishing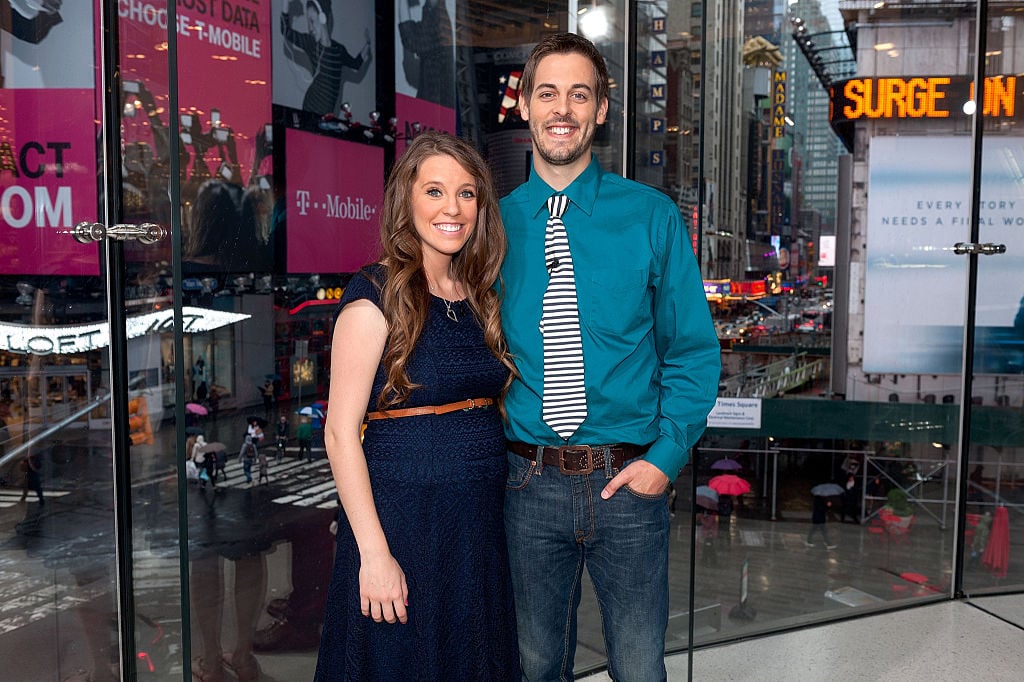 Jill and Derick are taking social distancing seriously, so they're not getting close to friends or family. Instead, they decided to go on an outing of their own — and they brought their sons, Samuel and Israel, fishing for the first time.
We are getting ready to leave our house. Still practicing social distancing. The boys have been begging to go fishing," Jill explained to the camera. "I doubt we'll catch anything today. It's just more for the fun of it to get out of the house but still practice our social distancing."
Israel, the couple's 5-year-old son, was jumping up and down in the kitchen in excitement. And Jill also mentioned that they'll be fishing in a lake near where Derick grew up. "We're gonna stop by Derick's mom's house. He grew up on the lake and stuff, so, we'll not get too close to her, but pick up some stuff from her."
They briefly got to see Derick's mother, Cathy
Social distancing means Jill, Derick, and the kids can't get too close to Derick's mom, but they did stop by her home prior to fishing. Israel and Samuel ate their picnic lunch with at least six feet of distance between themselves and Cathy Dillard. And Cathy sat in a chair and waved to the camera.
We know Jill has a great relationship with Cathy. While the Duggars always have huge celebrations for the holidays, Jill frequently posts photos and videos that show she's actually with her in-laws instead of with the other Duggars. And she's also posted many photos of Cathy with Israel and Samuel to her Instagram to show how much the grandmother enjoys getting involved in her grandkids' lives.
Cathy is no stranger to media attention, too. In Touch Weekly reminds us she had stage 4 Non-Hodgkins Lymphoma, and she's since written a book about her experience. Now, she's allegedly cancer-free and able to get much more involved in her family's life.
The video shows a bit of where he grew up
Not only does the video show off Jill and Derick taking their sons fishing for the day, but it also gives Jill's followers a clearer indication of where Derick grew up as a child. We know Jill and Derick met in Nepal, and he also grew up in Arkansas. But it's not every day that fans get video footage of the area around his childhood home.
"Down to the lake. Where I grew up," Derick tells Jill's camera as they're riding down from his mother's home to the open water. When they finally arrive at the dock after a drive through the woods, there's a wood bridge that the family walks over to gain access to the water. And there doesn't appear to be anyone else around.
After fishing, Israel and Samuel then opted to get their feet wet in the lake water at another location. And it's clear Derick knows the area well, as he appears to know exactly where to go for the perfect fishing spot and splashing around.
"Coronavirus doesn't mean you have to stop having fun," Jill added at the end of the video. We're hoping she and Derick will go on more adventures with their kids — and, of course, we loved getting to see bits and pieces of where Derick grew up.
Check out Showbiz Cheat Sheet on Facebook!