Jill Duggar's Instagram Post About Her Son's Allergies Subtly Proves She Lets Her Kids Watch Modern TV
Jill Duggar made an Instagram post about her son's allergies, but it also subtly shows she's allowing her kids to watch modern TV.
Those who follow the Duggars know the rules Jim Bob and Michelle Duggar enforced upon their household. The famous parents raised 19 kids, and many of their older children are now married with kids of their own. While the Duggars still believe in modesty and religion, there's one Duggar woman who's really going against the grain. And that's Jill.
Jill Duggar's husband, Derick Dillard, has spoken out against the Duggars since the end of 2019. And he made it clear that they're on the outs with Jill's family. Since then, we've seen a huge change in Jill's behavior over time. She recently created an Instagram post about her son's allergies — but she also subtly proved that she's allowing her kids to live a more modern life. Here's why.
The Duggars didn't consume modern media growing up
Not only did Jim Bob and Michelle require their kids to abide by a dress code, but the Duggar kids also didn't watch modern television or listen to music.
Jim Bob talked to The Huffington Post about why he and Michelle decided to ditch the TV altogether. During the couple's first year of marriage, he claimed they "lived on love" rather than entertainment. But after someone gave them a TV, they were "glued to it."
"Communications dropped off, we weren't talking as much and we couldn't believe the content on TV we didn't think was appropriate," Jim Bob added. "This is detrimental to our marriage. We prayed about it and felt we had to pull it out of our house, which we did."
The Duggars did have a TV in the house when their kids were growing up, but the kids were only allowed to watch parent-approved DVDs. "We are very selective about what we watch. We actually don't watch broadcast TV," Jim Bob noted.
Jill Duggar and Derick Dillard don't have a TV in their home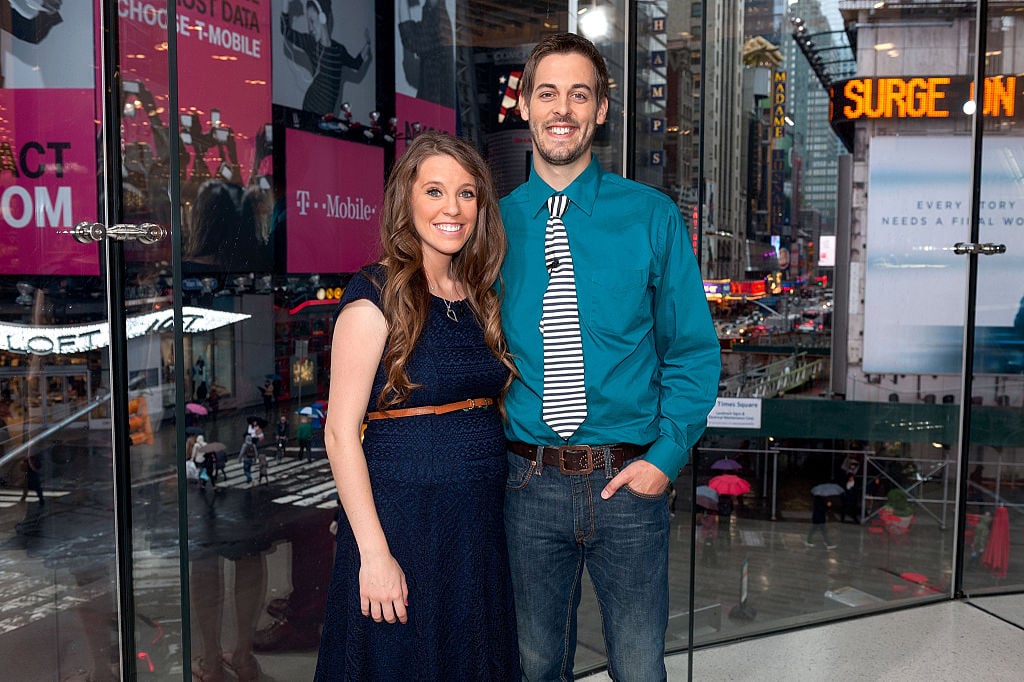 Jill may be on the outs with some of her family, but it looks like she's also not a huge fan of owning a TV. She's done virtual house tours in the past, and fans wondered if she owned one. And Jill admitted that she and Derick choose to watch programs on their laptops rather than having a TV in the house.
"We just watched online on our laptop," Jill told a fan of hers who asked on social media. "My hubby says he read something about it becoming more common for millennials to not have TVs."
While Jill doesn't physically have a television, it seems she still watches shows. This differs greatly from a few of her siblings. Joy-Anna's home tour also proves she doesn't have a TV. But it seems she does indulge in a few programs she was likely allowed to watch in her youth, like I Love Lucy.
Jill's Instagram post proves her sons are watching current shows
It looks like Jill's allowing her sons, Israel and Samuel, to watch some modern-day television. On April 29, she posted a photo showing her sons' stuffed toys in the freezer. "We recently found out Sam has strong allergies to dust!" Jill captioned her post. "Both of the boys love their stuffies…so when the allergist mentioned they could be contributing to collection of dust it made total sense!"
One stuffed toy in the freezer is clearly from the children's cartoon Paw Patrol. The show is about rescue dogs who mimic the careers of firefighters, police officers, and construction workers, among others.
Reddit users noticed this as well.
"I think its pretty cool that the kids have paw patrol… they do seem to be getting a lot of secular entertainment," one commented.
We're excited to see how Jill continues to step away from the rules she had to abide by as a child with each new Instagram post she publishes!
Check out Showbiz Cheat Sheet on Facebook!