Jim Bob Duggar Fears the Influence Jill Duggar's Husband Derick Dillard Might Have on the Family, Ex 'Counting On' Star Says
The rift is real. For years, Counting On fans wondered whether there was tension between Jill Duggar's husband Derick Dillard and her father, Jim Bob Duggar. Now, there's more proof than ever that Jill and Derick's relationship with her family might be broken beyond repair. 
In recent months, Derick, 31, has been speaking out about his experience on the Duggar family's TLC reality show and his feelings about Jim Bob. He's revealed that he and Jill, 29, have to ask permission to visit her parents' home and talked about how harmful appearing on the TLC show was for him and his family. The law student has also confirmed that he and his wife weren't paid for appearing on the show. Now, in a new interview, he's saying that the conflict with Jim Bob is about more than money and that the Duggar family patriarch fears the influence Derick and Jill might have on the other Duggar kids. 
Derick Dillard says Jim Bob Duggar is 'worried' about bad influences 
In a recent chat with The Sun, Derick talked about why he is no longer welcome at the Duggar family home. 
"I think he's mainly worried about the influence we might have on his children," Derick said. 
Over the years, Derick and Jill have become more relaxed about certain rules the Duggar family follows. Jill, for example, has started wearing pants, a shift away from the dress code she had to follow growing up, which mandates skirts or dresses for women. She's also cut her long hair. And Jill apparently lets her kids watch secular TV, dropping hints that her two boys are fans of the cartoon Paw Patrol.
In an even more dramatic break from Duggar tradition, Derick and Jill have decided not to homeschool their children. In February, she revealed that her oldest son would start attending a public school kindergarten in the fall. 
Derick still hopes he can repair the relationship with Jill's family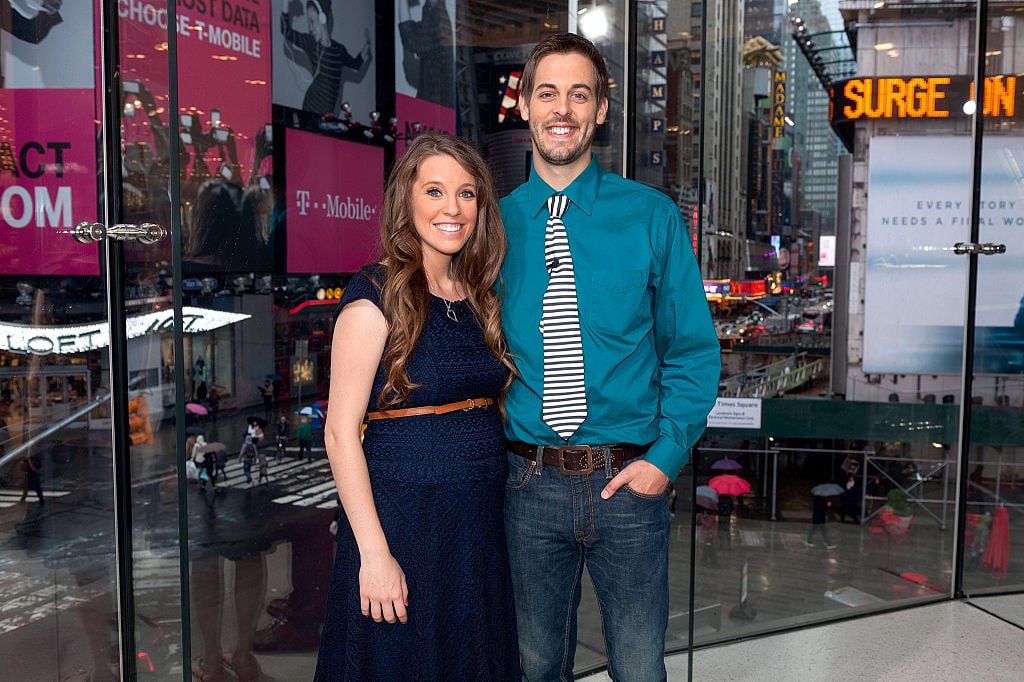 The relationship between Derick and his wife's family is not great, but he is still hopeful that it will improve in the future. 
"We hope and pray God would restore relationships where there is brokenness," Derick, who works part-time as a GrubHub delivery driver while attending law school, said. "But, at the same time, we recognize that only God can change people's hearts and bring healing."
Jill is keeping quiet about the rift 
While Derick has been increasingly outspoken about his bad relationship with his in-laws, Jill has stayed silent. Some have wondered if she'd like her husband to stop airing the family's dirty laundry in public. 
In early May, a source told In Touch Weekly that Jill would prefer if Derick kept quiet about the family feud and that she is trying to stay out of the fray. The unnamed insider also said that Jill remains close with her mother and father and "chats with them all the time." 
But there are other signs that all is not well between Jill and her parents. She didn't wish her mom Michelle Duggar happy Mother's Day on Instagram, something she has done in the past. She also didn't celebrate either Thanksgiving or Christmas with her family. 
While the status of Jill's relationship with her parents is murky, Derick did say that he and his wife are trying to stay close to her siblings. 
"Because our visitation to the Duggar house has been restricted and that is where they and their spouses hang out, we have not been able to see other family as much as we would like, so that is difficult," he said. "We do try to invite brothers and sisters-in-law over as much as they can come."