Jim Carrey's Unstoppable Urge to Paint Began Over a Decade Ago
Jim Carrey's passion for painting and desire to quit Hollywood define the iconic comedian's life.
Jim Carrey is one of the greatest comedians of our generation. He got his start in 1990 in the Fox sketch comedy In Living Color. After more than three decades in the entertainment industry, the legendary comedian has come full circle and is taking a step back from Hollywood in search of more color.
The award-winning performer is not only an actor but also an accomplished painter. At 60, Jim Carrey feels he has "done enough" in his acting career and wants to pursue other passions, including an unstoppable urge to paint.
Why the iconic comedian began painting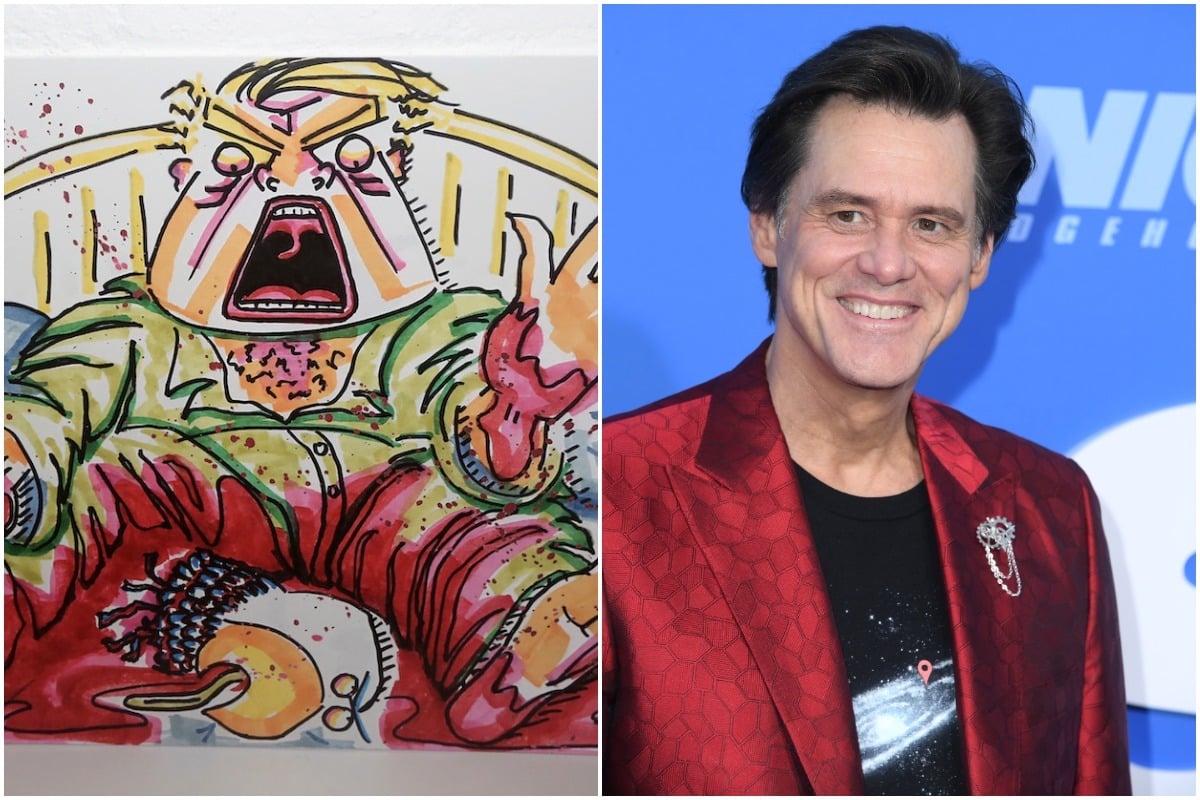 Jim Carrey is famous for his flexible facial expressions and zany, rubber-like body movements. For decades, his characters in box office hits such as The Mask and The Cable Guy have delighted audiences.
In an interview with Vulture, the comedian revealed he developed a love for drawing at an early age. The Bruce Almighty star explained he would spend a lot of time in his bedroom trying to "figure out the universe."
"If someone interrupted my drawing when I was a child, I would have a conniption and break things because I was in the metaphysical womb," he said.
Carrey eventually returned to drawing and painting. In 2016, after the independent film Bad Batch came out, the actor stepped away from the cameras.
"I just didn't want to be in the business anymore. I didn't like what was happening, the corporations taking over and all that," he told The Hollywood Reporter. "Maybe it's because I felt pulled toward a different type of creative outlet, and I really liked the control of painting." 
Carrey was in a serious relationship with Jenny McCarthy from 2005 to 2010. In the riveting six-minute documentary I Needed Color, Carrey admits it was around 2011 when he began painting to allow his "broken heart to heal."
"When your heart is in love, you're floating, weightless. When you lose that love, you have to re-enter the atmosphere, and it can get pretty rough," he explains. "I don't know what it is painting teaches me. I know it just frees me — free from the future, free from the past, free from regret, free from worry."
Jim Carrey has an extensive art portfolio 
Over the past several years, Jim Carrey has become known for his political satire artwork that he shares with his 18 million followers on Twitter. According to Insider, his first cartoon appeared in November 2017, and he regularly tweeted new pieces during the Trump administration.
The Dumb and Dumber star also has an extensive art collection he sells through art galleries nationwide. Carrey's first major exhibit was "Sunshower." Signature Gallery Group describes the specially curated event as "an opportunity to experience the true heart of Jim Carrey." According to Artnet, the event, held in Las Vegas, cost $10,000 per couple to attend. The price included a painting and a meet-and-greet with the actor.
In Florida, the Ocean Blue gallery carries a collection of Carrey's limited-edition artwork on canvas and metal. Many of his paintings have sold out, including the moving Electric Jesus.
Carrey explained to Twist Gallery that in his Jesus painting, "You would be able to find every race in his face. I wanted him to be able to stare at you and heal you through the painting."
Jim Carrey's thoughts on retiring from acting
After more than three decades in the entertainment industry, Carrey recently announced his retirement from acting.
The Sonic the Hedgehog star revealed to Access Hollywood that he enjoys being out of the Hollywood spotlight and is now spending time with his family and making art.
"I really like my quiet life, and I really love putting paint on canvas, and I really love my spiritual life, and I feel like — and this is something you might never hear another celebrity say as long as time exists — I have enough," the Ace Ventura: Pet Detective star explained. "I've done enough. I am enough."