How Jim Carrey's 'Dumb and Dumber' Is Connected to 'The Shining'
Hollywood might seem huge from the outside, but fans would be surprised how small a world the movies really are. In fact, many films that are seemingly unrelated share weird connections, unbeknownst to most fans. For example, Dumb and Dumber — the 1994 comedy starring Jim Carrey and Jeff Daniels — couldn't be further in tone from Stanley Kubrick's 1980 Stephen King adaptation The Shining. And yet, the two films share a shocking connection.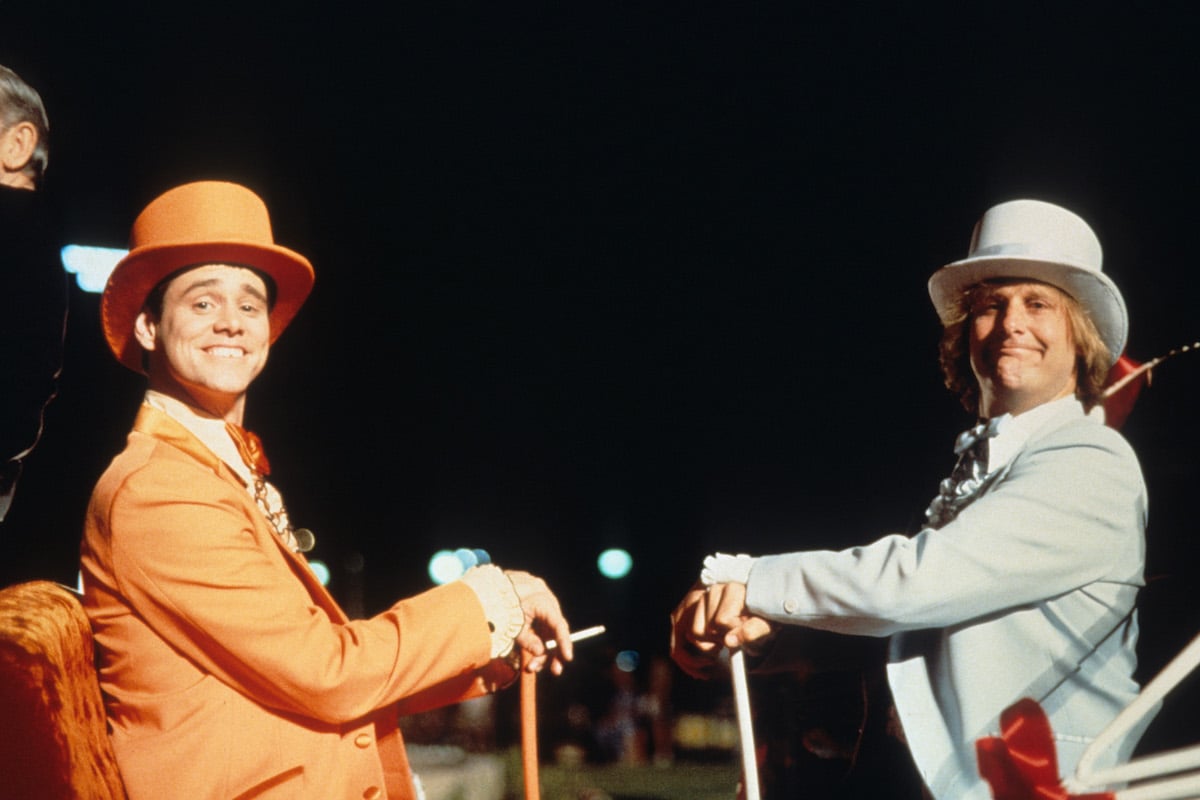 Jim Carrey starred in 3 blockbuster hit movies in 1994
Dumb and Dumber, of course, was one of three movies to cement Carrey as one of Hollywood's leading comedy stars in 1994. The film hit theaters in December of that year. But because the actor was on such a hot streak in the months leading up to it, he wound up earning his first multi-million dollar salary for Dumb and Dumber.
By the time filming began, Ace Ventura: Pet Detective had already become a sleeper hit, having hit theaters in February 1994. And The Mask was in line to be one of the summer's biggest hits, a prediction which came true. So by the time Dumb and Dumber came out, Carrey's star power pushed it to a worldwide total of $247 million against a production budget of $17 million, according to Box Office Mojo.
How 'Dumb and Dumber' is connected to 'The Shining'
But during the production, Carrey was apparently spooked. As it turns out, the Danbury Hotel in which Harry (Daniels) and Lloyd (Carrey) stay in Dumb and Dumber is actually Stanley Hotel in Estes Park, Colorado. The historic — and allegedly haunted — hotel was King's inspiration for The Shining. And according to The Atlantic, Carrey requested to stay in the hotel's most mysterious room, number 217.
That room number also plays into The Shining, as it's the most haunted room in the film's fictional Overlook Hotel. And perhaps the stories are true, as Carrey apparently only spent three hours in the room before checking out. The Stanley's tour guide even told The Atlantic that the actor has "never spoken of" what happened in that room. Did Carrey have a paranormal experience in room 217 while filming Dumb and Dumber? The world may never know.
Both 'Dumb and Dumber' and 'The Shining' got sequels
Another, much less terrifying connection between The Shining and Dumb and Dumber also exists. Although both films are considered classics of their respective genres, neither received a sequel for a long time thereafter. Dumb and Dumber received a poorly received prequel in 2003 without Carrey or Daniels involved. But the two actors wouldn't reunite for a proper sequel until 2014's Dumb and Dumber To a full 20 years later.
Likewise, The Shining got the sequel treatment in 2019's Doctor Sleep. Based on the 2013 King novel of the same name, the film was released to theaters 39 years after Kubrick's film. In that one, Ewan McGregor plays the adult Danny Torrance, still traumatized from his experience at the Overlook Hotel. Given his mutual history with room 217, one must wonder if Carrey has seen Doctor Sleep and, if so, whether he can relate to the film.