Jimi Hendrix Dedicated A Song to Stevie Nicks Before She Joined Fleetwood Mac
Jimi Hendrix has inspired many artists over the years. But one of his earliest fans was none other than Stevie Nicks. Before Nicks and her then-boyfriend, Lindsey Buckingham started Buckingham Nicks, and years before they joined Fleetwood Mac, the duo opened for Hendrix. It's one of those classic rock 'n' roll stories where an artist opens up for a huge act and later becomes just as big themselves. Only something special happened when Nicks opened for Hendrix. Something she's never forgotten. Hendrix dedicated a song to her.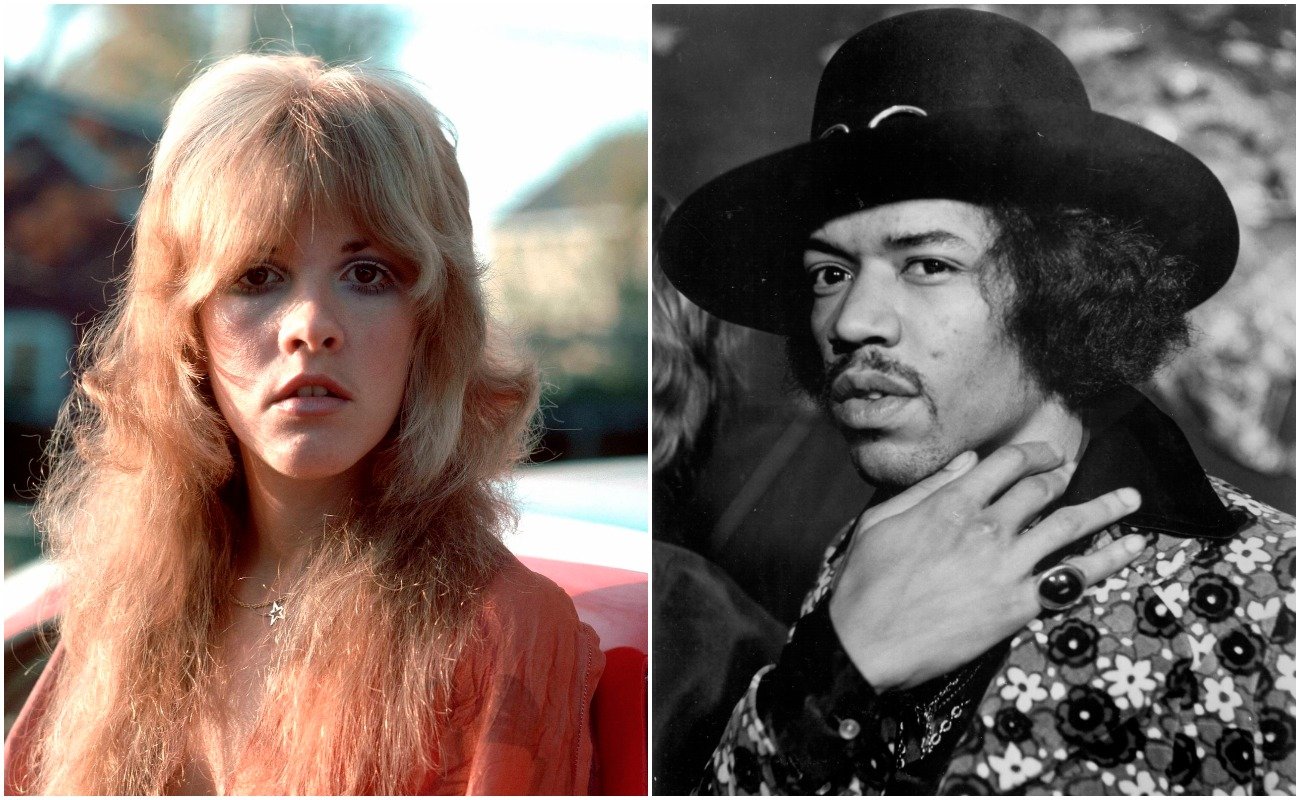 Stevie Nicks and Lindsey Buckingham opened for Jimi Hendrix
In the late 1960s, Nicks was touring with Lindsey Buckingham and his band Fritz. This was pre-Buckingham Nicks and Fleetwood Mac. In an interview with Uncle Joe Benson on the Ultimate Classic Rock Nights radio show, Nicks explained that Hendrix first inspired her when she and Fritz opened for him.
"I was inspired by Jimi Hendrix from a rock standpoint, because Lindsay and I got to open for him," she explained. "It was a big huge show in San Fransisco. There was like 20 bands on; there was you, there was 15 more bands and then there was Jimi Hendrix."
Hendrix dedicated a song to Nicks
After Nicks and Fritz had opened for Hendrix, he surprised the future Fleetwood Mac frontwoman by dedicating a song to her during his set.
"The perk that you get when you do that is that you get to be on the side of the stage when Jimi Hendrix goes on. And he actually dedicated a song to me. He looked over at me and said, 'This is for you, babe.' And I'm like, 'You're awesome! You are so awesomely cute and handsome and you play so amazing and thank you, Jimi!'"
During that time, Fritz also opened up for Janis Joplin, coincidentally another member of the 27 Club. In an interview with the Telegraph in 2011, Nicks talked about what she learned from opening for the two great artists in her early career.
"[F]rom Janis I learned that to make it as a female musician in a man's world is gonna be tough and you need to keep your head held high," Nicks said. "From Jimi I learned grace and humility." Not bad lessons to learn at the beginning of a music career.
Nicks was inspired by Hendrix's outfits
Hendrix's music was all that inspired Nicks. Seeing his attractive outfits on stage also influenced Nicks' own style too. In 1997, Nicks told BAM Magazine (per Cosmic Magazine) that she wanted to go out and get a similar get-up when she saw Hendrix's white fringe outfit.
"I saw him play once and I remember thinking, 'I want to wear white fringe. I want to tie a beautiful scarf in my hair,'" Nicks said. Those fashion choices became a part of her signature style eventually; only she added shawls as well.
Outside of the touring circuit, Hendrix liked to jam with Nicks and Buckingham on occasion. They also jammed at the New York nightclub The Scene in 1968. So Nicks has some pretty special memories of Hendrix. However, we're dying to know which song Hendrix dedicated to her.