Why Jimmy Fallon Says Mariah Carey Is the Undisputed Queen of Christmas
Nobody does Christmas quite like Mariah Carey, just ask Jimmy Fallon. When he had an idea to do a holiday song he knew he couldn't go the "All I Want for Christmas" route for one reason so he teamed up with two superstars for a different kind of tune.
Here's more on Fallon's new song and why he said there's no disputing who the queen of Christmas is.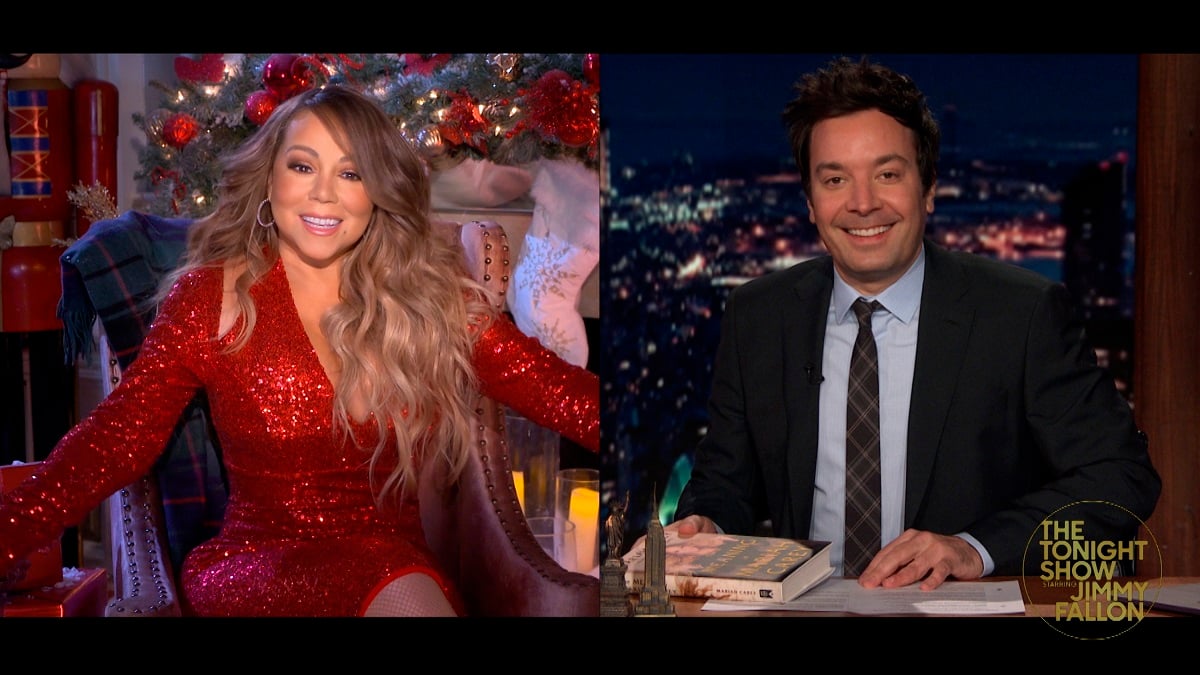 Fallon explains why Carey is truly the queen of Christmas
During Audacy Check In with Bru, Fallon talked about why when making his own holiday tune he didn't want to go the traditional route and do something similar to Carey's timeless jingle.
"Here's what happened, I'm toying with the idea of a holiday song, and I wanted to do something original and topical, and I'm writing the song. I didn't want to do a parody or an 'All I Want for Christmas' Mariah Carey type of song –everyone does that," the late night host said, adding that no one should even try to compete with Carey. "I'm like dude she did it already, she nailed it, she is the best at it, you're never going to top it. Let's just do something different, for once … I love her. She's a legend. You can't beat Mariah Carey. I have said this in the past. Every year since her song came out, everyone has done songs like her song. She's the queen of Christmas."
Who the late show host teamed up with for his new Christmas song
Fallon's song titled "It Was A…(Masked Christmas)" is a catchy track. Most people can relate to the lyrics about where we were and what were doing at this time last year. The comedian injects his humor in the verses while the song serves as a PSA reminding folks to get their booster shots this season.
When Fallon decided on the type of song he wanted to record, he got two of the biggest names in music today to join him and revealed exactly how that went down.
"I'm thinking about these things and what can we laugh at during the awful pandemic we had to sit through. There's jokes. We had to figure out Zoom at one point, where the best Wi-Fi was, so I start writing this song, and it's funny and we had a good beat to it. We had a good middle of it for a really good singer," The Tonight Show star explained.
Fallon continued: "I play it for the label, and they're like this is better than better, this is a hit, who do you want for the duet? I go, 'Dream, Ariana Grande', and I'm like let's just ask her. So we ask Ariana, she didn't get back to us, but then maybe a month later she texts me, she's like, 'Jimmy, I love this, I'm into this song, you sound great, I'm going to record in my studio tomorrow.' She records, does the vocals, the song sounds better than anything. In the demo I sent to her, I also do the rap part of it, and she goes, 'Who's going to do the rap?', and she's like, 'Do you want me to text Meg [Thee Stallion]'. In my head I'm like what?! She texts Meg Thee Stallion. Megan says, 'Are you kidding me, I get to do a song with Ariana Grande and Jimmy Fallon, they're my besties, I'm in. When are we shooting the video?'
"She records hers in one day. I shoot the video in LA Five hours of doing the video, and I fly back to New York and do the other video with Megan Thee Stallion, and we put together a really funny video, and we have a song and it's playing on the radio and I'm freaking out. We got two weeks until Christmas, crank it up."
RELATED: Why Mariah Carey's 'All I Want for Christmas Is You' Almost Didn't Happen