Jimmy Fallon's Laugh Is Definitely Fake and He's OK With That
Jimmy Fallon is one of the most popular late-night talk show hosts around, with impressive credentials and a strong career. After rising to fame on Saturday Night Live and becoming an expert in sketch comedy, Fallon transitioned to television when he started hosting The Tonight Show Starring Jimmy Fallon. Although his show has been incredibly successful, Fallon has received some pointed criticism over the years for several things – including his loud, seemingly fake laugh.
How did Jimmy Fallon become famous?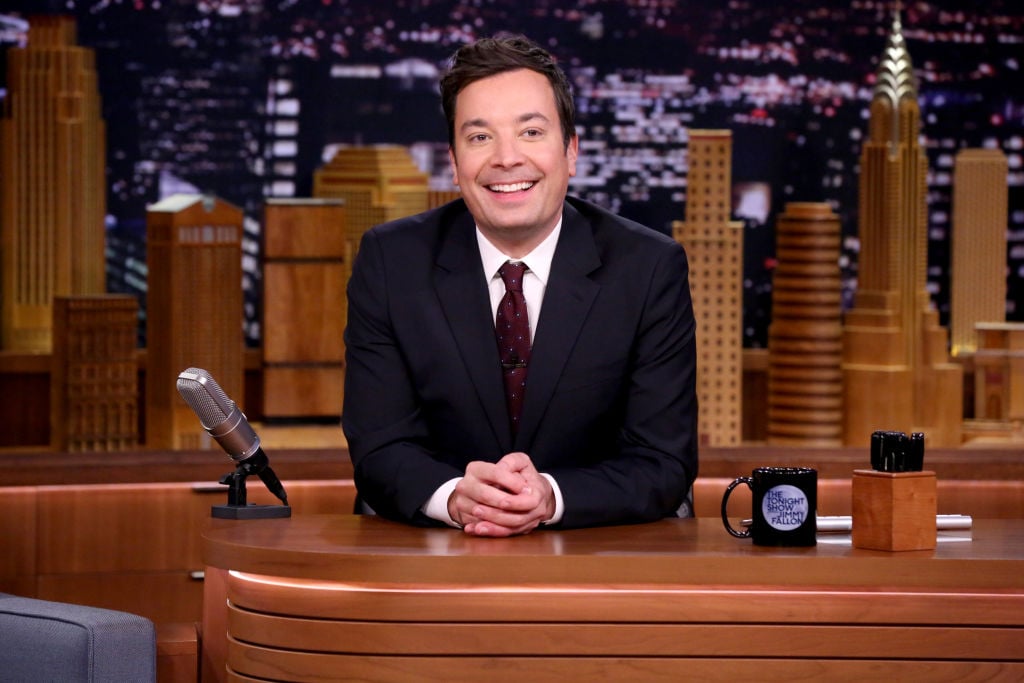 Born in 1974, Fallon grew up in a tight-knit, religious family. As a child, Fallon entertained the notion of becoming a priest, but ultimately, the call of performing was too strong for young Fallon to ignore. As a teenager, Fallon entertained family and friends with his celebrity impressions and guitar-playing abilities and by the time he graduated high school, he had determined to pursue a career in comedy.
Fallon started performing in comedy clubs after he left college but his main goal was to secure a spot on Saturday Night Live, the show that he had been obsessed with since he was a child. At the age of 23, Fallon scored a coveted audition for the show and managed to impress everyone with his now-famous impressions.
When did Jimmy Fallon move to late-night?
Fallon first started appearing on SNL in 1998 and quickly became an audience favorite. His versatility and talent at a wide range of skits and impressions made him the go-to for a lot of the show's more difficult sketches. Fans loved Fallon's genial nature and he made waves for his impressions of Howard Stern, Jerry Seinfeld, Mick Jagger, and Adam Sandler. Fallon also became notorious for his tendency to break character and laugh uncontrollably during skits.
In the early 2000s, Fallon started appearing in feature films, including Taxi and Fever Pitch, opposite Drew Barrymore. When his movie career failed to take off, Fallon turned to late-night television. As it turned out, being a late-night TV host was the perfect gig for Fallon, utilizing both his good nature and skill for helping others feel at ease. He first appeared on Late Night with Jimmy Fallon before ultimately becoming the new host for The Tonight Show in 2014, taking over from Jay Leno.
What criticism has Jimmy Fallon received?
Although Fallon's sojourn on television has been successful by any standard, with Fallon getting access to the very best interviews and some truly iconic guests, it has not been without controversy. Fallon has been chastised by many critics for his steadfast determination to avoid hard-hitting political questions. In 2016, during the contentious presidential election, Fallon welcomed Donald Trump as a guest on his show and during one particularly playful portion of the interview, ruffled the candidate's hair to make sure it was real. The incident made headlines the next day, with many criticizing Fallon for not asking more serious questions of his guest.
The other major issue that has dogged Fallon is the one regarding his laugh. Fallon is never less than thrilled with anything that his guests say and laughs easily and often. Many critics claim that Fallon's laugh is forced and that he always seems too amused. Fallon knows the controversy and has responded. In a 2015 interview, Fallon claimed that his show is not meant to be super-serious and that his job is to bring out the best and most lovable side of every guest that he has on the show. He also stated that while he knows not everyone will like every single guest that he has on his show, he feels as though people can form their own opinions- he just wants to show his audience and his guests a good time.