Jimmy Kimmel Faces Backlash for Comments About BTS and COVID-19
In two different segments, Jimmy Kimmel appeared to compare the members of BTS to the coronavirus (COVID-19) on 'Jimmy Kimmel Live!'
It appears BTS are yet again facing xenophobia. On Jimmy Kimmel Live!, host Jimmy Kimmel seemingly compared the members of BTS to the coronavirus (COVID-19) on two separate occasions. After Kimmel's most recent comments, ARMY trended #JimmyKimmelRacist on Twitter.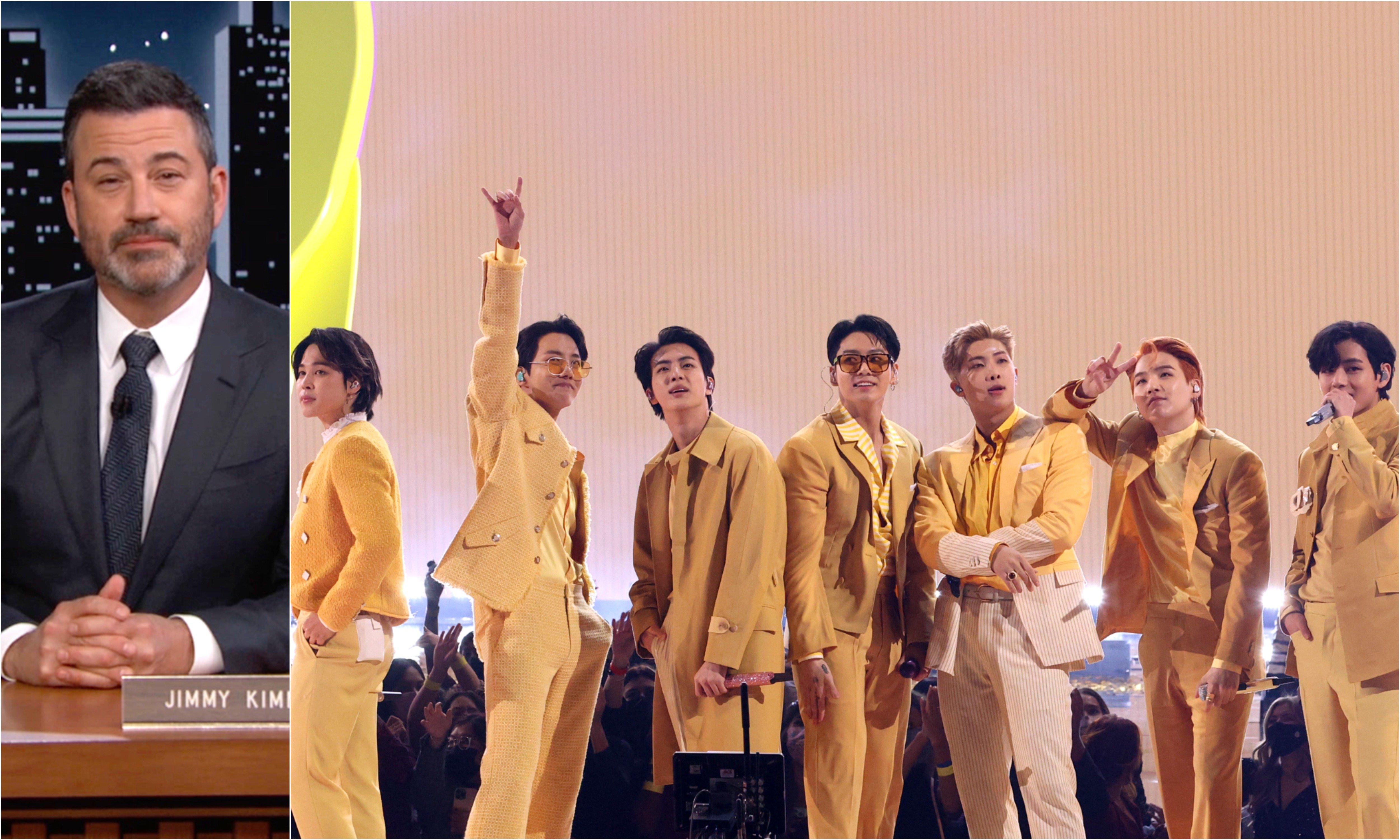 Jimmy Kimmel seemed to compare the members of BTS to the coronavirus
On the second season of Emily in Paris on Netflix, Ashley Park performs BTS' song "Dynamite" as her character Mindy. Both V and RM of BTS acknowledged the Emily in Paris scene on Instagram.
In January, Park appeared on Jimmy Kimmel Live! and talked about being a fan of BTS and what it was like to see some of the members like her Emily in Paris performance. Park then revealed that she tested positive for the coronavirus shortly after freaking out about RM and V sharing her performance on Instagram.
"You thought it was BTS fever. They're both very dangerous; you're lucky to come out of those alive," Kimmel told Park.
Jimmy Kimmel made a similar joke again on his show
Kimmel's remark drew backlash from BTS fans on social media, but a few days later, Kimmel appeared to double down on the joke. In a recent monologue on the late-night show, he included a joke about comparing boy bands to coronavirus variants.
"These variants, all the different variants in the world right now, it reminds me of the boy bands in the late 90s and early 2000s," Kimmel said. "You had the big ones like Backstreet Boys and NSYNC, and then that mutated into O-Town and 98 Degrees. The JoBros popped up, Big Time Rush, they kept splitting off in different directions, eventually One Direction. And they took pieces and it popped up all over the world until eventually, we get to one that's so contagious it destroys all life on earth."
Even though Kimmel did not directly name BTS in the joke, fans were quick to pick up on the implication given Kimmel's previous joke to Park and the fact BTS are currently one of the most popular music acts in the world.
Since the coronavirus pandemic began, there has been a rise of anti-Asian hate crimes and xenophobia around the world. On Jan. 31, NBC News reported on a study done by the Center for the Study of Hate and Extremism. According to NBC News, "anti-Asian hate crime increased by 339 percent last year compared to the year before."
BTS fans reacted to Jimmy Kimmel's comments
Unfortunately, this is not the first time BTS have been the target of xenophobic remarks. After the monologue from Jimmy Kimmel Live! made its way online, fans of BTS were quick to trend #JimmyKimmelRacist on Twitter to call out the talk-show host.
"Man, the guys really make some people mad, uh? I've already said it and I'll say it again. The hate that is thrown at BTS is weird. It's never your typical 'their music sucks' kind of comment, there's always a racist, xenophobic, homophobic and/or misogynistic undertone," one fan wrote on Reddit.
One Reddit user wrote, "So let me get this straight: last week he took a Korean actress's funny anecdote and spun it in a racist direction (equating Covid with BTS) and now because of the backlash he received he decided to further the 'joke' by listing off enough white boybands by name and omitting the one that is the true punch-line just to justify the original statement?"
"The thing is that by leaving the name out, he's basically left the door open to deny he ever meant them…," wrote a Reddit user.
Kimmel has yet to speak out on the backlash surrounding his comments.