Jimmy Kimmel and Mo Heart From 'Drag Race' Are the Only People Who Have Worn Orville Peck's Masks
Orville Peck and Mo Heart met up for an episode of The Walk In, with the country singer even letting Mo Heart wear one of his masks.
Orville Peck is known for wearing masks and cowboy hats. Still, the "Dead of Night" singer rarely gives his masks to others. However, he let Mo Heart of RuPaul's Drag Race try it on for a YouTube video.
Why does 'Roses Are Falling' singer, Orville Peck, wear a mask?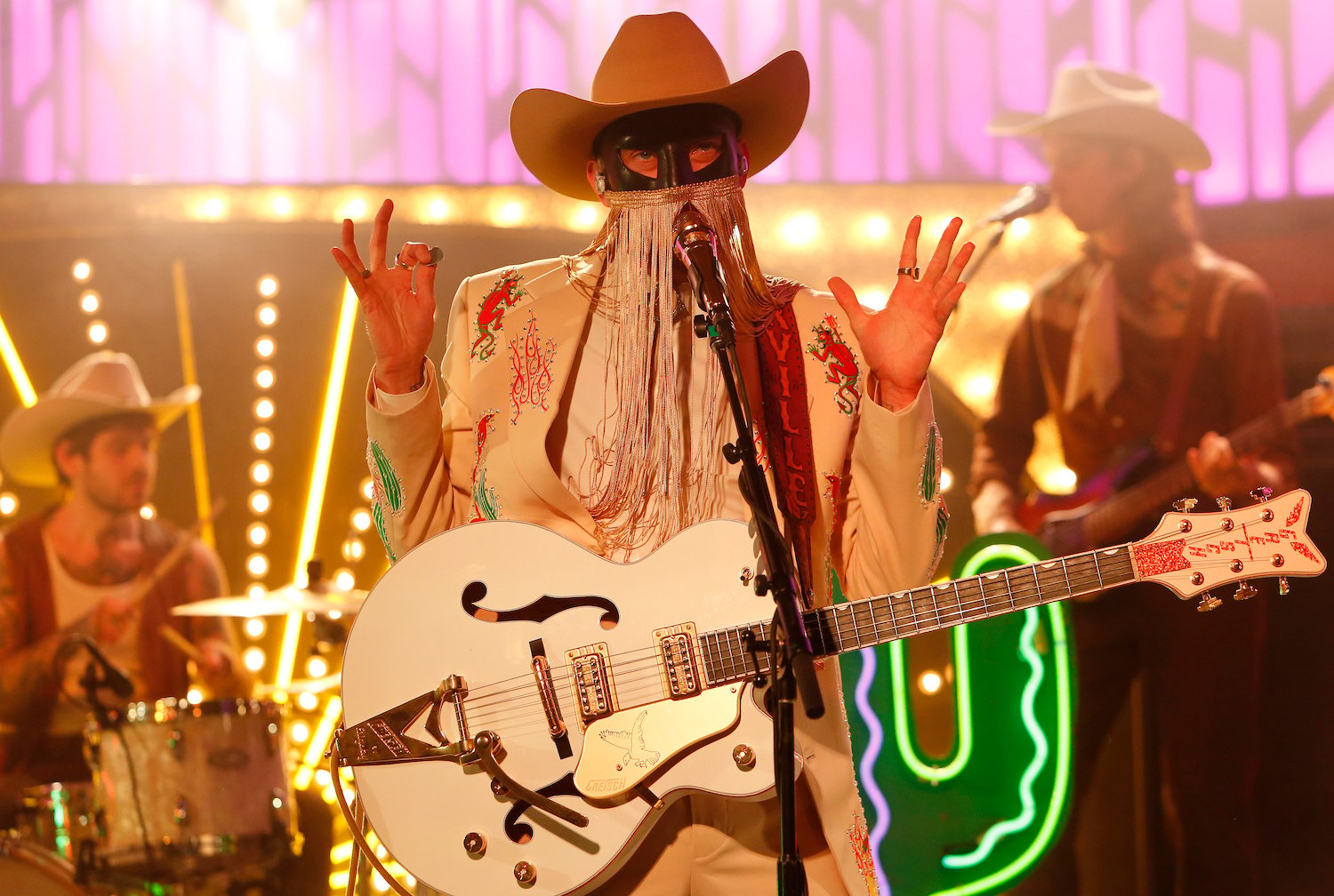 Orville Peck rose in popularity with "Dead of Night," "Roses are Falling," and "The Curse of the Blackened Eye." In the past, this artist partnered with RuPaul's Drag Race: All-Stars winner Trixie Mattel for "Jackson," also collaborating with Shania Twain for "Legends Never Die." 
In 2022, the songwriter debuted his album Bronco. Most know this artist for his mysterious masks, typically styled with fringe hanging over his mouth. There are several meanings attached to this face covering. 
Growing up appreciating and admiring artists like Dolly Parton, Johnny Cash, and Willie Nelson, Peck noticed the cross between sincerity in music and a larger-than-life image. Peck explained that he could reach a new level of authenticity with his mask. 
Of course, he still expresses himself through fashion and style, even changing his mask to match his outfit. This was explored further thanks to his segment on Amazon Music's The Walk In, hosted by RuPaul's Drag Race alumni Mo Heart.
Orville Peck only let Jimmy Kimmel and Mo Heart wear his iconic face masks
After going through some of Peck's most iconic looks, the country star handed Mo Heart one of his masks, with the two posing in a picture together. Even though he has several face coverings, Orville Peck shared that he rarely lets people try them on. 
"You know what, I've only let one other person wear my mask. Jimmy Kimmel wore it," Orville Peck said. 
"I thought you were about to say, Jim Carrey," Mo Heart joked while putting the mask on. Peck added, "You and Jimmy Kimmel are the first two."
When Peck appeared on Jimmy Kimmel Live, he performed "C'mon Baby, Cry" with a full band and neon cacti in the background. This appearance was to promote Bronco, with Peck appearing at the Coachella Valley Music and Arts Festival.
There were a few other "firsts" mentioned in this YouTube video with Mo Heart, including the first Peck song featured in HBO's Euphoria — "Dead of Night." The artist also noted the first time he showed the bridge of his nose was for Beyoncé's Rodeo campaign with Ivy Park.
Mo Heart hosts other episodes of 'The Walk In,' available on YouTube
Peck wouldn't be the only artist interviewed by Mo Heart. The drag performer raided the closets of several well-known artists and actors, including "Future Starts Now" singer Kim Petras and Disney Channel alumni Sofia Carson.
Of course, Mo Heart also appeared on the RuPaul's Drag Race spinoff, RuPaul's Drag Race: UK vs the World. Music by Peck is available on most major streaming platforms.