Jimmy Page Explained His Led Zeppelin Recording Approach in Just 14 Words, and You Can Hear it in Action on Zep's Debut
Everything in Jimmy Page's music career was a building block for Led Zeppelin. The guitarist learned studio tricks used by producers during his time as a session musician. He also learned how to work quickly in the studio, which was a skill he brought to Led Zeppelin. Perhaps most importantly, Page formed his recording approach, which he once summed up in just 14 words and committed to tape on Led Zeppelin's debut.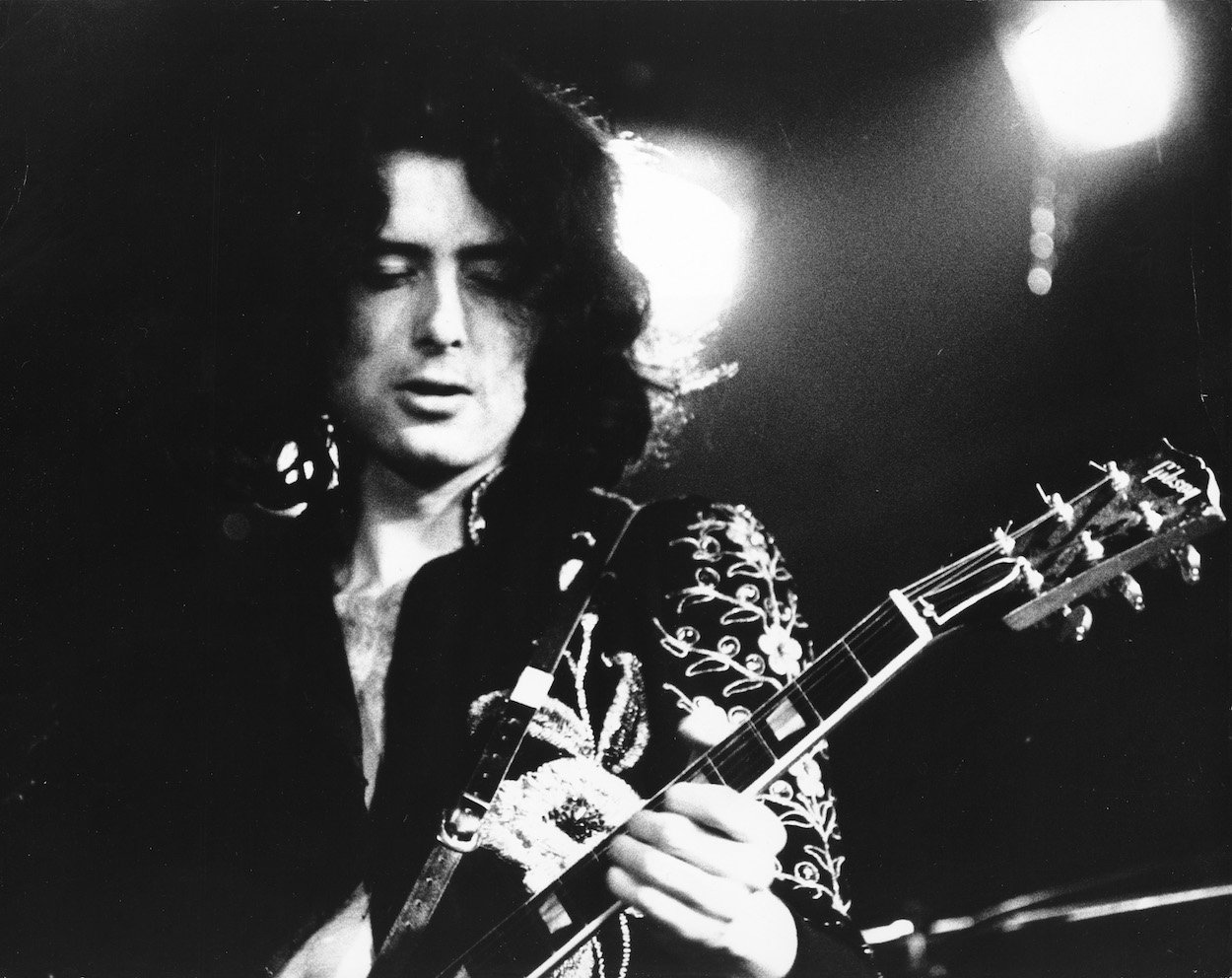 Jimmy Page summed up his Led Zeppelin recording approach in just 14 words
Page learned crucial skills and made a good living as a session musician, but one arduous day in the studio made him realize he had to quit.
He landed with the Yardbirds, and when that band splintered in 1968, he formed Led Zeppelin within weeks. They toured Scandinavia just a few weeks after that, in the early fall of 1968. Zep recorded their debut album soon after returning, then toured a wide swath of England before the year finished. 
Page said the debut came together incredibly quickly, perhaps because he had his recording plan in place by then. Page summed it up in just 14 words, as C.M. Kushins writes in the John Bonham biography Beast:
"The whole idea, the way I see recording, is to try and capture the sound of the room live and the emotion of the whole moment and try to convey that across. You've got to capture as much of the room sound as possible. That's the very essence of it."

Jimmy Page
Page's recording philosophy boiled down to 14 words: "Capture the sound of the room live and the emotion of the whole moment." You can hear it come to life on Led Zeppelin I.
Page's recording approach come to life on 'Led Zeppelin I'
Part of Page's recording philosophy with Led Zeppelin was capturing the room live, as he said. That included having the band essentially playing live to tape. That was especially true on Led Zeppelin I, which took a little over a day total to finish. As such, some tiny mistakes made their way onto the album:
Bonham flubs part of his jackhammer beat under Page's "Dazed and Confused" solo. Bonzo gets a bit sloppy around the 4:30 mark, but it remains in the song. Why? Because that was the emotion of the moment. (And can you imagine asking Bonham to replicate it?)
Robert Plant utters some nonsensical lyrics toward the end of his harmonica solo (at roughly the 3:35 mark) on "You Shook Me."
Page seems to miss the mark at the tail end of his "Communication Breakdown" solo (roughly 1:41 into the song). It's nearly unnoticeable as he quickly recovers and finishes strong.
Those less-than-perfect moments stayed on the album, and not just because producer Page paid to record Led Zeppelin I himself. The emotion in those moments was a key part of what made Led Zeppelin Led Zeppelin. The band accepted the warts if they were part of a strong performance. Seeking perfection wasn't as crucial as getting the raw emotion on tape. You'd have a hard time convincing most Zep fans that the little blemishes somehow sabotage those songs. 
Page had a plan on Led Zeppelin I — to capture listeners' attention. Bonham's energetic drumming within the first 30 seconds was enough to make it happen. "You Shook Me" and "I Can't Quit You Baby" are bare-bones blues tunes at heart. The emotion each band member conveys with their playing transforms them into something special. 
Album closer "How Many More Times" is a shining example of adhering to Page's 14-word recording approach. All four Led Zeppelin members are in fine form as they commit one of their early concert staples to tape. The song is heavy on energy and emotion, and there's just enough space between Page, Plant, Bonham, and John Paul Jones for each one to shine. 
Page's plan to capture the emotion of the moment is evident on all of Led Zeppelin's albums, and Led Zeppelin I is where it all started.
'Led Zeppelin I' is one of the band's best-selling albums
The debut album might contain a few minuscule errors, but it's also the first time Page's recording philosophy came to life, and for that, it deserves to be celebrated. The energy and emotion from each Led Zeppelin member are part of what makes it such a memorable opening salvo in the band's career.
Without that palpable energy, Zeppelin could have had a more difficult time achieving international fame. Fans embraced the emotion the band committed to tape. 
Led Zeppelin I is one of the band's best-selling albums, having gone platinum eight times, per the Recording Industry Association of America. That makes it a better seller than Led Zeppelin III, Presence, The Song Remains the Same, and In Through the Out Door.
Jimmy Page committed his recording approach — capturing the energy and emotion live — on the first Led Zeppelin album. Fans embraced that approach, and it helped launch the band on a path toward worldwide fame.
For more on the entertainment world and exclusive interviews, subscribe to Showbiz Cheat Sheet's YouTube channel.