Jin Eating a Cake and Spitting It Out During a V Live Is Classic BTS Energy
Jin has a way of making BTS fans laugh. How he ate one Birthday cake from Jimin was no different. Here's what we know about the 'Moon' singer.
The BTS members celebrated a few milestone birthdays of their members. For Jin's birthday in 2017, Jimin surprised him with a very "playdoh-esque" neon yellow cake. Was it edible? Yes. Was it good? According to the oldest member of the group, it tasted just like sugar.
Here's how this BTS performer celebrated his birthday in past years.
Jin is the oldest member of BTS
He's an Ice Prince who loves puppies, pink, and the BTS ARMY. He's the performer behind songs like "Epiphany" and "Moon," appearing in group songs like "Life Goes On," "Dynamite," and "Boy With Luv."
Aside from being a singer in this group, Jin acts as the lead visual, sometimes referring to himself as "Worldwide Handsome." He's also the oldest performer of the seven BTS members, celebrating his birthday every December with them.
During one V Live stream, Jin was playing a video game with some Christmas music in the background. Jimin sat behind him with a bright yellow cake. When the singer finished playing, Jimin started singing "Happy Birthday" and handed him the cake.
Jimin gave Jin a bright yellow cake for his birthday
After blowing out the candles, or rather, flapping them out with a card, Jin asked if it was edible since it had a print of money on top.
Jimin said that's why he wanted to buy it — he wanted Jin to taste it and figure out if it's edible. Jimin said there's a knife, but Jin just dug in, face first. He took a little bite and spit it out. Jimin laughed.
"It's good," Jin said to the younger member, according to the translation on the video. "It tastes like well-refined sugar."
That wasn't the only gift that Jimin gave him, though. Because Jin loves puppies, Jimin gave him a fuzzy brown sweater to make him look like a puppy. After Jin tried it on, the two BTS members hugged.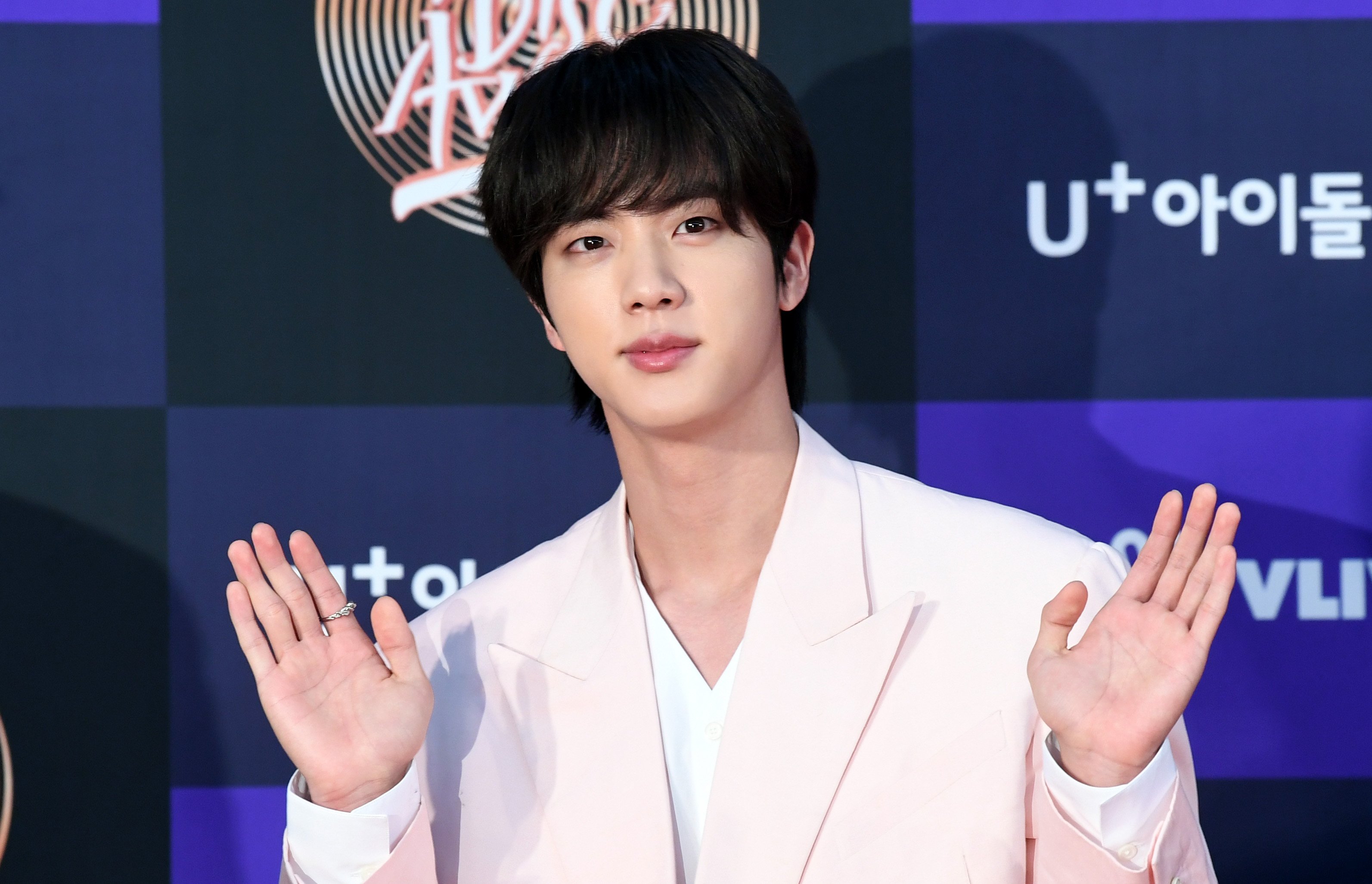 Jin's birthday is on Dec 4
This mini-celebration was for Jin's 26th Birthday, although the Korean age system is a bit different from their "international age." Now a few years older, (but still the same loveable and talented singer,) fans look forward to celebrating another birthday with this idol. 
Of course, this upcoming birthday has somewhat of a somber undertone. While he was initially expected to serve in the Korean military by this birthday, his conscription has since been postponed until 2021, according to Big Hit Entertainment. In the meantime, Jin will still be appearing alongside the other BTS members for live performances, recordings, and interviews. 
The "Dynamite" music video is now available on YouTube. Music by BTS, including their recently released album, Map of the Soul: 7, is available for streaming on Spotify, Apple Music, and most major platforms.