What Are Some of Jin's Favorite Songs? Here Are Music Recommendations From the BTS Member
When this singer isn't live streaming or hanging out with the other performers in the K-pop group, BTS, fans can oftentimes find him listening to music. Unlike some of the other BTS members, Jin doesn't often share his recommendations on Twitter and other social media platforms. 
Thanks to a playlist created by Jin on Spotify, however, fans learned a little more about what this singer is listening to. Here are some song recommendations from Mr. Worldwide Handsome himself.
Jin listed a few of his solo songs as his favorite BTS tracks 
Although there are multiple BTS songs featuring this singer and dancer, only a few of them made it to his personal Spotify playlist. Titled "Jin's Favorite BTS Tracks," this playlist includes solo songs performed by the artist, like his song off of Love Yourself: Answer, "Epiphany" and the Wings song "Awake."
There's also a number of group songs included, such as "Spring Day," "Idol," and "Burning Up (Fire.)" The Spotify playlist itself has over 500,000 followers, most of which are fans of this K-pop idol and BTS. 
'Weight in Gold' by Gallant 
Thanks to one Spotify playlist from 2017, fans learned a little more about the favorite songs of this K-pop artist. (The playlist has since been updated to exclusively feature Jin's favorite BTS songs.)
According to one translation, this playlist titled Shall We Listen Together, included songs created by BTS, Kayne West, Lil Wayne, and one of his favorite artists, the rapper Drake. One song added to the playlist at its debut was "Weight in Gold," the song created by Gallant. 
'ME!' and 'You Need To Calm Down' from Taylor Swift's recently released album, 'Lover'
Although Jin first created his Spotify playlist in 2017, the singer updated the songs to include two best-sellers off of Taylor Swift's Lover. Those two songs were "Me!" featuring Panic! At the Disco's Brendon Urie and "You Need to Calm Down."
The BTS members even got a chance to meet and take a picture with Taylor Swift backstage at the Billboard Music Awards. The K-pop group saw Taylor Swift and Brendon Urie perform "Me!" live at the award show the following year.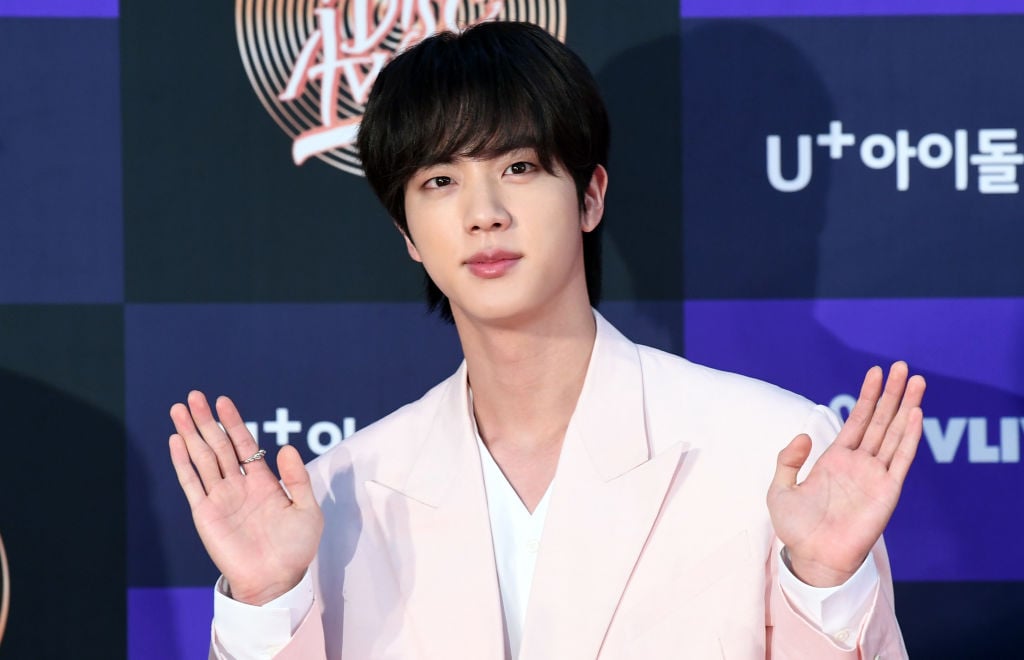 Jin shared some of his favorite songs off of 'Map of the Soul: 7,' including 'On' and 'Moon'
With so many new songs on BTS' latest album, Map of the Soul: 7, it's hard to choose a favorite. Still, Jin has some recommendations for fans of the K-pop group. That of course, includes his solo song, "Moon."
He also included "On," one of the first songs released by BTS during this comeback era. He also included the version of "On" that features the award-winning artist, Sia.