Jinger Duggar Might Consider Sending Her Daughter to Public School After Jill Duggar Enrolls Her Son
Jill Duggar just enrolled her son into public school. Will Jinger Duggar do the same? Many think she might.
Now that many of Jim Bob and Michelle Duggar's 19 kids are adults, things are getting interesting. Jinger Duggar and her husband, Jeremy Vuolo, moved away from the family's Arkansas home to start a new life in Los Angeles with their daughter, Felicity. And many view Jinger's move as one of the most rebellious yet from any of the Duggar kids, though it seems she's still on good terms with all of her family members.
As for the other Duggar children, it's Jill who's now garnering even more attention than Jinger. Jill and her husband, Derick Dillard, are quietly taking steps to separate themselves from Jim Bob and Michelle. And Jill just announced she's sending her son, Israel, to public school.
Will Jinger do the same for Felicity? It seems many think so.
Many view Jinger Duggar as the most rebellious in the family
The Duggars have always been a tight-knit family, as the kids are all encouraged to stay at home under Jim Bob and Michelle's roof prior to marriage. And the Duggar kids who do get married often don't move too far away. But once Jinger's husband, Jeremy, decided he wanted to pursue a degree in ministry, he knew he wanted to go to Los Angeles to do it. And Jinger announced she'd be following him in his path.
Now that Jinger is thousands of miles away from her strictly religious parents, she's still making rebellious choices on the daily. Her fashion has gotten bolder the longer she stays out West. And she's even bleached her hair blonde.
At the end of the day, it's clear Jinger still believes in many of the ideals she grew up with, however. She might be wearing pants, but we're not sure if this makes her as rebellious as she may appear on the surface.
Jill Duggar just enrolled her son in public school
While Jinger gets tons of attention, all eyes are on Jill and Derick now. At the end of 2019, one of Derick's Instagram followers asked him if he ever spends any time with Jill's family. And to that, Derick answered that he rarely sees the other Duggars, as he and Jill need permission from Jim Bob before going to the big family home.
This raised some serious red flags for fans, and they continued to ask Derick questions. Now, many think Jill and Derick are doing their best to step away from the other Duggars in hopes of pursuing a life that's less rigid and controlled by Jim Bob and Michelle. And they even made the most daring decision yet for their kids. On Feb. 22, Jill posted that she made the decision to enroll Israel into the public school system.
"I don't comment much but I am so proud of you for stepping outside your family's box and enrolling him in public school," one of Jill's followers commented. "He will enjoy it so much."
Some think Jinger might follow in Jill's footsteps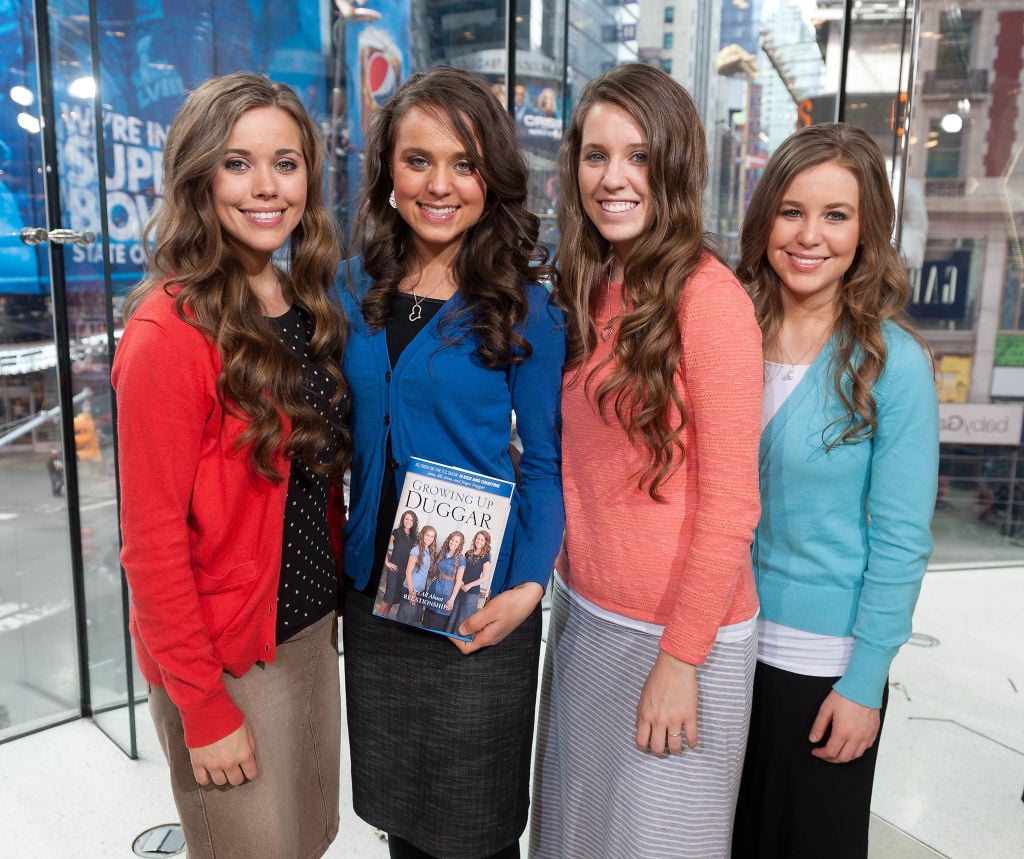 While Jinger may have made the furthest physical move away from her family, it's Jill who's taking the most daring leaps. And it seems there's some speculation that Jinger might follow in Jill's decision to enroll in public school. An eagle-eyed Reddit user saw that Jinger "liked" Jill's Instagram photo showing her enrolling Israel.
"I feel like Jeremy will be more inclined to put Felicity in public school (or some kind of private school) and Jinger will go along with it," one other Reddit user suggested.
"I think it might be easier for her to do so now that Jill's been the first to take that plunge," another noted. "Might be wishful thinking, but I do hope that's the case for Felicity's sake."
"I like that Jinger liked it. And I feel so proud of Jill. She does things outside of her comfort zone every day these days," yet another wrote.
We'll have to wait and see what Jinger and Jeremy decide is best for their daughter!
Check out Showbiz Cheat Sheet on Facebook!