Joaquin Phoenix and Rooney Mara Met in the Most Ironic Way Possible
2020 has been a big year for Joaquin Phoenix. In February, the actor won his first Academy Award for his chilling turn in Joker. And now he and fiancée Rooney Mara are reportedly expecting their first child.
The pair tend to keep their relationship mostly private. But the story behind how they met and when their romance began is just as fascinating as fans are hoping. Here are the details behind Phoenix and Mara's love story.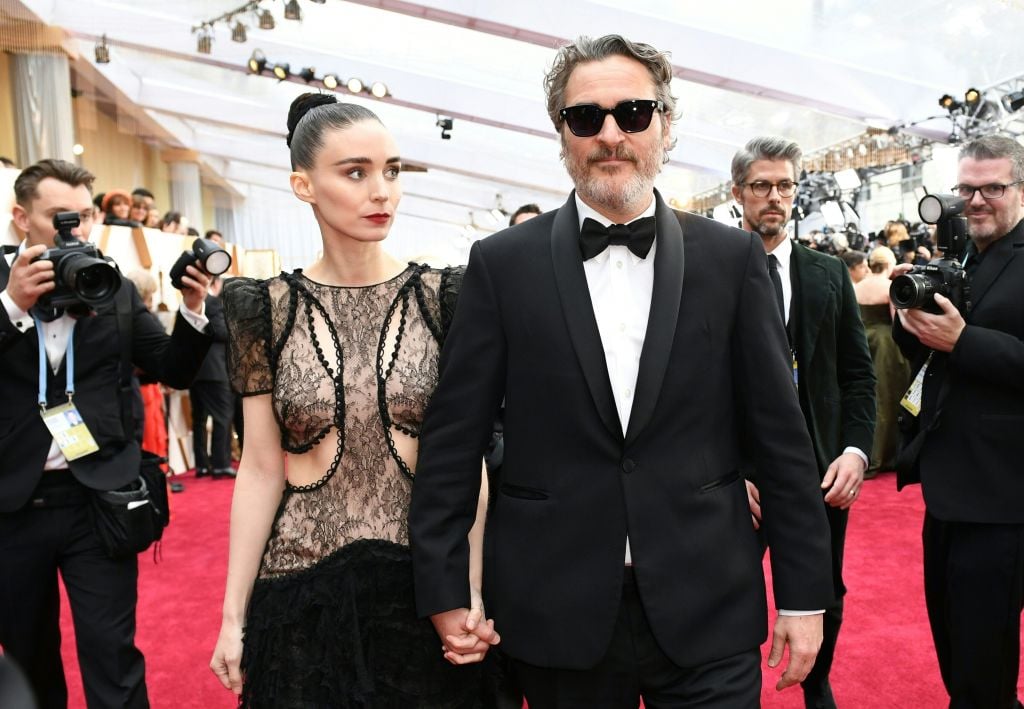 Joaquin Phoenix and Rooney Mara made three movies together in 2018
Phoenix and Mara are preparing to commit to one another as life partners. But their careers were already intertwined. In fact, the couple made no fewer than three movies together in 2018.
The first and most well-known of these is director Gus Van Sant's (Good Will Hunting) Don't Worry, He Won't Get Far on Foot. In the Amazon Studios film, Phoenix plays an alcoholic who ends up paralyzed after a car crash, with Mara as his love interest. The movie received mostly positive reviews.
Then the pair worked on Mary Magdalene. This time, Mara stars as the title character in this biblical drama from director Garth Davis (Lion). Phoenix co-stars as Jesus of Nazareth, and Chiwetel Ejiofor plays Peter. Due to distribution issues, the movie didn't secure a theatrical release until 2019.
Lastly, Phoenix and Mara are both among the stars who serve as narrators during the 2018 documentary Dominion. The film focuses on mistreatment of animals and scooped up a few festival awards. Given Phoenix and Mara's outspoken vegan lifestyle, Dominion perfectly captures the pair's message.
Their romance began on the set of biblical drama 'Mary Magdalene'
Phoenix and Mara have become one of Hollywood's most-talked-about couples for a variety of reasons. Their political activism and cagey attitude toward the press (especially Phoenix) add to the couple's mystique. Moreover, Phoenix and Mara's acclaimed, Oscar-nominated performances in movies like The Master and Carol certainly add to the appeal.
But the couple actually hasn't even been together that long. In fact, one of their three 2018 movies together sparked new love. Phoenix and Mara started dating while filming Mary Magdalene in Italy in 2016, according to Page Six. Of course, on-set romances are nothing new. Yet, the dynamic between Phoenix and Mara's characters adds an intriguing new dimension.
After all, Phoenix's Jesus and Mara's Mary Magdalene are traditionally not considered love interests. Naturally, the former's chaste nature particularly puts their relationship much more firmly in that of a spiritual leader and his pupil. Nevertheless, the actors fell in love while making Mary Magdalene, despite the unlikelihood of coupling under those circumstances.
But the couple first met while making 'Her' several years earlier
Although Phoenix and Mara began their romantic relationship during Mary Magdalene, they actually first worked together years earlier. In Spike Jonze's much-loved sci-fi drama Her, Phoenix plays a depressed man reeling from the recent dissolution of his marriage. The actress playing his soon-to-be-ex-wife? His future wife Mara, of course.
Perhaps there's a sense of poetic irony to the fact that Phoenix and Mara were playing estranged lovers when they first met. But the pair reportedly remained friends after filming wrapped on Her. As it stands, the couple seems to have a hell of an interesting "how they met" story, one they'll no doubt be telling their child for years to come.