Jodie Comer Found It Hard To Date Because of Villanelle, But Is The 'Killing Eve' Star Currently Single?
With someone as charismatic and electrifying on-screen as Villanelle in Killing Eve, it's no surprise that Jodie Comer has so many eyes on her. Her acting is unlike anything else, and the show has skyrocketed her to fame in both the States and in the UK. Of course, many want to know what her love life is like, but up until this year her role kind of made it hard to date.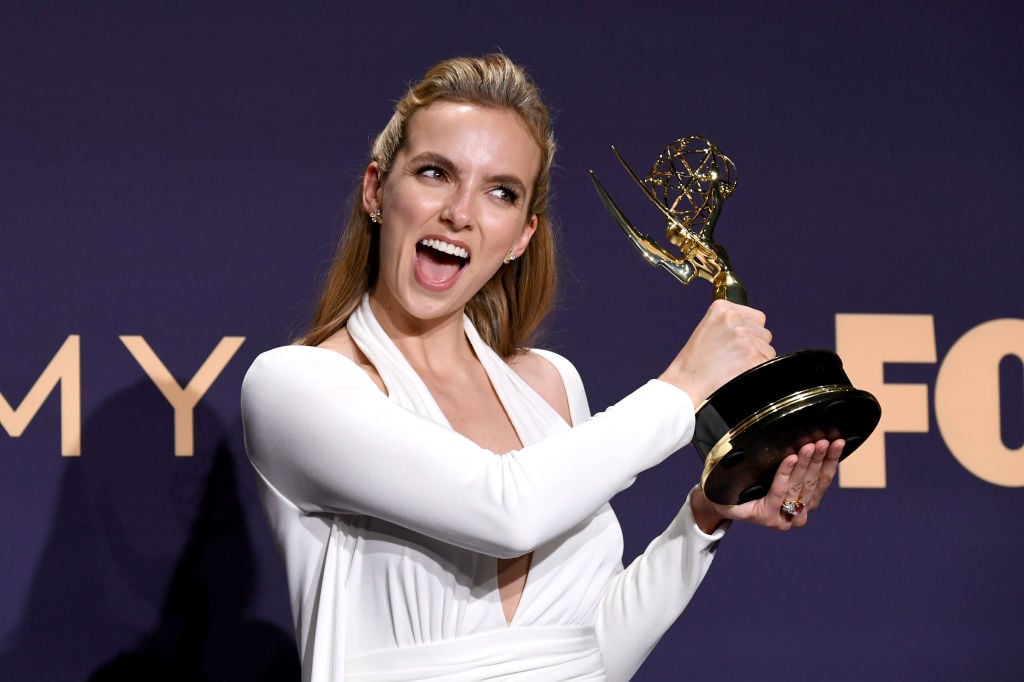 RELATED: Jodie Comer Shared Her Opinion About What Happens Next on 'Killing Eve' and Fans Have Strong Feelings About It
Playing Villanelle on 'Killing Eve' made it a little harder for guys to approach Jodie Comer
Playing a psychopathic assassin with a joy for tormenting her victims might make for must-see TV. Shockingly, though, it actually didn't help her in the romance department. When The Australian asked Comer on May 25, 2019, about her love life, she first responded with, "Oh, zero, darling, zero."
Comer then followed up with the possible link between her role and her dating scene. 
"I don't know if it's particularly because I've played a ­psychopath. I really don't get approached at all. Which is fine," she said. "I'm never in one place long enough."
A few days before that interview, Comer also talked to The Sun and shared a little bit of the same. 
"I wanted people to be scared of her. But when I am introduced to men sometimes they are a little bit hesitant and yes, maybe they can be a bit frightened," she shared. Although it's not all doom and gloom. "But then when they meet me, they see the real me and it's like, 'Oh, she's safe, she's all good'."
RELATED: Villanelle is Easily a Role Model According to Jodie Comer, One of the Stars of 'Killing Eve'
But as of April, Comer was 'very much' in love
However, about a year later and Comer's tune has changed. While she didn't give much away about who she was in a relationship with, she did tell Vogue that she was in love.
"I'm very much in it," she said in a feature on April 19. "I think love's the best. I'd been single for a while and just kind of going with the flow and doing my thing. That's the thing, isn't it? When you're relaxed and letting the universe do what it's doing, things kind of fall into place. Which is very much what happened. Which is great."
Again, she didn't share who she was dating, but that it was "fairly new" and that it's a guy. That's much different from Villanelle's romantic history, but that's to be expected since, you know, she only plays her on TV. 
No matter what her relationship status is, though, she'd like to keep it private
While Comer isn't new to acting, she is new to this level of fame. Before Killing Eve, she had made a name for herself in the UK, however now she's known worldwide. That comes with a whole new level of scrutiny, and she wants to keep her work separate from her personal life. 
RELATED: What Is Queerbaiting and Is 'Killing Eve' Guilty of It With Villanelle and Eve?
"I've seen comments where people say, all you do is post work stuff," she told The Guardian last June. "And it's so hard, because I understand that it's about balance and engaging with the people who support you, but I also have to be protective of my own world, you know?"
What seems to help is the fact that she's best friends with the girls she went to school with. And she's not for the partying life either.
"I want to work. I don't want to be seen. I guess I just don't feel the need to, really," she said. "Also! If I'm going out, I want it to be with my closest mates in a flat, with my hair tied up, doing something really embarrassing. I want that to be in a private world."
RELATED: Is Villanelle's Sexual Orientation the Same in the Novels as It Is on 'Killing Eve'