Joe Jonas Attended Taylor Swift's 'SNL' Performance But Joe Alwyn Did Not
On Nov. 12, 2021, Taylor Swift released her re-recorded album Red (Taylor's Version). To promote the album, Swift performed "All Too Well (10 Minute Version)" on Saturday Night Live on Nov. 13, 2021. Several celebrities including Blake Lively, Ryan Reynolds, Cara Delevingne, Joe Jonas, and Sophie Turner attended SNL to watch Swift's performance. However, Swift's boyfriend Joe Alwyn was unable to join the group.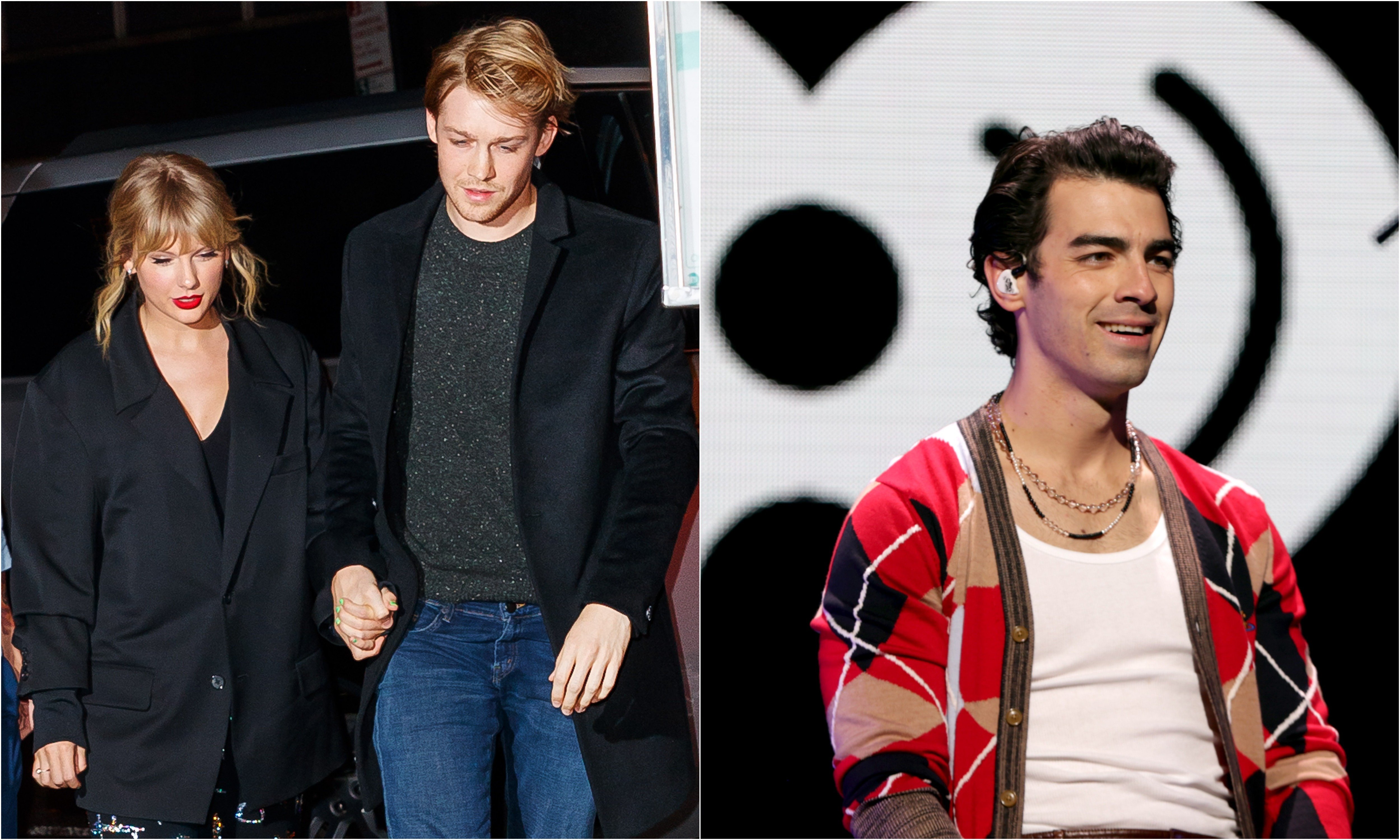 Joe Jonas attended Taylor Swift's 'SNL' performance
While just starting their careers, Jonas and Swift briefly dated in 2008. After the two broke up, Swift appeared on The Ellen DeGeneres Show to promote her album Fearless.
During the interview, DeGeneres brought up Swift's relationship with Jonas. Swift let DeGeneres know that the two broke up and that the song "Forever & Always" on Fearless is about Jonas.
Swift also famously let it slip how the relationship ended, telling DeGeneres, "When I find that person that is right for me he'll be wonderful and when I look at that person, I'm not even gonna be able to remember the boy who broke up with me over the phone in 25 seconds when I was 18."
Since Swift's 2008 appearance on The Ellen DeGeneres Show, Jonas and Swift have been on good terms. Swift is currently in a relationship with Alwyn, and Jonas is married to Turner.
RELATED: Taylor Swift Songs Often Come to Her in a 'Cloud' and She Has to 'Grab It'
Because of this, it comes as no surprise that Jonas and Turner attended SNL to support Swift.
According to E! News, Swift "posted on her TikTok a video of herself hanging out backstage with BFF Selena Gomez. And spotted entering the NBC Studios in New York City were Blake Lively—who directed and co-wrote an upcoming music video for the singer, her husband Ryan Reynolds, plus Cara Delevingne, The Queen's Gambit actress Anya Taylor-Joy, Taylor's ex Joe Jonas and his wife Sophie Turner. The group later joined Taylor at the after-party."
Joe Alwyn did not attend Taylor Swift's 'SNL' performance
While one of Swift's ex-boyfriends was in attendance at SNL on Nov. 13, 2021, Alwyn was not able to make an appearance.
According to ELLE Magazine, "The absence is due to work: Alwyn is currently shooting The Stars at Noon in Panama, which began production in October…"
ELLE Magazine's report continues, "Given COVID-19 set restrictions generally and Panama's international travel restrictions due to the pandemic, it's harder for Alwyn to travel between countries, support Swift for her big night in person, and then fly back without having to quarantine or take preventive actions that could hold up film production."
Taylor Swift performed 'All Too Well (10 Minute Version)' on 'SNL'
When Swift originally released Red in 2012, "All Too Well" became a fan-favorite song even though it was not a single. Over the years, fans also shared how much they wanted to hear the lyrics of the original 10-minute version of the song.
RELATED: Taylor Swift Wanted 'I Know Places' to Feel 'Like a Spy Movie'
With Red (Taylor's Version), Swift was able to release "All Too Well (10 Minute Version)" for fans. Swift also made a short film for "All Too Well" featuring the 10-minute version.
All Too Well: The Short Film stars Sadie Sink and Dylan O'Brien, and the short film played in the background when Swift performed "All Too Well (10 Minute Version)" on SNL.
RELATED: Taylor Swift Responds to Damon Albarn's Claim That 'She Doesn't Write Her Own Songs'