Joe Montana Sued His Ex-Wife Over 30 Years After Their Divorce
Thinking about the greatest quarterbacks to ever put on a helmet, Joe Montana's name is likely to come to mind right away. The Pennsylvania native came into the NFL in 1979 and spent most of the next 15 years wreaking havoc on the rest of the league.
Off the field, however, things were not as smooth. Montana has been married three times, but his first divorce took years to settle.
Who is Joe Montana?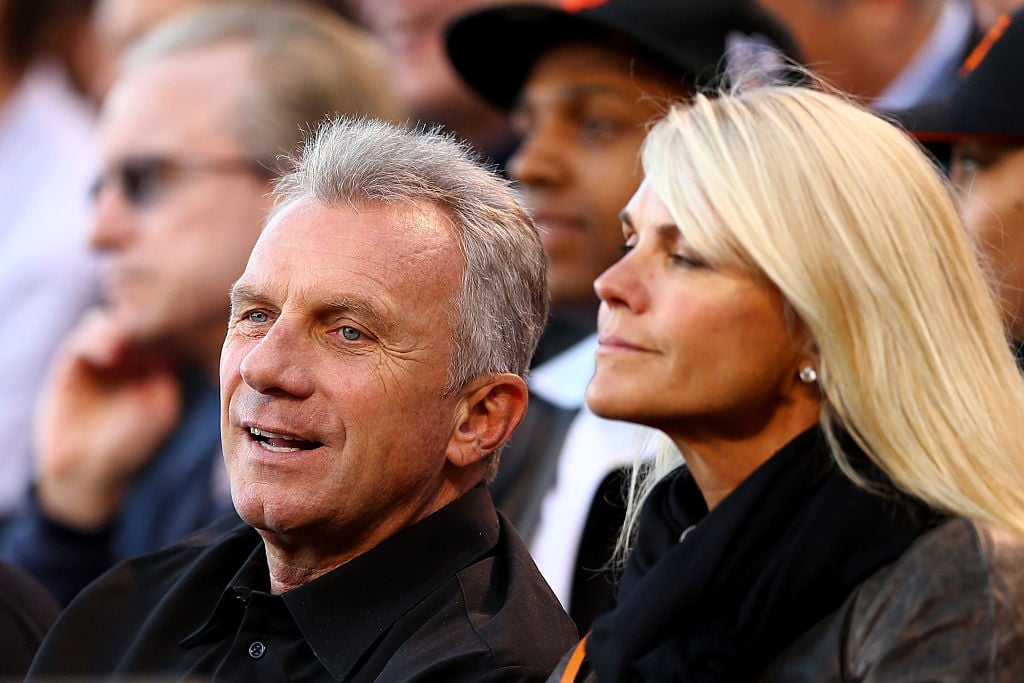 RELATED: Tom Brady Rejected Bill Belichick's $10 Million Gift He Desperately Needed
Joe Montana was a star at Notre Dame's legendary football program before he came into the NFL. After going in the third round of the 1979 draft, however, nothing was guaranteed when it came to his future in the NFL. Montana spent most of his first two seasons on the bench and did not yet show the promise that would come in 1981
That year, Montana got his full-time starting gig and showed glimpses of the superstar that he'd eventually become. According to Pro Football Reference, Montana threw for 3,565 yards and 19 touchdowns on the year with a near-64-percent completion rate, and he was just getting started.
After hoisting his first Super Bowl trophy up 1in 1983, Montana did so four more times, en-route to a Hall of Fame career.
At the top of his game, Montana didn't miss his targets and showed up exactly when the 49ers needed him. Even late in his career, as a member of the Kansas City Chiefs for two years, Montana showed the star-power that he exuded in his younger years. After retiring in 1994, however, Montana focused on television and business.
Relationship history
RELATED: Jennifer Lopez Lost Her Stake in the Miami Dolphins After a Divorce
According to Who Dated Who, Montana got married for the first time in 1974. Just 18 years old, he married his high school sweetheart Kim Moses while still playing at Notre Dame.
The relationship lasted only three years. Four years later, Montana tied the knot again. This time, it was with Cass Castillo. That marriage lasted only three years. Not long after, he married Jennifer Wallace, a model that he met while shooting a razor commercial.
With Wallace, Montana has four kids. His eldest daughter, Alexandra, was born in 1985, while sister Elizabeth Jean was born the following year. His sons, Nathaniel and Nicholas, were born in 1989 and 1992. They both played football in college but never made it to the professional leagues. The kids were born to a successful businessman who continues making more than he ever did as a player.
Montana was always business savvy, but with the type of star power that he has to this day, he's able to draw in significant investors for a variety of products that bear his name. When others capitalize, however, things get a little dirty.
Joe Montana sues his ex
In 2008, according to Reason.com, Montana sued his first ex-wife for copyright infringement. At the time, Moses sold letters and other memorabilia she had leftover from her days with the retired superstar. While some believed that the sale was an invasion of Montana's privacy, Moses saw it as her property that she could do whatever she wanted with.
The lawsuit stated that Moses must repay the $75,000 she made by selling her husband's likeness without her permission. Not only that, but the quarterback also claimed that the love notes were an invasion of privacy meant for her eyes and her eyes only. The outcome of the lawsuit was kept a secret, but by sending that message to his ex, Montana showed how much the old mementos meant to him.
Now happily married to his current wife of 35 years, Montana isn't hurting for financial gains. However, if somebody wants to capitalize on his image, they might want a good lawyer, too.