John David Duggar and Abbie Grace Burnett Confuse 'Counting On' Fans With Their Latest Instagram Post
When 'Counting On' stars John David Duggar and Abbie Grace Burnett took to Instagram to celebrate their anniversary, it just left fans confused.
Counting On stars John David Duggar and Abbie Grace Burnett have officially been married for two years. The couple celebrated their second wedding anniversary on November 3, and they marked the occasion with a post on their joint Instagram account. However, the caption of their anniversary post left many fans scratching their heads.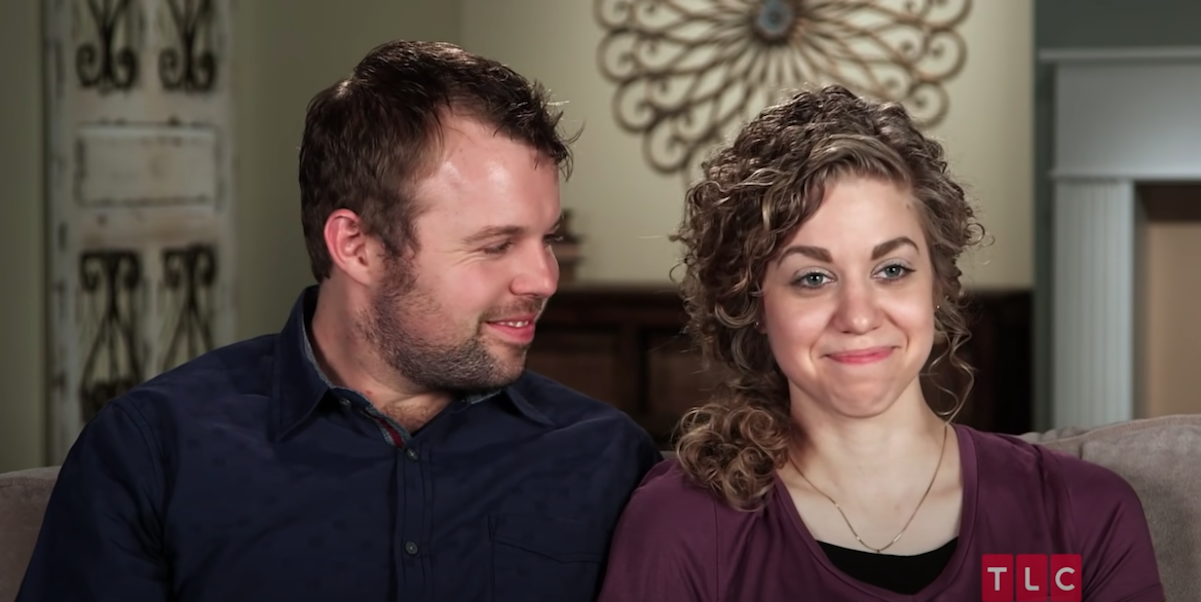 John David Duggar and Abbie Grace Burnett had an aeronautical-themed proposal
As many fans know, John David is oldest daughter Jana's twin and the second-oldest son of Jim Bob and Michelle Duggar. John David is a pilot who frequently flies the family's planes for travel and mission work.
John David incorporated his love of planes into his proposal to Abbie in the summer of 2018. He popped the question in an airplane hangar on a big heart made with red roses. Photographer Lori Blythe witnessed the special moment, and she says the couple is "more adorable" in real life than they are on TV.
"I was amazed that they were so caught up in each other that they seemed to barely notice all the extra media people moving about them with video and photography cameras and boom mics and light stands," Blythe wrote on her website. "And to my amazement, John David and Abbie enjoyed that moment in bliss like they were the only ones in the room!"
TLC featured John David's proposal to Abbie during the season 9 premiere of Counting On in an episode titled "Love Is In the Air."
The 'Counting On' stars also had a plane-themed wedding ceremony
Unlike his siblings, John David waited until his late 20s to get married. He was 29 and Abbie was 26. The couple didn't have a traditional Duggar courtship, and they didn't save their first kiss for their wedding day.
"At the beginning of our relationship, John and I sat down and kind of made a list of guidelines for ourselves to keep in relation to how much we touch," Abbie said, adding that the rules they agreed on were about "honoring God."
The couple continued the aeronautical theme on their wedding day. The wedding ceremony took place in front of 1,000 guests at a Baptist Church. The reception was in an airplane hanger and the couple posed for pictures on a runway in Abbie's hometown of Ada, Oklahoma.
"God made us perfect for each other," John David said at the time. "It's a match made in heaven."
John David Duggar and Abbie Grace Burnett's anniversary post left fans confused
When John David and Abbie became husband and wife, they made their debut on social media with a joint Instagram account. Two years later, they are still using the @johnandabbie account. They celebrated their second anniversary with a post that featured candid pictures of the couple.
"No one else makes my heart as happy as you do. No one else makes me smile or feel so loved," read the caption. "I just want you to know that with you is where I always want to be. Happy 2nd anniversary, my love!"
The official Duggar family account commented, "Happy Anniversary! You two were made for each other." Jessa Duggar also posted a sweet message for John David and Abbie, as did Bringing Up Bates star Carlin Bates.
The fan reaction to the post was overwhelmingly positive. But as The Hollywood Gossip points out, the post confused some Counting On fans because it wasn't clear who wrote it. Was it from Abbie to John David, or vice versa? It might be time for separate accounts.
Since their wedding, John David and Abbie have welcomed a daughter named Grace. Episodes of Counting On are available on Hulu.