John Krasinski's Relationship With Emily Blunt Mimic's 'The Office' Jim-Pam Romance In a Big Way
John Krasinski is a popular actor, who rose to fame for his abilities as a comedian. These days, he has earned acclaim for his versatility and has appeared in everything from dramatic films to light, romantic comedies. Krasinski's fans love his reliability and honesty, but there's no doubt that his popularity has been boosted due to his marriage to English actress Emily Blunt. Not only are Blunt and Krasinski the true definition of "couple goals," but their love story mirrors Krasinski's onscreen romance with Jenna Fischer on The Office in one major way. 
John Krasinski is best known for 'The Office'
Born in 1979, Krasinski became involved in acting while in high school, going on to appear in a variety of school productions. After his graduation from Brown University, Krasinski moved to New York in order to get his acting career underway.
His early years in the business included some appearances in television commercials, but he didn't get his big break until 2004 when he was cast in the brand-new TV series, The Office.
As Jim Halpert, Krasinski was appealing, charming, and an immediate fan-favorite. The primary focus of his character's arc was the ongoing relationship with Pam Beasley, played by Jenna Fischer. They might have begun as friends, but over the years, viewers followed along with Jim and Pam's gradual progression into boyfriend and girlfriend.
Shy Pam had a difficult time opening up to Jim, and he had to pursue her actively, assuaging her fears about entering into a workplace relationship — but in the end, they found their happily ever after. Their romance remains one of television's most popular pairings. 
How did John Krasinski meet Emily Blunt?
Not only did Krasinski's fictional romance with Pam Beasley place him in the category of the pursuer, but his real-life one with Emily Blunt did, as well.
In 2008, when Krasinski was still starring on The Office, he met Blunt through a mutual friend. Not only was Krasinski very aware of Blunt's status as an A-list actress, but he was a huge fan of her work. In fact, Krasinski had seen Blunt's biggest film, The Devil Wears Prada, "75 times" and he considered himself to be Blunt's "stalker." 
Fortunately, Blunt reciprocated his affections right out of the gate, without Krasinski having to convince her of the seriousness of his feelings, and the two started dating not long after their initial meeting. They got engaged in August 2009, less than a year after they first started going out. 
How long have John Krasinski and Emily Blunt been married?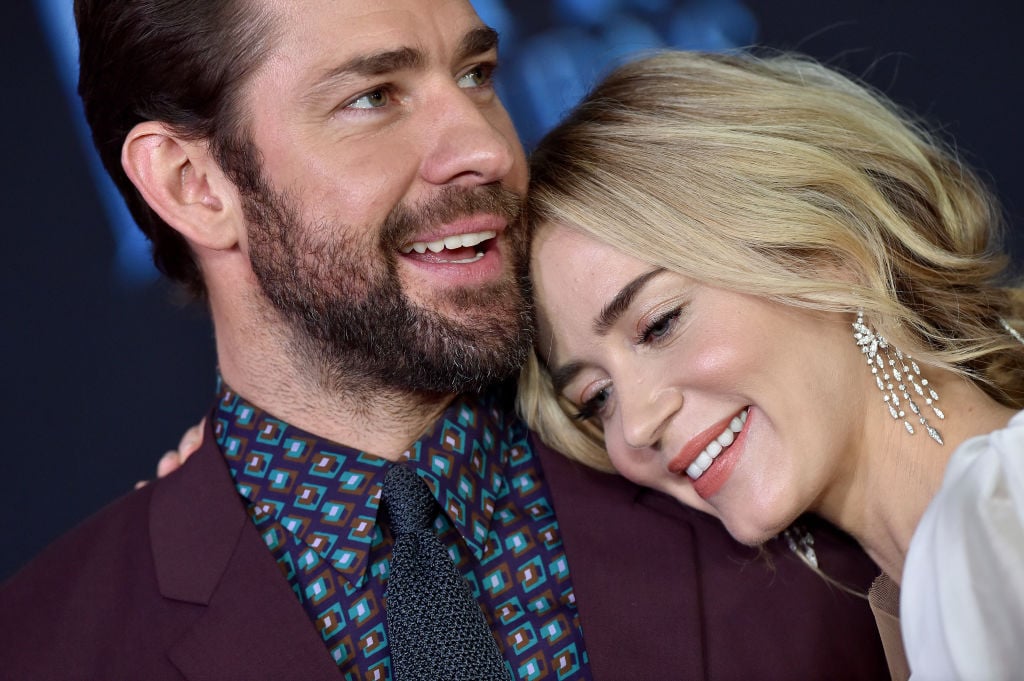 Krasinski and Blunt's fairy tale romance turned a corner in the summer of 2010 when they tied the knot in a beautiful, private ceremony in Lake Como, Italy. For a couple that started their relationship in such a perfect way, it was undoubtedly an ideal way to begin the next chapter of their life together.
Blunt and Krasinski expanded their family in 2014 when they welcomed their daughter, Hazel. In 2016, they had another baby girl, named Violet.
Krasinski and Blunt are still happily married and are now one of Hollywood's true power couples. They have worked together on several occasions, including on the critically acclaimed horror film A Quiet Place.
Fans love them together, and especially how much they rave about each other in interviews. For Krasinski, being married to Blunt is undoubtedly a dream come true, considering how long he admired Blunt from afar before they finally got together — much like his fictional romance with The Office's Pam Beasley.