John Lennon Almost Brought His First Wife Cynthia and Yoko Ono on The Beatles' Trip to India
John Lennon said he almost brought his first wife, Cynthia Lennon, and the girl he was falling in love with, Yoko Ono, on The Beatles' trip to India in 1968.
John Lennon had an interesting time during The Beatles' trip to India in 1968, but he missed Yoko Ono. Maharishi Mahesh Yogi, the leader of the Transcendental Meditation movement, invited the group to his annual retreat reserved for Westerners at his ashram in Rishikesh.
When John wasn't meditating for days on end, writing countless songs, and taking helicopter rides with Maharishi, hoping he'd slip him "the answer," John was constantly going to and from the post office hoping to find the latest letter from Yoko Ono.
It's a good thing John decided not to bring his wife, Cynthia, and Yoko.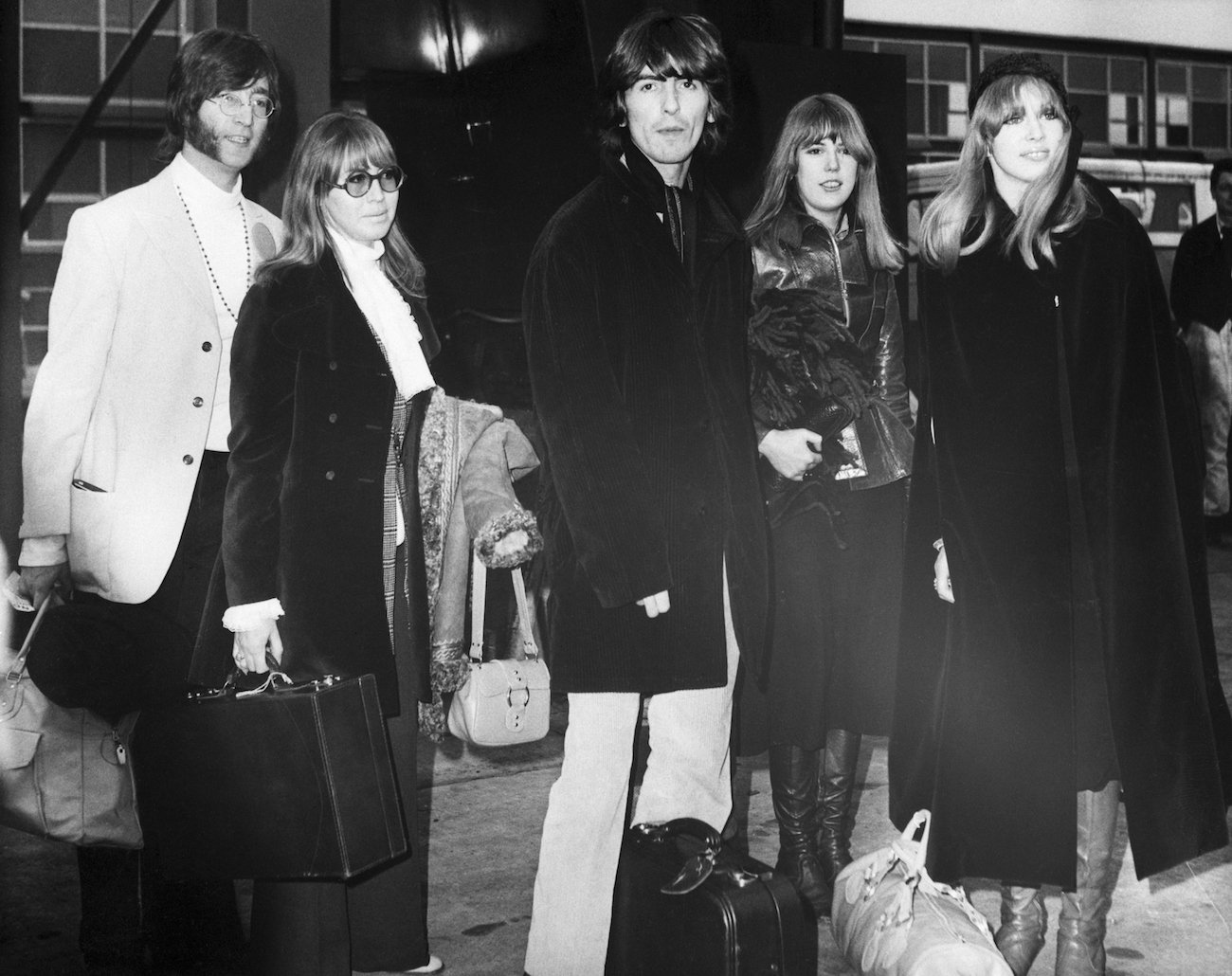 John Lennon almost brought his wife Cynthia and Yoko Ono on The Beatles' trip to India
Once John met Yoko in 1966, he began to have problems in his marriage to his first wife, Cynthia Lennon. Once The Beatles decided to travel to Maharishi's ashram, John wrestled with taking Yoko along with Cynthia.
On second glance, though, John decided it wasn't the best choice to bring her.
In 1970, John Lennon revealed to Rolling Stone's Jann Wenner that he thought about taking Yoko. He was going to bring Yoko on the trip, "but I lost me nerve because I was going to take me wife and Yoko and I didn't know how to work it [laugh]. So, I didn't do it. I didn't quite do it."
However, it wouldn't have made a difference if John had brought Yoko. He still ignored his wife and paid more attention to Yoko's letters so much that it was as if she was there.
Cynthia thought their trip to India would save their marriage
Meanwhile, Cynthia hoped that her and her husband's trip to India would help their marriage. In her 2005 book, John, Cynthia wrote that she initially thought the trip would be like a second honeymoon for them. She was sorely mistaken. John already loved Yoko.
"John was becoming increasingly cold and aloof toward me," she wrote (per Rolling Stone). "He would get up early and leave our room. He spoke to me very little, and after a week or two he announced that he wanted to move into a separate room to give himself more space.
"From then on, he virtually ignored me, both in private and in public." Rolling Stone wrote that Cynthia later learned where John was going every morning; the post office to check if Yoko had sent him a letter.
In her book, Cynthia also claimed that John later accused her of having an affair with one of their fellow meditators at the ashram, Tim Simcox, an American actor who starred in TV series like Bonanza and Gunsmoke. Meanwhile, John only had thoughts of Yoko.
George Harrison's wife claimed John had an elaborate plan to leave India early so he could see Yoko
Cynthia also wrote about an alleged scandal at the ashram that angered John.
"Magic" Alex Mardas, an inventor and Apple Corps employee, claimed Maharishi was acting inappropriately toward certain women in the camp. John was so upset that he confronted the guru and promptly left the ashram.
Cynthia recalled it in her book (per Beatles Bible). "A couple of weeks before we were due to leave, Magic Alex accused the Maharishi of behaving improperly with a young American girl, who was a fellow student. Without allowing the Maharishi an opportunity to defend himself, John and George chose to believe Alex and decided we must all leave.
"It was only when John and I talked later that he told me he had begun to feel disenchanted with the Maharishi's behavior. He felt that, for a spiritual man, the Maharishi had too much interest in public recognition, celebrities and money."
John confronted the guru. He told Rolling Stone (per Beatles Bible), "We went down to him and we'd stayed up all night discussing, was it true or not true. And I said, 'We're leaving.'
"'Why?' Hee-hee, all that s***. And I said, 'Well if you're so cosmic, you'll know why.'" After that, John promptly fled India. He wrote "Maharishi," which he renamed "Sexy Sadie" at George's advisement.
The rest of The Beatles didn't understand why John fled. However, George Harrison's wife, Pattie Boyd, has an interesting theory. In her memoir, Wonderful Tonight, she wrote that the alleged incident may have given John an excuse to leave the ashram early to see Yoko.
Whatever happened during The Beatles' stay in India, John was able to go home to Yoko. The trip was beneficial in many ways, but it couldn't save John's marriage.