John Lennon Flirted With Ronnie Spector the First Time They Met: 'Okay, I Guess I Lost on That One!'
John Lennon made moves on The Ronettes' Ronnie Spector at a party, the first time they met. John was married and Spector was dating Phil Spector.
Before The Beatles went to America and after The Ronettes recorded "Be My Baby," John Lennon met Ronnie Spector at a party. They instantly clicked. Maybe almost too well. John put the moves on Spector, and she had to deny his advances quickly.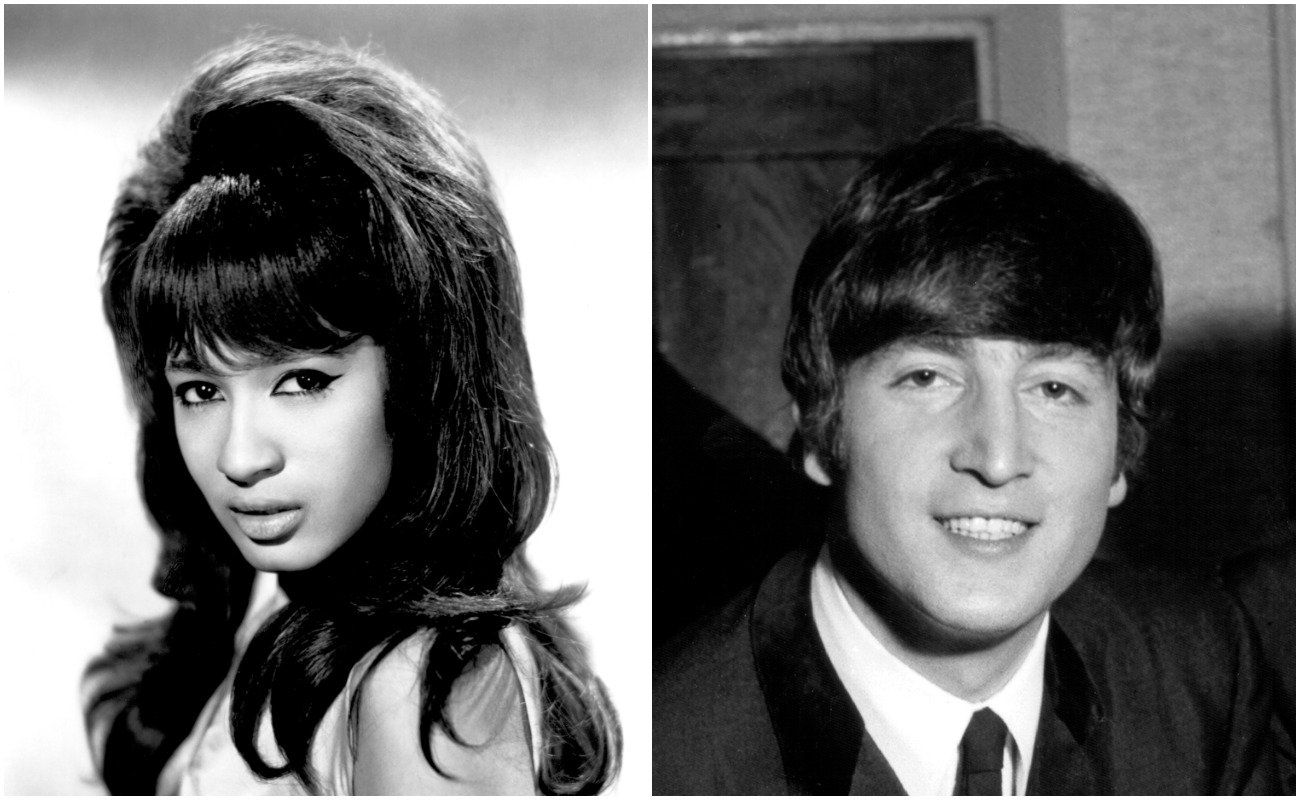 John Lennon met Ronnie Spector at a show-business party in 1964
According to People, The Beatles officially met The Ronettes at a show-business party in London. The Ronettes were over the pond for their first U.K. tour. The Beatles, The Rolling Stones, and more welcomed the trio and made them feel a part of the music scene.
Spector had heard that the Fab Four wanted to be introduced to them. "They had seen us on Sunday Night at the London Palladium and they said, 'We have got to meet these girls with the black long hair and slits up the side,'" Spector said.
However, when John and Spector met, she had no idea John would put moves on her.
John flirted with Spector but she denied him
Although John was married and Spector was dating her producer, Phil Spector (her future husband), the pair flirted at that party in London. However, Spector put a stop to it before it went too far.
"John took me into a room to show me the beautiful lights over London," Spector told People. "I said, 'Wow, it's so beautiful.' And he said, 'Yeah, you are.'"
When John tried to take her to the bed, she stopped him. "I was young then, and I was seeing Phil. I didn't want to kiss other guys and stuff," Spector explained. So, Spector said, "We gotta go downstairs, John!"
John respected Spector's wishes. He said, "Okay, I guess I lost on that one!" The incident bonded them instead of making things awkward. Then, John became her protector.
"He was so nice and polite," she told People in 2017. "He'd take me to clubs, and he took me to Carnaby Street to get all the t-shirts. We didn't know what was in London, so John was all, 'Don't worry, Ronnie: I will take you.' And then at night they'd take us to clubs.
"I remember one night I was with John and he said, 'Ronnie, sing a little bit of 'Be My Baby' in my ear.' So I went, [full-voiced] 'Be my little baby!' And he almost passed out. I can't sing low, I had to go all out. It blew his mind."
John called Spector when The Beatles came to America
After The Ronettes left England, Spector and John remained close. A month after meeting, John called Spector to show The Beatles around New York during their first tour of America.
Spector told Rolling Stone, "I remember them coming to New York the first time, and John Lennon called me saying, 'Ronnie, we don't know what to do. We're prisoners here.' They were in either the Warwick or the Plaza Hotel. 'You gotta come up and get us out of here.' They didn't know anybody in America.
"So me, Estelle and Nedra – the three Ronettes – would go up there. He said, 'Please bring the 45 records.' So we'd sit there on the floor and listen to records. We had the best time. I remember he got upset because the Supremes came in, because people came in just to take pictures with them.
"But they were our buddies; we were having fun. I remember George going, 'Oh, no. We've got to take a picture.' So they'd get up, leave us and come right back and sit down on the floor and continue our conversation about rock & roll."
In England, John and Spector even went on a double date with Spector's sister and fellow Ronette, Estelle Bennett, and George Harrison. Although, the Bennett sister's mother crashed it accidentally.
"My mother toured with us everywhere," Spector told People. "John and George were picking us up at the hotel to take us to dinner. They were so nice and polite, they said, 'Mrs. Bennett, would you like to go to dinner with us?' And my mother said, 'Sure, let me get my purse!'
"I almost had a heart attack! We were just at the age where we wanted to go out and have fun, and here's Mom with us!? No no no. But we didn't know how to say that. So we took her to dinner like good little girls, and of course John and George were so polite: 'Ok, Mrs. Bennett, we'll wait for you to get your purse.' And I'm looking at them: 'We wanna see England without mom!'"
Later, in 1966, The Beatles asked The Ronettes to open for them on their world tour. After that, Spector and John never forgot each other.