John Mayer's Speech at Andy Cohen's Walk of Fame Star Ceremony Made Fans Teary-Eyed
During Andy Cohen's Hollywood Walk of Fame ceremony, John Mayer showcased his knowledge of real housewives as well as admiration and love for his close friend and Bravo host.
Andy Cohen has been a mainstay in the reality TV industry for years now. Recently, the Bravo talk show host was honored with his own star on the Hollywood Walk of Fame. The Real Housewives of Beverly Hills cast members Garcelle Beauvais and Lisa Rinna attended the event and gave speeches. However, Cohen's close friend John Mayer stole the show with his heartfelt, humorous speech in front of cameras and fans.
Aside from showcasing his knowledge of all thing's Real Housewives, the singer-songwriter delivered a speech that made everyone teary-eyed.
Andy Cohen's contribution to reality TV earned him a star on the Hollywood Walk of Fame
Cohen received his Walk of Fame star on February 4, 2022, commemorating over 30 years of contributing to popular culture and television. The 53-year-old began his career as an intern at CBS News. He worked at the network for 10 years before joining Bravo. Cohen quickly rose through ranks, becoming a top executive in charge of programming at the network.
In 2006, Cohen executive produced the first installment of the now-iconic reality TV franchise, the Real Housewives. Since then, the St. Louis native added talk show host, radio host, and bestselling author to his resume.
Among those in attendance at the Hollywood Walk of Fame star ceremony: Cohen's parents; his 3-year-old son Benjamin, who also celebrated his birthday; and his best friend Bruce Buzzi. Real Housewives cast members Beauvais and Rinna, who are currently filming a season 12, also attended the ceremony honoring the Bravo mogul.
John Mayer watched every 'Real Housewives' series before the ceremony to prepare for his speech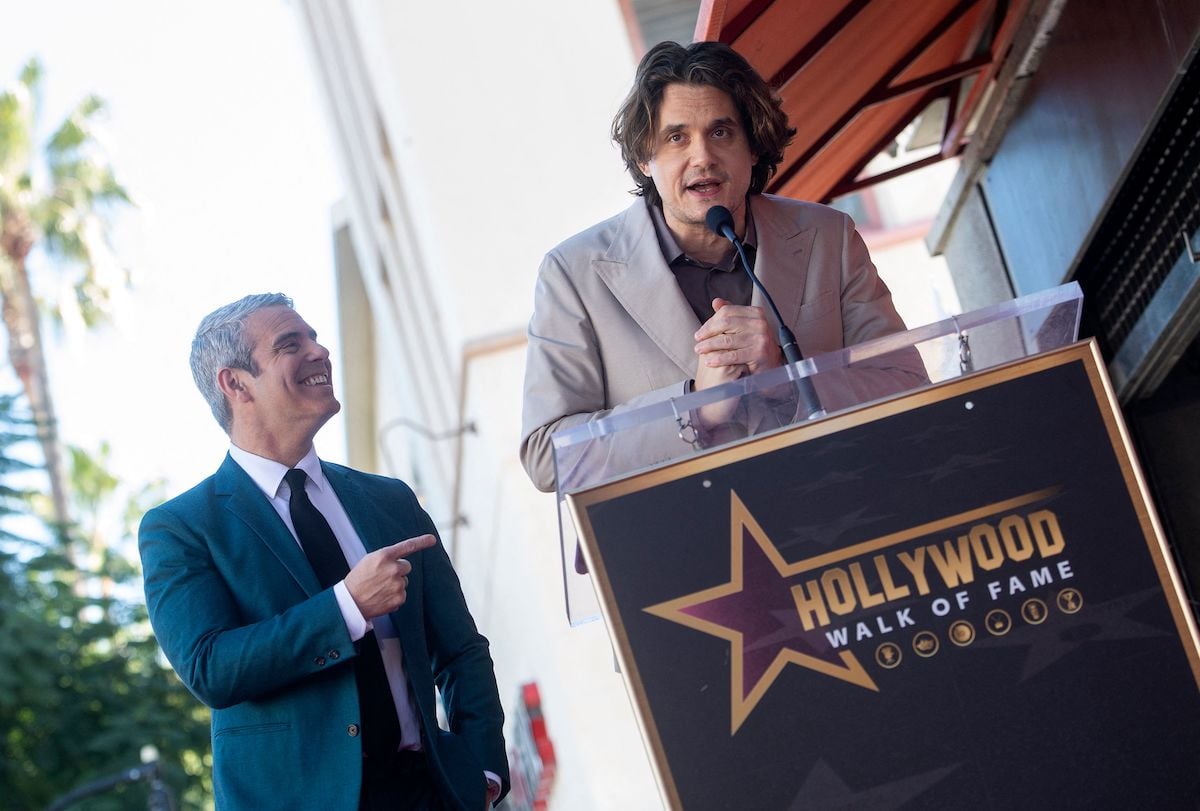 Out of all the speeches made during the ceremony, Mayer's was quite possibly the best. While honoring Cohen, as the Bravo host's Instagram post details, the "Gravity" singer showcased his extensive Real Housewives knowledge. He even offered fair and hilarious comparisons between their friendship and those on the Bravo series.
Mayer dragged Lisa Barlow of The Real Housewives of Salt Lake City in his speech: "He's my friend. My dear friend. And there are times in life when you just need a friend you can count on. For example, when Homeland Security shows up to the Beauty Lab + Laser parking lot and your friend's life is suddenly in shambles, will you be a Heather Gay or a Lisa Barlow?"
The singer referenced the chaotic scene in RHOSLC when law enforcement agencies, including the NYPD, SWAT, and Homeland Security, arrived at Gay's business, Beauty Lab, to arrest Jen Shah. After the incident, Gay showed loyalty and support toward Shah while Barlow called several lawyers to protect herself from the scandal. Mayer further quipped that Cohen was a "Forever Heather Gay." A true compliment to Bravo fans in the know.
Mayer also admitted to having watched every Real Housewives franchise in preparation for his speech. Despite all of the hilarious quips, Mayer offered some generous words. The 44-year-old told the crowd that Cohen brings "a much-needed ray of sunshine into our lives."
Inside Andy Cohen and John Mayer's friendship
According to Heavy, Mayer and Cohen have been friends for a long time. The two stars have done practically everything together, from vacationing and taking road trips to simply hanging out together.
For Cohen's 50th birthday, the singer surprised him with a serenade of "It's My House" by one of the talk show host's all-time favorite artists, Diana Ross. Mayer also took over hosting duties on the Clubhouse for the day.
In 2019, when Cohen hosted his baby shower, Mayer was the only man present in the sea of ladies. The celebration took place at The Palm Beverly Hills, where cast members of the Real Housewives franchise attended. The group picture of Cohen, Mayer, and dozens of housewives quickly went viral.