John Mulaney and Anna Marie Tendler Reveal Music They Turn to During Emotional Times – From The Beatles to Pavement
Continuing to express pain and anguish through her art, John Mulaney's wife Anna Marie Tendler recently shared a new photo shot as George Harrison's "All Things Must Pass" solo album.
The couple, who recently announced they plan to divorce, are music lovers and have individually shared musical influences during times of pain. Mulaney's remarks came after the 2016 election when he shared the song he listened to at his lowest point. Tendler turned to Harrison's song "It's a Pity" as her muse for her expression.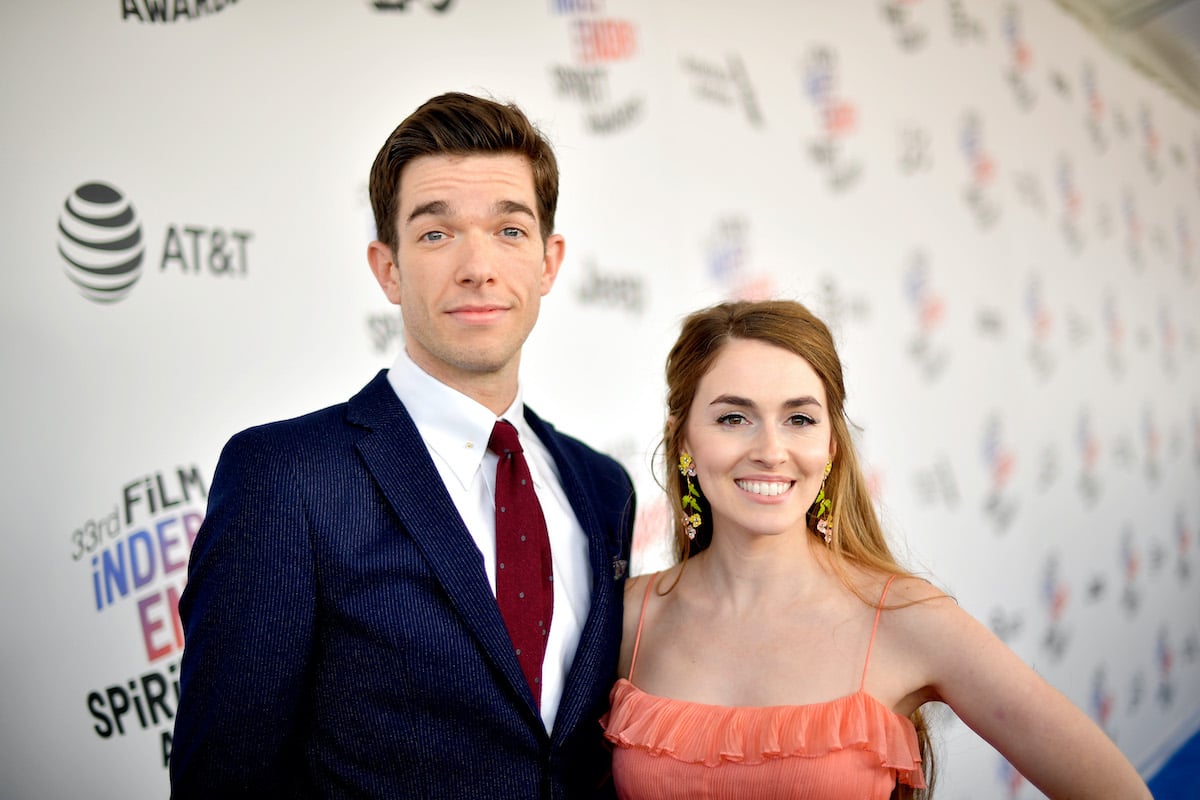 Anna Marie Tendler turns to a George Harrison song to express herself
Tendler recreated the "All Things Must Pass" album cover but surrounded herself with four sleek faux deer instead of the creepy, chilled-out gnomes. Like Harrison, she is sitting in the middle of the deer in a vast yard – very similar to the Harrison cover.
She captioned the photo with the single, "Isn't it a Pity," about breakup, sadness, and isolation. One commenter added lyrics to the post too. "Isn't it a pity. Isn't it a shame. How we break each other's hearts. And cause each other pain. How we take each other's love. Without thinking anymore. Forgetting to give back. Now isn't it a pity."
RELATED: John Mulaney's Wife Anna Marie Tendler Cradles Their Dog Petunia in Emotional 'Mother's Day' Instagram Post
Tendler's previous photos are powerful and emotional. She is almost communicating what she is enduring through her art. Before the couple announced their divorce, Tendler was almost screaming about her pain. An image of her stoic face with tears streaming down her cheeks, captioned, "Moon in Pisces, a self portrait" was posted in February. The couple announced their divorce in May. And only days before the announcement, Tendler posted a photo cradling their dog Petunia, alone in a room.
John Mulaney shared that he listens to Pavement when he's sad
While Mulaney has remained off of social media and is not speaking to the press, he opened up about what he listens to during times of sadness. He told Pitchfork in 2017 that he listens to Pavement's "Secret Knowledge of Backroads" when he was sad.
"I would play that when I was sad to become even more sad," he said. "With that song, I thought, I'll just start sobbing on the F train. Which is fine, by the way. I could feel it in my face, building up for four days, ready to go, like levees were holding back all these crazy, sad, man tears."
RELATED: John Mulaney's Return to Comedy 'From Scratch' Could Give Fans a Peek Inside His Pandemic Life
Mulaney added that Donald Trump's 2016 win felt like the fallout after a relationship. "After the election, it felt like being underwater," he said. "It felt like a breakup. It felt like finding out someone cheated on you." He added, "It felt like you were fired." And "It was like everything at once, like, 'Oh, I thought we were all on the floor, but there is no floor and we're free-falling.'"