John Mulaney Dragged for Inviting Dave Chappelle on Stage to Tell Transphobic Jokes – They 'Hugged' at the End
Some fans were outraged when Dave Chappelle made a surprise appearance and told transphobic jokes at John Mulaney's show.
John Mulaney's (former) fans dragged him on Twitter after an Ohio show where he invited comedian Dave Chappelle to make a surprise appearance. According to tweets posted by fans, Chappelle told a battery of transphobic jokes and Mulaney hugged Chappelle when his set ended.
Because phones were prohibited during the show, angry fans took to Twitter to express their outrage and disappointment over how Mulaney embraced Chappelle's brand of comedy.
Some John Mulaney fans felt ambused by Dave Chappelle's appearance
One fan tweeted after the show from Mulaney's "From Scratch" tour. "My favorite part of tonight was when Dave Chappelle ambushed us at the John Mulaney show, told a bunch of transphobic jokes, a massive stadium of people laughed, and then John Mulaney hugged him at the end," the person posted.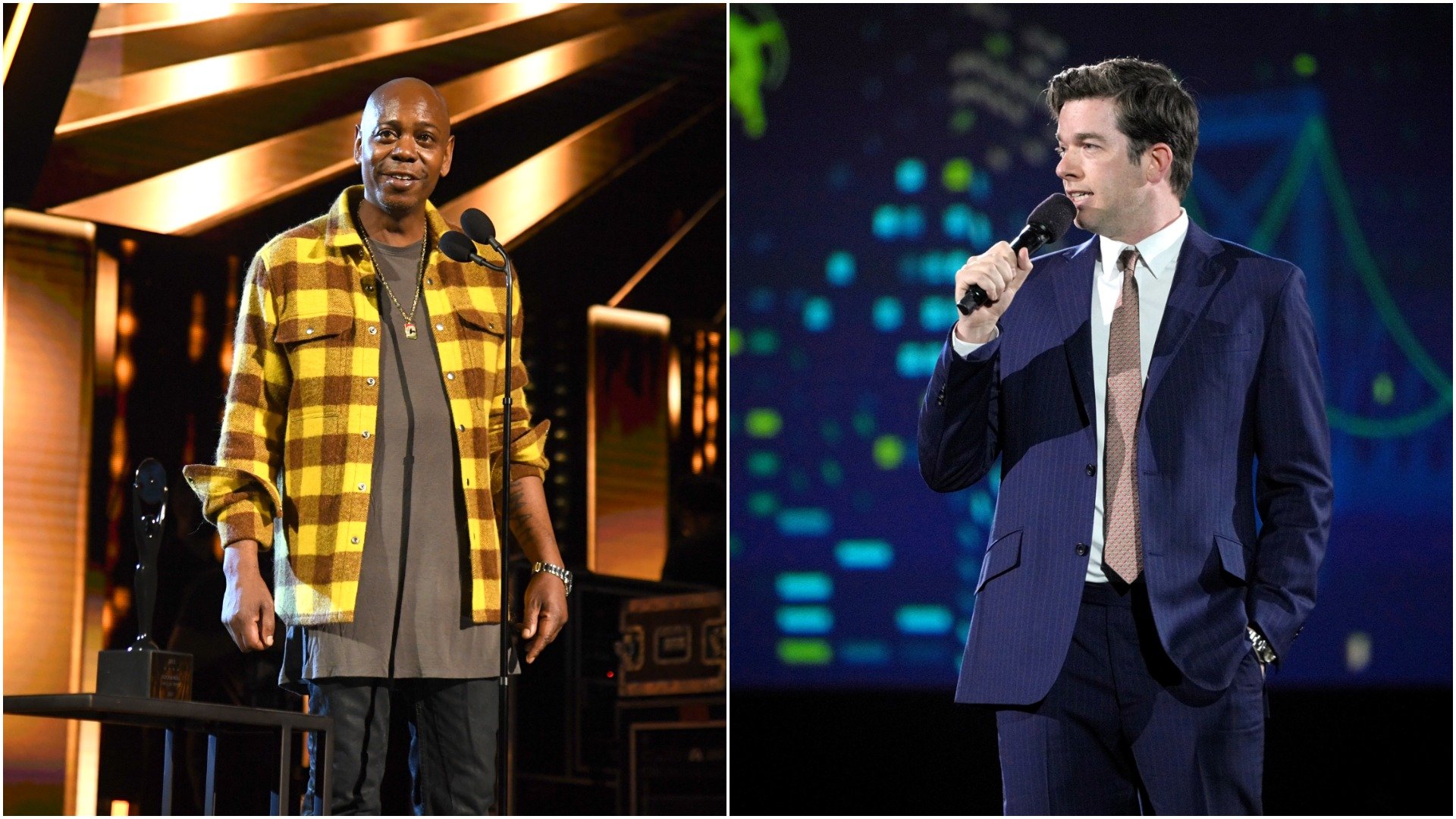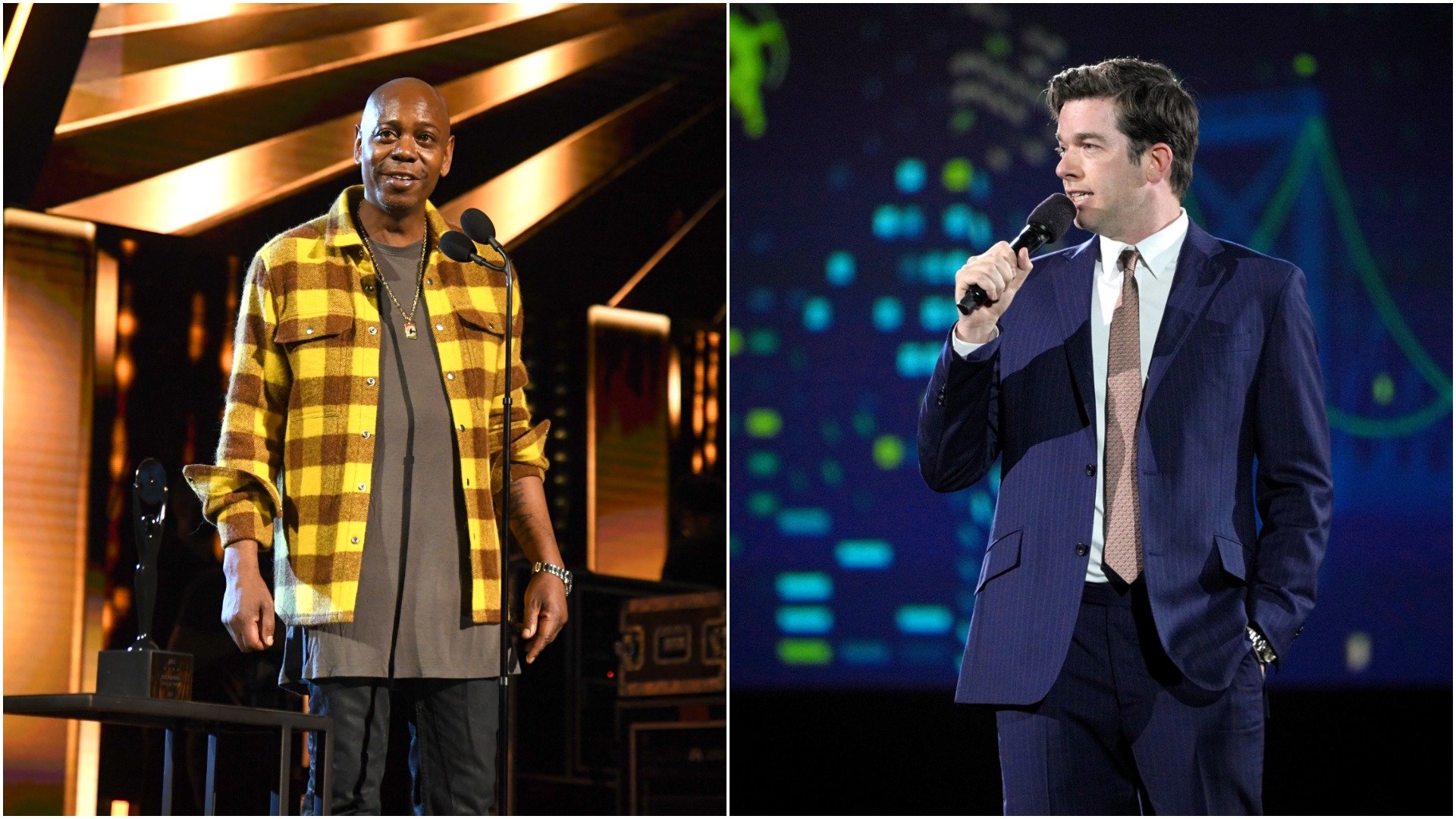 "Anyway I was such a big John Mulaney fan and I think I still am, but they also had our phones in little locked wallets so we couldn't film, so I just had to sit there joke after joke about trans people and hear 18k people laughing along," the person continued. Adding, "This was at the Columbus show and he only came because he lives like an hour away. Being trans is so exhausting I can't even have a nice night out without being reminded that most of society wants trans people dead."
John Mulaney stood by while Dave Chappelle made transphobic jokes
Tweets began to emerge throughout the evening and following morning. "The way the entire stadium stood and cheered for him made my heart sink. 2 girls behind me laughed harder at Chappelle than they did at some of Mulaney's jokes and I just couldn't fathom knowing what they would've thought about a trans person sitting right in front of them," another fan tweeted.
Another person wrote, "I feel like the reason so many of us thought John was chill was bc he usually didn't make offensive jokes. We forgot that just bc *he* doesn't say it doesn't mean he will stop someone else from saying it. if he's not actively fighting it, he's not really an ally."
Comedian and Mulaney's close friend Dan Levy also did a set. He posted on his Instagram story that the "purple suit" he wore for his set did well and so did "the local who stopped by" referring to Chappelle.
Not all fans were angry with John Mulaney
Some fans disagreed with the outrage being expressed over Chappelle's appearance. "So damn sick and tired of people CONSTANTLY dumping over John Mulaney. Just b/c he had Dave Chappelle open 4 him does NOT in ANY way, shape, fashion or form mean he agrees w/his EVERY joke, thought, etc. You can have an opener and disagree w/them," one person tweeted.
But, in response, another fan wrote that just because Mulaney didn't deliver the jokes, he still stood by and said nothing. "Except that when it's transphobia it does mean he agrees. either you actively condone it or you're passively/actively allowing it to happen. transphobia literally kills people. so John Mulaney absolutely deserves to be "dumped on" if he's decided transphobia is ok," the person wrote.
One fan summed up feelings about the show: "I take back every defense I've made of John Mulaney, very divorced of him to have Dave Chappelle open for him and tell a bunch of transphobic jokes. Elon Musk-esque. It's serving moldy leftovers in the lunchbox in the office fridge."