John Mulaney Jokes That He Predicted Meghan Markle and Prince Harry 'Were Desperate for Publicity'
In November 2020, John Mulaney appeared for a segment called "Royal Watch: News From the Real-Life Crown" on Late Night with Seth Meyers. During the segment, Mulaney shared his thoughts on the royal family and Netflix's The Crown. In a recent appearance on Late Night, Mulaney joked that he predicted Meghan, Duchess of Sussex, and Prince Harry "were desperate for publicity."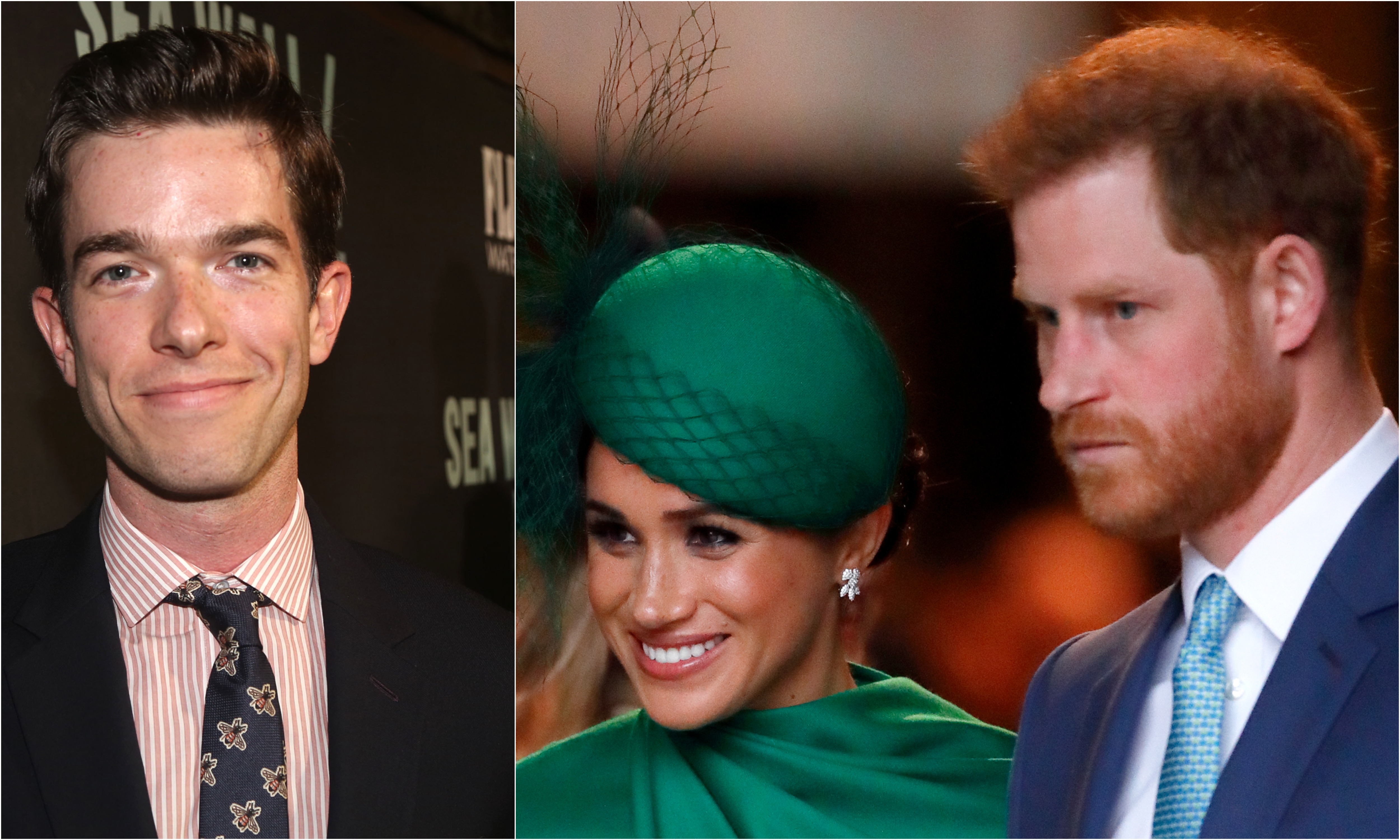 John Mulaney held a segment about the royal family on 'Late Night with Seth Meyers'
Mulaney's first and only "Royal Watch: News From the Real-Life Crown" took place on Nov. 24, 2020. The comedian briefly joined the late-night talk show as a writer earlier in the month. During the "Royal Watch" segment, Mulaney primarily discussed his opinions about Meghan and Harry.
"It's weird! Or don't you think it's weird that Prince Harry and Meghan Markle, they left the royal family, and they're like 'Oh, this will be the story of the year,'" Mulaney told Meyers.
"When did they say that though?" Meyers asked. "Did they say 'This will be the story of the year?'"
"No, but people said, you know, 'This is a big deal,' you know, which it is," Mulaney replied.
Mulaney then began to complain to Meyers about Meghan and Harry, and he brought up that other things ended up dominating the news cycle.
"Yes, it's a huge deal that they left. And they thought everyone was going to care, Meghan and Harry, and then people did care but then the story totally got eclipsed, and now people talk about it less," he said.
John Mulaney brought up Prince Harry and Meghan Markle again
On Sept. 7, Mulaney appeared on Late Night to talk about an intervention Meyers helped stage, his new journey with sobriety, and his relationship with Olivia Munn. Toward the end of his appearance on the talk show, Meyers and Mulaney talked about "Royal Watch: News From the Real-Life Crown."
"I had been under the influence the day before, and the day after I probably was under the influence. But while on the show, trying to update the audience on the 'Royal Watch,' at your insistence, I was more sober than not. However, a lot of people were then saying 'Something's wrong with John Mulaney' and I was sitting at home going 'Indeed something is,'" Mulaney said of his "Royal Watch" segment.
As Mulaney talked about his past appearances on Late Night in 2020, he brought up Harry and Meghan.
"I mean how crazy I must have been to suggest that Harry and Meghan were desperate for publicity," he said. "Back in November, when that totally came true later."
John Mulaney is 'grateful' for Seth Meyers
While Mulaney did joke about the royal family some on Late Night, a majority of the conversation focused on explaining the timeline of his relapse with drugs and alcohol, his intervention, and his current sobriety. Because Meyers is one of Mulaney's close friends and was present at the intervention, the two's friendship also took center stage.
"I love you very much and I'm glad you're doing well," Meyers said.
"I love you Seth. You guys saved me from drugs and Olivia and this baby have helped save me from myself," Mulaney told him. "Yeah, I don't have a joke for that. I'm really grateful to you, buddy."
New episodes of Late Night With Seth Meyers premiere on weeknights on NBC at 12:35 a.m. ET.
How to get help: In the U.S., contact the Substance Abuse and Mental Health Services Administration helpline at 1-800-662-4357.