John Mulaney Says He Was 'More Sober Than Not' During Seth Meyers Appearance in Sunglasses and Trench Coat
Despite showing up in bright sunglasses and a trench coat given to him by Strokes frontman Julian Casablancas, comedian John Mulaney said he was "more sober than not" when he appeared on Late Night with Seth Meyers. During his viral interview with Meyers, he recounted his appearance, joking about how the now-famous photo from that appearance became the main image used when reports surfaced that he checked himself into rehab for cocaine and alcohol abuse.
"I had been under the influence the day before," he said about his Nov. 2020 appearance on the show. "And the day after I was probably under the influence. But while on the show, trying to update the audience on the royal watch, at your insistence, I was more sober than not. However, a lot of people were saying 'Something's wrong with John Mulaney.' And I was at home saying, 'Indeed something is.'"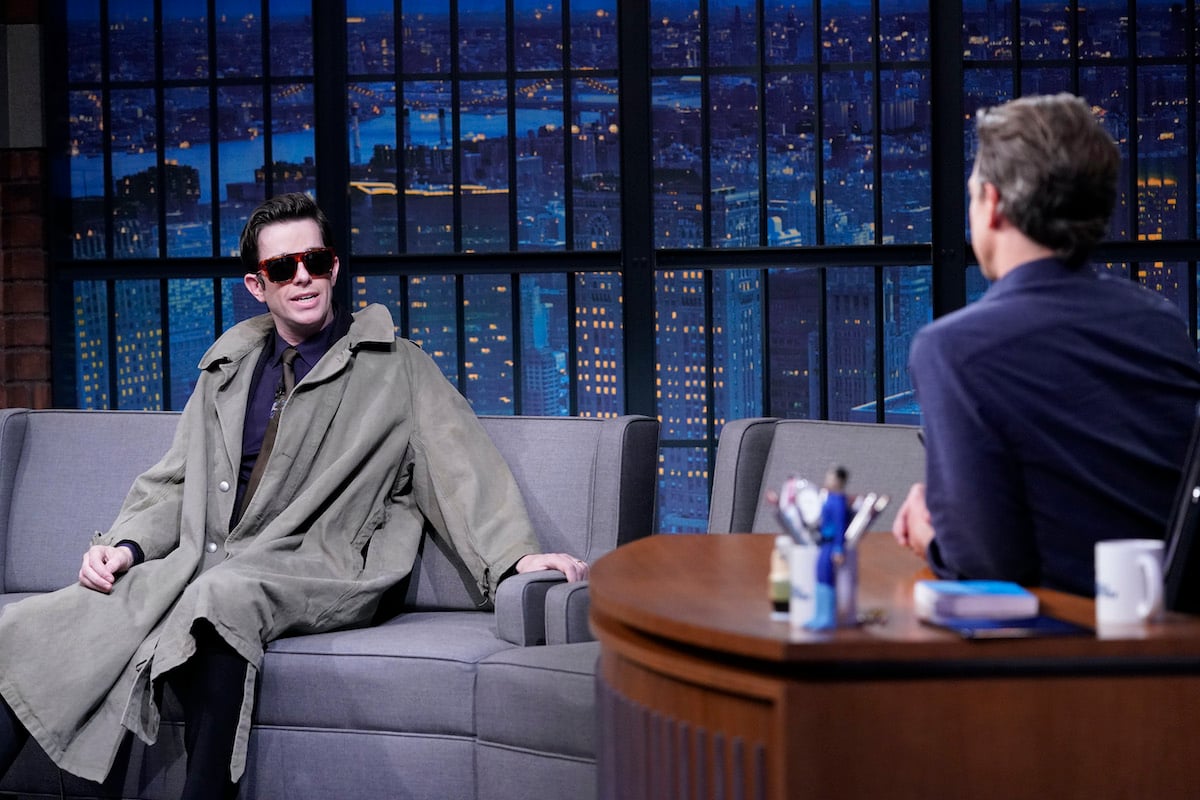 Mulaney shared this insight during a Sept. 2021 discussion with Meyers, which is when he discussed his intervention and recovery. Meyers played a big role in helping Mulaney get sober and was present at his intervention.
Meyers remarked how the photo became the focal point moving forward on any news about Mulaney entering rehab. "Very rarely does someone make a public appearance looking like that moments before being institutionalized," he laughed. "Everyone is going, 'John Mulaney checks into rehab for cocaine and alcohol abuse. And then the photo is of me in those sunglasses … ranting."
Meyers showed Mulaney a few images from the Nov. 2020 appearance. "Yeah, that's a guy … and his friend laughing in ignorance," Mulaney joked. Meyers laughed. "Nothing's wrong with this guy," Mulaney added. The appearance on Late Night with Seth Meyers, however, was Mulaney's last public interview before checking into rehab.
"Also, anytime I'm wildly gesticulating into the audience," Mulaney said. To which Meyers reminded viewers that Late Night with Seth Meyers did not have a live audience. "No you did not," Mulaney added. "That's an excellent point."
So Mulaney was gesturing to "Wally," a crew member on staff, Meyers said. "That's me playing to the crowd that isn't there," Mulaney replied. "But I mean how crazy I must have been to suggest that Harry and Meghan were desperate for publicity back in November when that totally came true later." At the time Mulaney was tasked with delivering a segment called "Royal Watch: News From the Real-Life Crown" on the show.
In addition to discussing the infamous appearance, he also offered additional insight into the last year. "I went to rehab in September, I got out in October, I moved out of my home from my ex-wife," he said. In 2021, Mulaney and his wife Anna Marie Tendler announced they were divorcing. "Then in the spring I went to Los Angeles and met and started to date a wonderful woman named Olivia [Munn]." Mulaney added that he went to rehab twice during 2020 and that he "relapsed on drugs… I continued using drugs," shortly after hosting the Saturday Night Live Halloween episode.
Mulaney revealed that he met Munn at Meyer's wedding years earlier. And he credits Munn for being a strong point in his journey to sobriety. "I got into this relationship that's been really beautiful with someone incredible," he told Meyers. "And we're having a baby together." He added, "Olivia and this baby have helped save me from myself in this early journey out of recovery."