John Mulaney and Olivia Munn Fan Theories Detect Trouble in Pregnant Paradise
Comedian John Mulaney and actor Olivia Munn are a Hollywood couple fans seem to know everything – and still nothing – about. A report from People confirmed their relationship in the days after Mulaney's divorce announcement in May 2021. Now, Munn is expecting their first child in the coming months.  
But fans think there are cracks forming and a recent "blind item" on Deuxmoi has some convinced the couple is kaput. Here's why they should hold tight before jumping to that conclusion.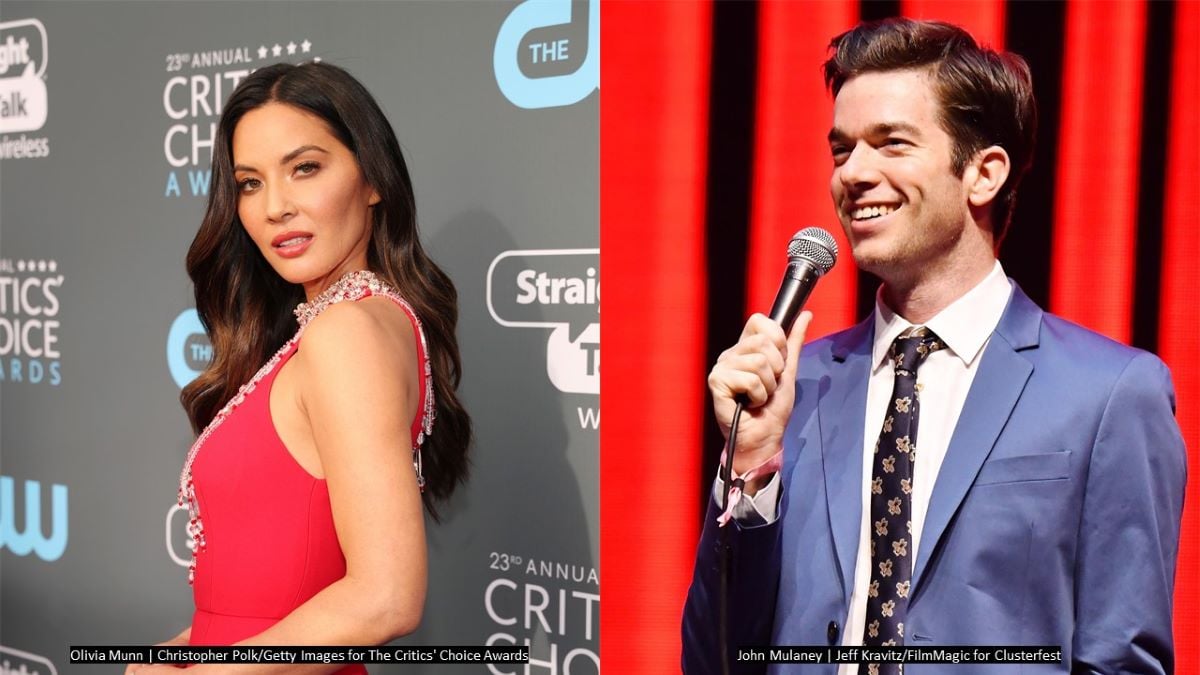 John Mulaney's Deuxmoi saga inspired negative fan theories
Deuxmoi – a celebrity gossip monger that publishes unverified rumors from anonymous sources – first reported talk of Munn's pregnancy months before the couple confirmed it. Notably, this was also shortly after Munn's relationship with Mulaney supposedly began.
So, many fans assume Deuxmoi has some reliable source of insider information. And now that they've shared a new bit of juicy gossip, some observers are convinced it spells the end for Munnlaney.
The report in question allegedly comes from a person in publicity who said a couple that sounds like Mulaney and Munn have already called it quits. Supposedly, they will not make the announcement but will also not "fake the relationship" for the public.
The news hit Reddit, TikTok, and Twitter, sending both Mulaney and Munn's names into trending territory. And some fans think that's exactly why everyone should grab hold of their metaphorical horses.
Olivia Munn is appearing for a late-night interview next week
As it turns out, Munn will be on Late Night with Seth Meyers on Oct. 28, 2021 — next week. Notably, Mulaney announced the pregnancy to Seth Meyers in Sept. 2021. So, some fans are starting to theorize there's a plan in place, and the blind items could – in one broad theory – be a part of it.
One Reddit user guessed Munn will debunk these newly presented rumors during her time with Meyers. "They're leaking false info so people will tune in to see what she says," another user guessed.
But others think a bigger announcement is actually coming following intentionally misleading information. "Plot twist, it's an engagement," one observer predicted before pointing out break-up rumors preceded the pregnancy reveal.
So, there's no major consensus among fans on whether things are more or less serious at this moment. But another distinct possibility is that Munn will talk about her projects and pregnancy — but not the relationship — during her interview.
There's little doubt that this bit of gossip has some people more interested in hearing what she might have to say.
John Mulaney and Olivia Munn surprised fans with their relationship and pregnancy
Considering what happened in Mulaney's life leading up to his divorce statement, many spectators were astonished when his relationship with Munn went public. The news of their involvement and Munn's pregnancy rocked his fanbase, leaving it seemingly splintered.
During shows on his "From Scratch" tour, Mulaney reportedly acknowledged that public perception of him is not the same as it was during other tours, and he even joked "everyone hates" his baby. While Mulaney's on-stage outlook might seem gloomy to some, he gushed over Munn and the baby to Meyers just last month.
So, it seems really hard to tell from the outside how they're doing as a couple. The only thing that's certain is fans can't believe everything they read on Deuxmoi.