John Mulaney and Olivia Munn Introduce Baby in Individual Instagram Posts, New Dad is 'Very in Love'
Actor Olivia Munn privately gave birth to her first child with comedian John Mulaney. Now, both parents are showing their newborn off to fans on Instagram.
Comedian John Mulaney is officially a dad and he's showing his adorable new son off to the world on Instagram. When did his baby with actor Olivia Munn arrive, what did they name him, and how are fans reacting?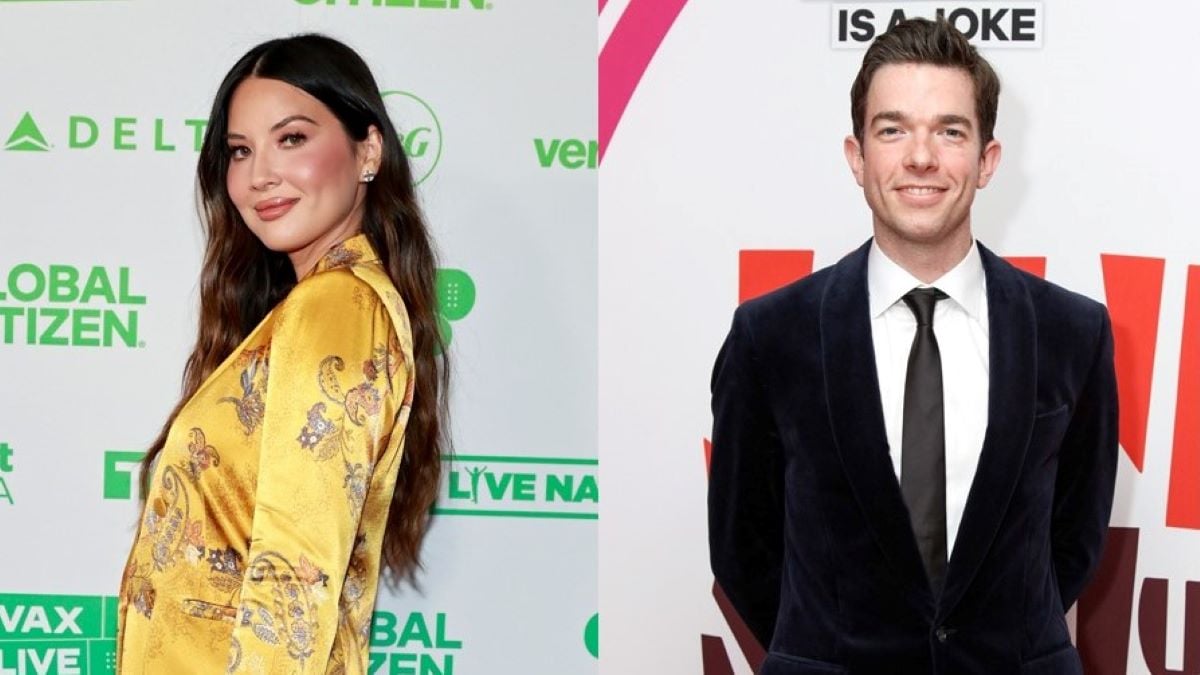 Sources say Olivia Munn welcomed 1st baby on Nov. 24, 2021
According to sources who spoke to multiple outlets, including People, Munn gave birth to Mulaney's son on Nov. 24, 2021.
He is the first child for both stars and the pregnancy came as a surprise to many fans. But the baby seemingly helps bring 2021 to a better close for Mulaney than the year before. In December of 2020, the comedian announced he would be going to rehab after relapsing into addiction and facing an intervention from his friends.
His ex, Anna Marie Tendler, deactivated her Instagram days before the announcement, leading some to suspect their marriage was also somehow in peril. Mulaney completed his stay in rehab in February of 2021 and Tendler returned to Instagram, no longer using his last name. The couple also unfollowed each other.
Fast forward to May and news of the divorce surprised and saddened some fans, but news of Mulaney's relationship with Munn created a social media frenzy. People confirmed the new couple through a source in early 2021, immediately following news that Mulaney and a "heartbroken" Tendler would be divorcing.
In September, Mulaney revealed on Late Night with Seth Meyers that he and Munn were dating and expecting their first baby. During that interview, he referred to Tendler as his "ex-wife" and explicitly disclosed that he'd moved out of their home in October of 2020.
That's all to say that the new couple's relationship is under a lot of scrutiny from fans because Mulaney is not legally divorced yet. Munn and Mulaney did not announce on social media or through their representatives if their baby was born on Nov. 24, but much of what has seemingly been true about them has come from source reports.
And now, the world has confirmation that the stars are proud parents to a newborn son.
John Mulaney: 'Meet Malcolm Hiệp Mulaney.'
Some fans wondered if and when Mulaney might share something about the baby if he had really arrived, and he took to his Instagram to give them the update they were hoping for.
"Meet Malcolm Hiệp Mulaney," he writes along with a picture of his sleeping newborn son. "He has his whole life ahead of him. He hasn't even tried seltzer yet."
And how does Mulaney feel about being a dad?
"I'm very in love with him and his whole deal," he shares. "Happy Holidays."
His son's picture is now the only photograph on his Instagram, which has otherwise been used to promote his From Scratch tour since early in 2021.
On Munn's Instagram, the new mom shared her own post about Malcolm. "My Golden Ox baby," she writes in the caption of a picture very similar to Mulaney's.
Fans react to Baby Malcolm Hiệp Mulaney
While Mulaney and Munn have both disabled comments on their Instagram posts, fans quickly collected on Reddit to discuss the news. And their reactions varied.
On the main subreddit for discussing Mulaney's career and comedy, fans were generally congratulatory and welcoming. One user wrote, "Very cute, wishing him a life full of happiness and love."
However, on the subreddit for discussing Mulaney's personal life, some accused him of being spiteful by sharing the picture. "Poor Anna," one commenter lamented over Tendler, to which another replied saying the post seems "spiteful."
"Assuming that he's posting a picture of his newborn son to spite his ex-wife during a holiday where lots of people post pictures of their children is a real stretch," another user interjected.
And trivial as some of that arguing may seem, it illustrates the divide in Mulaney's fans. It might be some of his reasoning for joking that "everyone hates" the baby while on tour.
But it seems hard to believe anyone could hate Baby Malcolm Hiệp Mulaney — even fans who are still hurt by what his existence implies for Mulaney's personal life.
How to get help: In the U.S., contact the Substance Abuse and Mental Health Services Administration helpline at 1-800-662-4357.