John Mulaney's Dog Petunia Travels the NYC Streets by Stroller, Anna Marie Tendler Explains Why
John Mulaney's French Bulldog, Petunia recently went for a stroll in New York City but opted to see the sights from her stroller. Mulaney's wife Anna Marie Tendler took the pup for a walk and explained why she sometimes prefers to ride instead of walk. Plus, Tendler admitted that she gets odd looks from some people on the street, who wonder why she is pushing a dog in a stroller.
Anna Marie Tendler takes Petunia out on the town
Tendler took Petunia out on an especially warm day in New York City. "Guess who is not walking," she said in an Instagram story. "Petunia! A lot of people make faces at me. They pass me on the street walking Petunia in the stroller. And to them I say, would you wanna be cooped up in an apartment all day long?"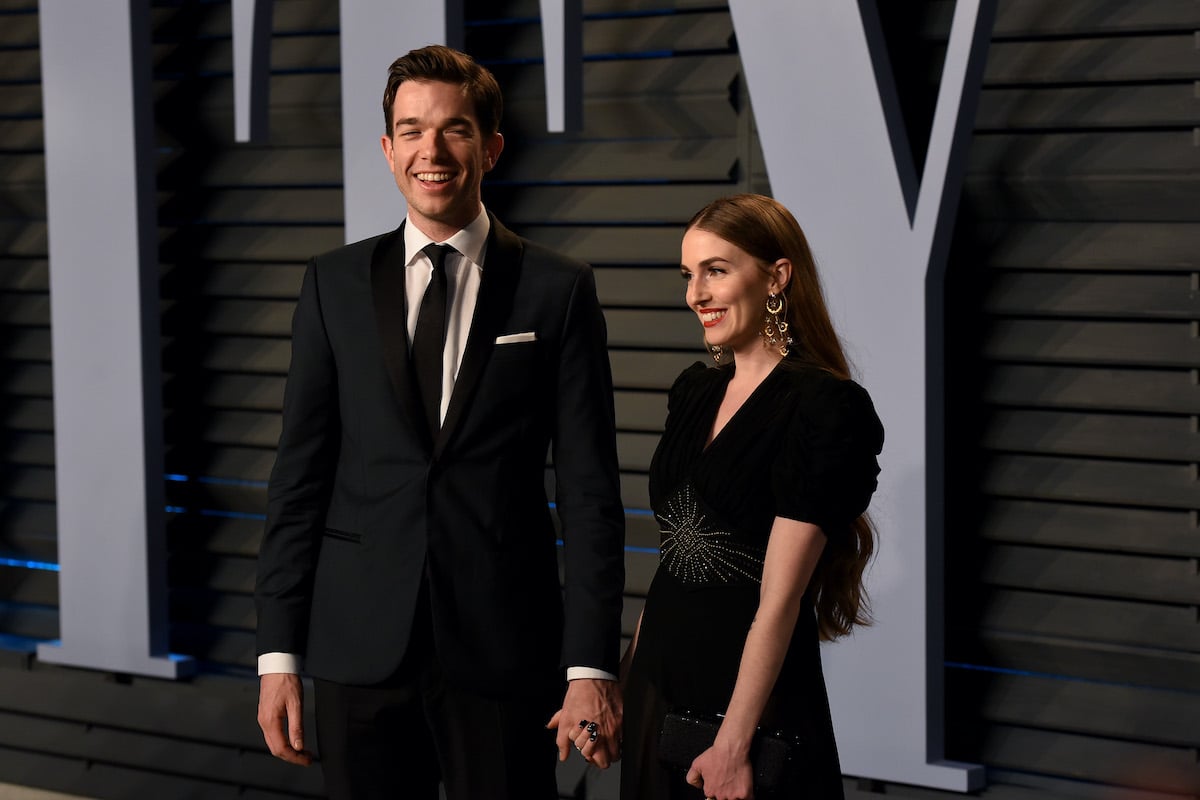 "But is your nose also concave into your face?" she asked. "She can't walk well. It's too hot. But she wants to see the sights. And she loves being a New York City girl. Getting out on the town. So … stroller." Tendler's video included shots of Petunia riding in her carriage enjoying the day.
Why does Petunia ride in a stroller instead of walk?
Tendler then clarified that Petunia can walk, but the weather was too hot. "Also, I just wanna clarify when I said she can't walk well," Tendler explained. "She can walk fine. She can't walk well in 90-degree heat. Not more than 10 paces before she's flat on the pavement. Like a pancake."
Petunia's stroller rides are nothing new. Mulaney wove people's reactions to seeing Petunia in a stroller into his standup. "People lean in to see the baby, and instead they see a gargoyle, breathing like Chris Christie," he joked.
John Mulaney remembers when Petunia met Woody Allen
Mulaney also joked about one particular stroller ride when he hosted Saturday Night Live in 2019. "My wife and I have a French Bulldog, her name is Petunia," he said during the opening monologue. "She's great. She's got a little flat face, she likes to walk but she can't walk far 'cuz she can't breathe well by design."
"So we push her around New York in a stroller," he said. "That's absolutely true. And this next story is absolutely true. My wife was pushing our bulldog Petunia in a stroller down 7th Avenue a few months ago. She's pushing her down 7th Avenue. My wife gets to 7th Avenue and Leroy Street. At 7th Avenue and Leroy Street, a car pulls up. Out of the car steps Woody Allen and Soon-Yi Previn."
"My wife stares at Woody and Soon-Yi," he continued. "Woody and Soon-Yi stare at a woman pushing a bulldog in a stroller. The four of them stare at each other. And then they all kind of nod as if to say, 'None of this is right.' And then they went their separate ways."
Since Mulaney did the standup about Petunia, he and Tendler have separated. Tendler appears to have custody of Petunia.