John Mulaney's Wife Anna Marie Tendler Cradles Their Dog Petunia in Emotional 'Mother's Day' Instagram Post
John Mulaney and Anna Marie Tendler announced they planned to divorce but Anna has perhaps been teasing the split for weeks through her photography work she shared on Instagram.
Anna Marie Tendler posted a sweet but haunting Mother's Day image with dog Petunia only hours before news broke that she and comedian John Mulaney were divorcing.
Tendler cradles the couple's French Bulldog, who seems to be living with Tendler. "Happy Mother's Day to all the women who have chosen unconventional paths of motherhood, and to those for whom the unconventional paths have chosen them," she wrote. Adding, "(And, of course, HMD to my own mom, the artist who made me an artist.)" Tendler is wearing a long flowing black dress with a sheer, black blindfold. She is sitting in a chair in what appears to be a child's bunkbed bedroom.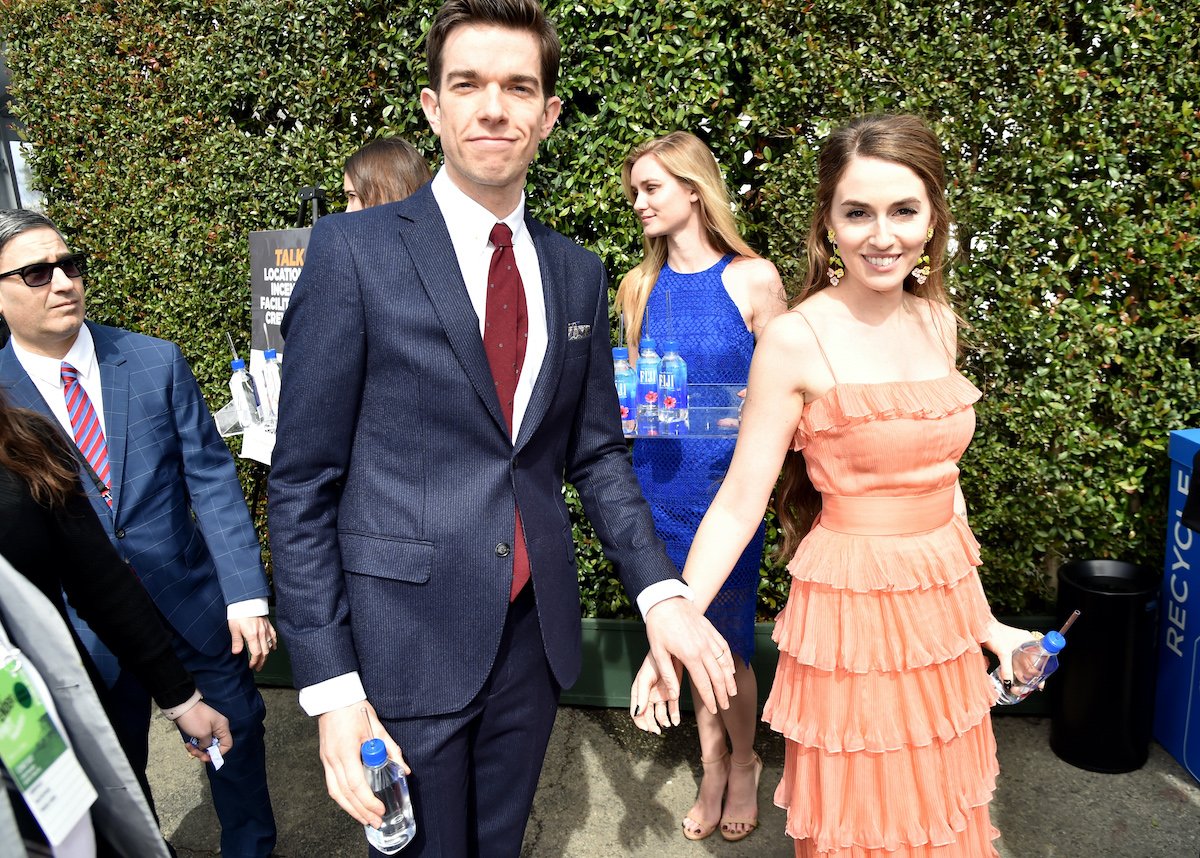 Anna Marie Tendler's Instagram has featured weeks of dark, haunting images
Mulaney and Tendler's reps both offered comments, but Tendler's was perhaps the most telling.
"I am heartbroken that John has decided to end our marriage," Tendler's rep shared with Page Six. "I wish him support and success as he continues his recovery."
Both Mulaney and Tendler have not commented at length about their split or relationship since Mulaney entered rehab in Dec. But Tendler's Instagram offers plenty of clues. As an artist, she used her Instagram to post images of her art. She often featured her line of Victorian lampshades in the past but recently, the photos are personal.
Her latest photos feature her living in a dark, haunted-appearing home, often with little to no commentary about the photos. "Self portrait from Christmas Day. When you're in quarantine, you are your own best subject," she shared from a ballet room in the home shortly after Mulaney entered rehab.
Anna Marie Tendler's photography work tells a heartbreaking story
Many other photos featured Tendler alone and but also looking lonely. She included Petunia in a few images, which hinted that she was caring for the dog by herself. One photo she shared in Feb. showed her coaxing the dog to go for a walk on a snowy day. In another post, she lays on one of the twin beds with her face in her hands as Petunia approaches her.
Around the time when Mulaney completed rehab, Tendler posted a self-portrait photo of tears streaming down her face. She captioned the image, "Moon in Pisces, a self portrait."
She shared another photo in early March wearing the same black gown and blindfold in the child's room. "good mourning" she added as the caption.
Tendler added a photo that featured a dark, empty room in the home with a Christmas tree. She is laying on a couch nearby hiding her face in her arms. "You're not the season you're in," she wrote in the April post.
Speculation that the couple split bubbled to the surface after Mulaney sought treatment for drug and alcohol abuse. Mulaney has been sober for decades but admitted he struggled during the pandemic. He completed a 60-day treatment and recently announced a string of live shows.