John Wayne Gave Michael Caine Movie Career Advice to Avoid Fans Peeing on His Shoes
Oscar-winning actor Michael Caine's first meeting with John Wayne involved hilarious movie career and shoe advice to keep fans from peeing on his feet.
John Wayne is an American legend and movie star, who actors such as Michael Caine knew plenty about. Most of those who knew the Western star felt lucky to have the opportunity to know him. Caine once talked about his experience meeting Wayne at The Beverly Hills Hotel. However, he would have never guessed the advice that he got regarding fans potentially peeing on his shoes.
John Wayne met Michael Caine at The Beverly Hills Hotel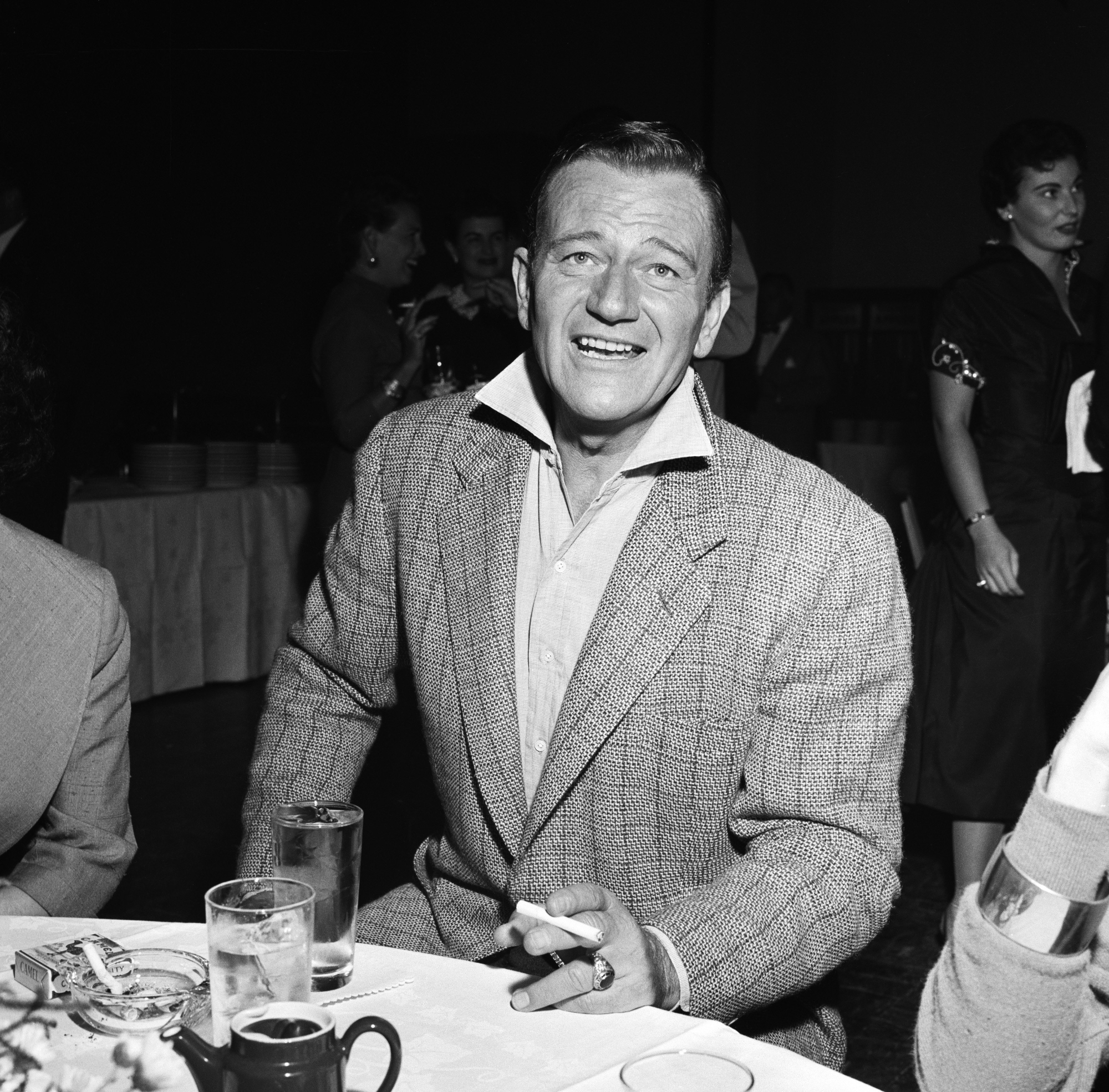 The Graham Norton Show brought Caine onto the show, where they discussed a story involving Wayne. Host Graham Norton asked the actor about his experience with a helicopter landing in the area and the shocking moment that unfolded.
"Shirley [MacLaine] brought me to Hollywood to do Gambit, but her thing she was doing overran and I was a week on my own in Hollywood," Caine said. "I'd never been to America. They put me at a luxurious suite in the Beverly Hills Hotel and then nobody ever talked to me or phoned me. I didn't know anybody. I was just in this luxury hotel, I'm ordering caviar and champagne all on my own for a week!"
Caine continued: "In the daytime, I used to go down to the lobby and sit in the corner to see if I could see any stars. One day, a helicopter landed and all the flowers went up in the beds outside, up in the air, and in walked John Wayne, in a complete cowboy hot. (Shows picture of Wayne in a cowboy costume) Just like that! Look! Just like that."
However, Caine could have never guessed this particular interaction ever happening with Wayne.
"He was registering at The Beverly Hills Hotel, and he looked up and he saw me in the corner," Caine remembered. "He said to me, 'What's your name, kid?' I said, 'Michael Caine.' He said, 'You in that movie, Alfie?' I said, 'Yes.' He said, 'I saw that and you're going to be a star, kid.' I said, 'Oh, thank you, sir.'"
John Wayne gave Michael Caine movie career advice on how to avoid fans peeing on his shoes
Caine was very flattered to hear those words from Wayne himself. However, this particular memory got a lot of laughs from the audience at the Graham Norton Show, including the host himself. The Western star had some particular advice for how to make it in Hollywood.
"He said, 'But let me give you some advice,'" Caine recalled. "He said, 'Talk low, talk slow, and don't say too effing much.'"
The words of advice didn't end there. Wayne told Caine to get rid of his suede shoes for one particularly hilarious reason.
"I had on suede shoes," Caine said. "And he said to me, 'Never wear suede shoes again.' I said, 'What?' He said, 'Never wear suede shoes.' So, I said, 'Why?' He said, 'Cause I just told you, you're going to be a star, kid.' He said, 'And you're going to be in the gents toilet taking a pee, and the guy next to you is going to be taking a pee and he's going to look and he'll go 'Michael Caine!' And then he's going to pee all over your shoes.'"
Norton and the crowd erupted in laughter and applause, while Caine smiled.
Michael Caine went on to win 2 Oscars
Wayne certainly guessed correctly that Caine would go on to be a huge movie star. He has over 176 acting credits, but most audiences recognize the actor for playing Alfred in Christopher Nolan's Batman movies, including The Dark Knight. He earned his first Oscar nomination in Alfie, but he would ultimately get another two nominations afterward.
However, Caine did manage to secure two Oscar wins over the course of his career thus far. He won in 1987 for Hannah and Her Sisters as well as in 2000 for The Cider House Rules.