John Wayne Joked Bruce Dern's 'Career Is Over' After Killing Him in 'The Cowboys'
John Wayne and Bruce Dern are both legendary actors who happened to co-star in The Cowboys. They had a bit of a running joke on the set that involved Wayne teasing Dern regarding his career. However, the joke didn't come to light until their respective celebrity kids, Patrick Wayne and Laura Dern, addressed it. There is quite an interesting interaction between Wayne and Dern in The Cowboys.
John Wayne and Bruce Dern co-starred in 'The Cowboys'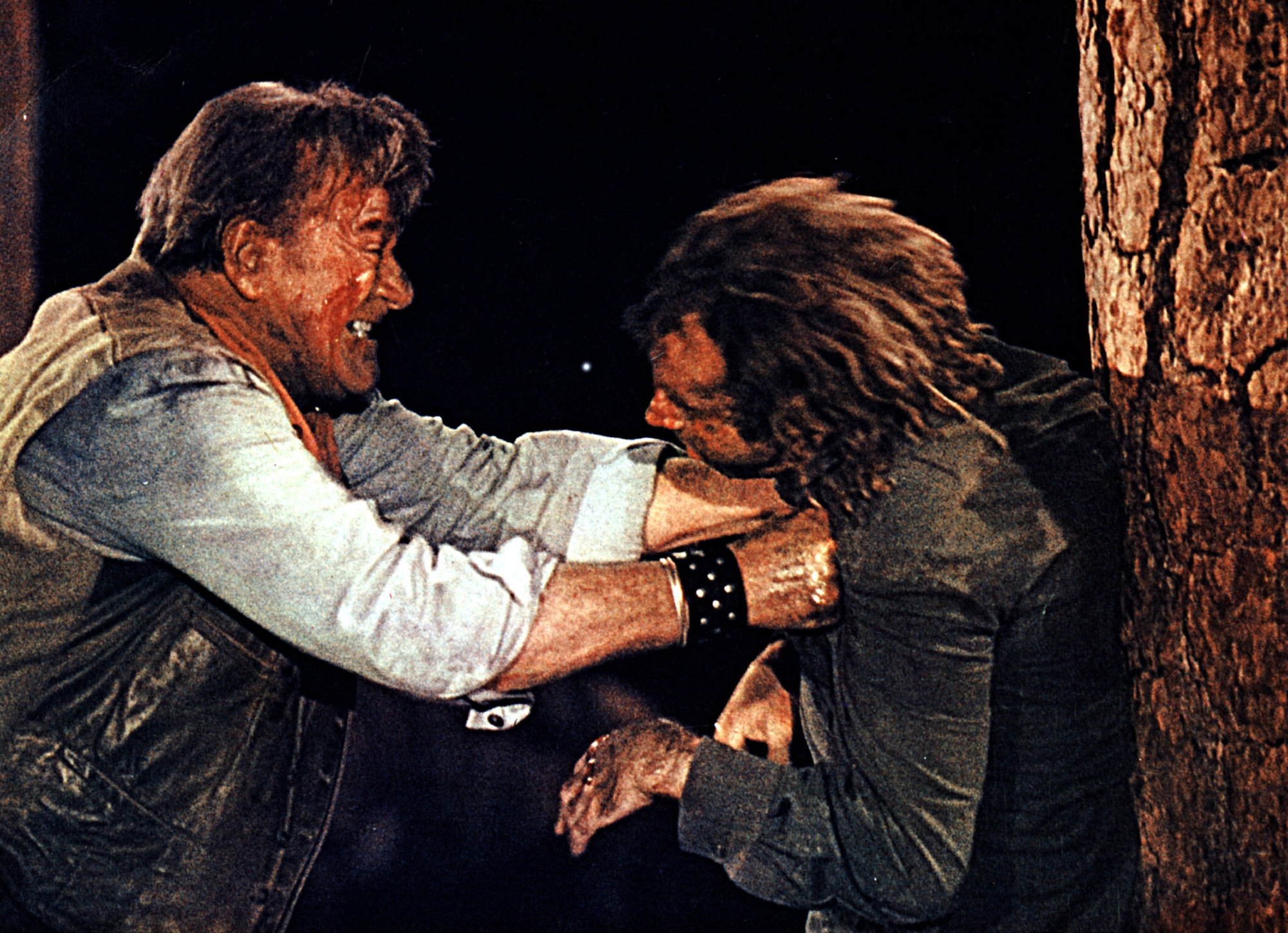 The Cowboys follows Wil Anderson (Wayne) as a grizzled veteran rancher who is preparing to take a big cattle journey. However, everything turns upside down when his crew suddenly quits their pursuit of the gold rush. Wil has no other choice but to request the help of a local group of schoolboys.
The protagonist trains the young boys how to be cowboys and begins to set out on his journey, but unexpected difficulties appear. Everything is put into jeopardy when a bandit named Long Hair (Dern) becomes determined to steal Wil's herd. The Cowboys ultimately finds Dern's character killing Wayne in an intense fight sequence.
John Wayne teased that Bruce Dern's 'career is over' after he killed him in the movie
Medium interviewed Patrick to talk about his experiences growing up with his father around. He tapped into some particularly memorable moments that happened even in his adulthood. Patrick recalled attending the Govern's Ball in Hollywood when Maureen O'Hara asked him to attend with her, where she would receive an honorary Academy Award. However, things took an interesting turn when he ran into Laura.
"I happened to see Laura Dern there and I said, 'I'll never forgive your father for killing my dad in The Cowboys,'" Patrick said. "She started to chuckle and replied, 'Every day while filming that Western your dad would come up to my dad and say, 'You're ruined. You're dead. Your career is over. Nobody gets away with killing John Wayne [laughs].'"
However, Laura responded that Bruce had a pretty solid response to Wayne on the set of The Cowboys.
Laura recalled her father saying, "'Maybe, but in Berkeley I'll be a f***ing hero.'"
"My father was saying this in jest," Patrick said. "He had a great deal of respect for Bruce, too."
Wayne's death sequence in The Cowboys was filmed on July 13, 1971, on a Warner Brothers soundstage in Burbank.
Only 1 of the actors is an Oscar-winner
The Cowboys brings the incredible talents of Wayne and Dern together, but they both have extraordinary careers. However, only one of them has won an Oscar. Wayne earned nominations for Sands of Iwo Jima and The Alamo, but it wouldn't be until this third nomination that he would finally win for True Grit.
Meanwhile, Dern still hasn't won an Oscar. He's still a working actor, so it's still possible for him to take home a golden statue. However, he earned two nominations for 1978's Coming Home and 2013's Nebraska. Nevertheless, Western fans love seeing Wayne return in The Cowboys, even though they hold his character's death against Dern.
RELATED: John Wayne Revealed the 1 Prop He Would Have Worn 35 Years Earlier in His 'True Grit' Oscars Acceptance Speech