John Wayne Never Got the Grave Engraving He Wanted, Got Playboy Interview Quote Engraved Instead
Oscar-winning actor John Wayne requested to have a specific phrase on his grave, but he ultimately got one of his quotes from his Playboy interview instead.
Actor John Wayne had a grave without a marker for almost 20 years. However, the family did this to serve a specific purpose. The Western star and his movies touched many lives around the world and they thought it was important to protect his resting place. Wayne wanted a specific grave engraving that held meaning to him, but he got a quote from his Playboy interview instead.
John Wayne died from stomach cancer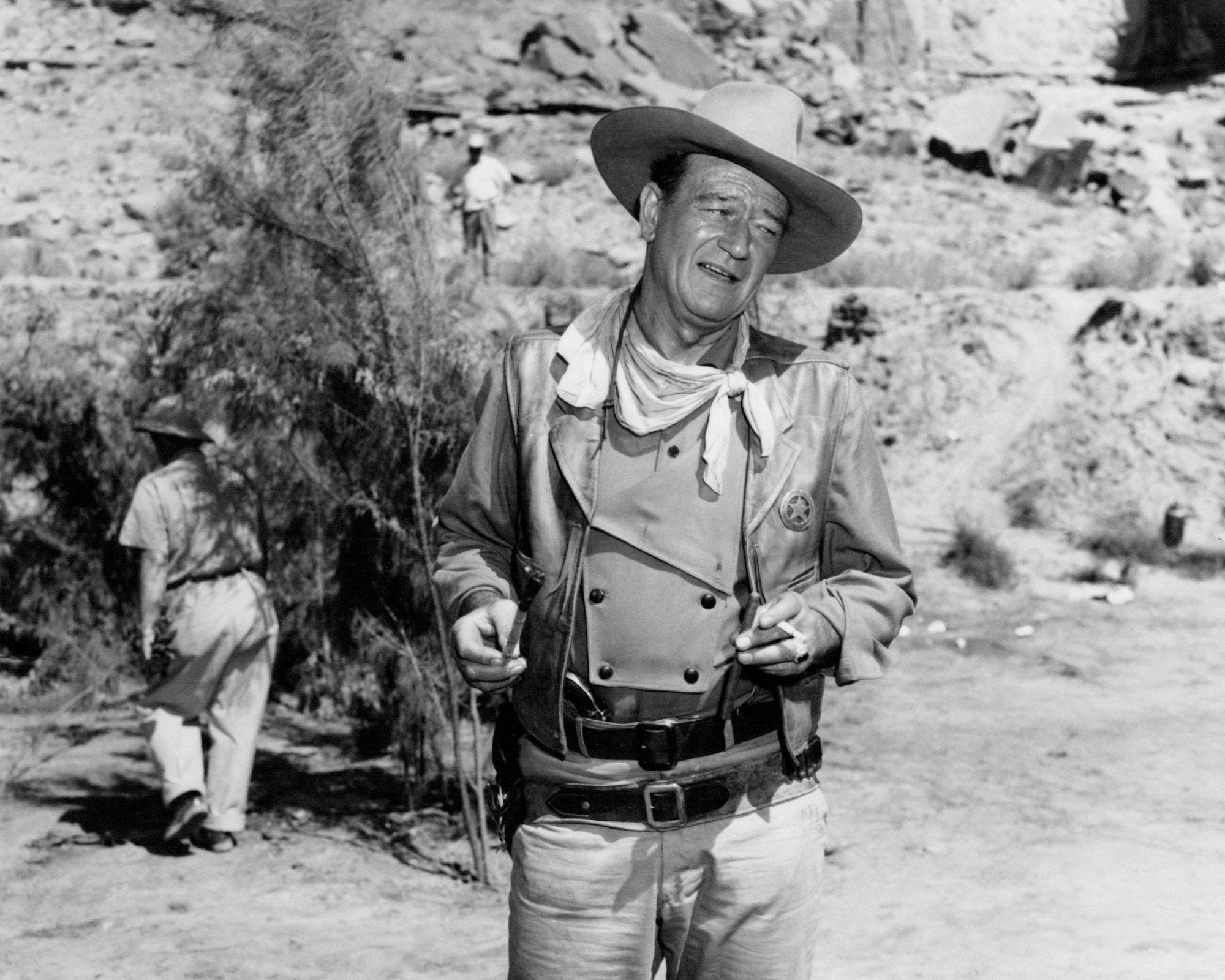 Wayne died on June 11, 1979 at the age of 72 from stomach cancer. However, it wasn't his first time dealing with cancer. Wayne fought cancer more than once and his family continues to do so in his name via his foundation. His cause of death ultimately inspired many people to put more emphasis on fighting back against the disease.
The actor coined the term "The Big C" for cancer after his diagnosis. Fortunately, he had the opportunity to spend time surrounded by his family before he died. Wayne had some specific wishes when it came to his grave, but his family initially decided against granting these wishes.
John Wayne never got the grave engraving he wanted
According to Paul Berra's Grave Tidings: An Anthology of Famous Last Words, Wayne had specific ideas for his grave. He wanted a Spanish epitaph engraved on his grave: "Feo, Fuerte, y Formal," which translates to "Ugly, Strong, and Dignified." However, his children, Patrick and Ethan Wayne, left him in an unmarked grave. They didn't want grave robbers or the public to crowd his resting place. It ran a risk of becoming a tourist spot or a shrine, which they didn't want.
The Wayne family ultimately changed their minds almost 20 years later and gave the actor's grave a plaque. However, they didn't go with the Spanish epitaph that the actor originally wanted. Instead, the plaque has a quote from his Playboy interview.
Wayne's grave reads: "Tomorrow is the most important thing in life. Comes into us at midnight very clean. It's perfect when it arrives and it puts itself in our hands It hopes we've learned something from yesterday."
The public can visit the actor's grave
The public is able to see Wayne's grave engraving for themselves. He's buried in Newport Beach, California at Pacific View Memorial Park, which is only a few miles away from his island home. This plot of land is on a hill, east of the Newport Fashion Island mall, and overlooks the Pacific Ocean. Wayne's children decided that their father's fans should be able to visit and honor him.
Wayne fans can find the grave after they enter the ceremony through the main gate and drive past the Court of Valor flags. Turn left, up the hill, and face the grassy slope. The actor is buried in the area called Bayview Terrace. Wayne's grave is right next to a tree.
The Western star was the only major celebrity buried at the Pacific View Memorial Park for quite some time. However, that changed when Kobe Bryant was buried there in February 2020.