John Wayne's Son Couldn't Watch 1 of His Dad's Movies After His Death
Western legend John Wayne's son, Patrick, once said that he had a hard time watching one of his dad's movies after his death.
John Wayne is a legendary actor who successfully personifies Western movies. He has a very loyal fan base, but some of his critics claim that he plays the same character in every movie. However, Wayne delivered several nuanced performances over the course of his career. His son, Patrick, had difficulty watching one specific movie after his father's death.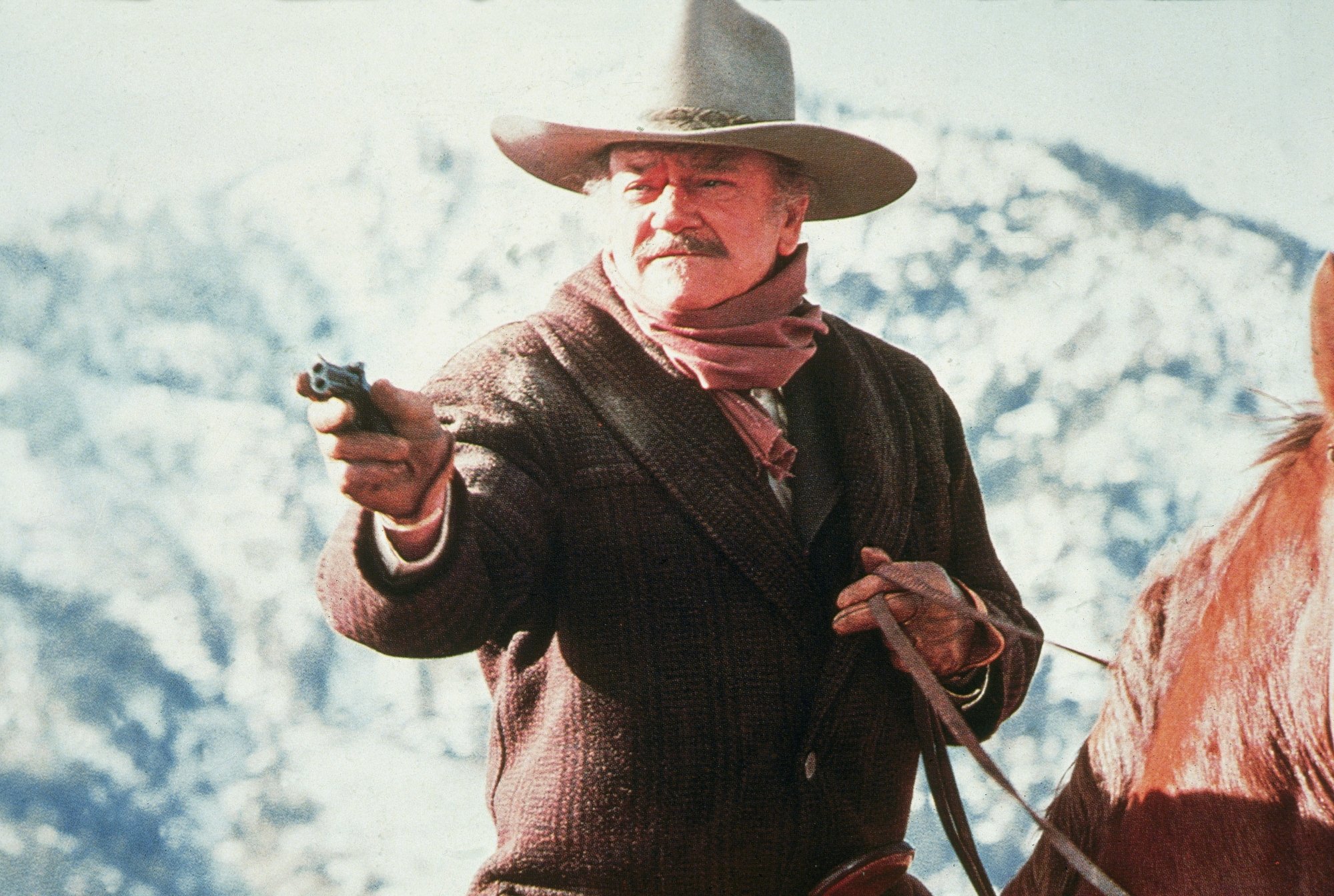 John Wayne's son, Patrick, couldn't watch 'The Shootist' after his dad's death
Jeremy Roberts interviewed Patrick via Medium to talk about what it was like growing up in the Wayne family. He talked about some personal stories involving his father, as well as the collection of Wayne movies. The interviewer asked him if he had any difficulty revisiting any of his dad's movies after his death.
"I'd have to say no to that question with the exception of one film, The Shootist," Patrick said. "I couldn't watch that Western as it was so close to reality. He played an old gunfighter who was an anachronism dying of cancer."
Wayne plays J.B. Books in The Shootist, who is an aging gunfighter diagnosed with cancer. He heads into Nevada at the turn of the 20th century. Books rents a room from a widowed woman named Bond Rogers (Lauren Becall) and her son, Gillom (Ron Howard). When people pursue Books with questionable motives, he decides that he isn't going to die a silent death.
Patrick continued: "Too many of the elements in there were just too close to what actually happened to him in his real life, so that film took me about 10 years to watch again [of course I saw it when it was originally released in 1976]."
Patrick Wayne thinks 'The Shootist' is his dad's 'finest performance'
Wayne earned Oscar nominations for his movies Sands of Iwo Jima and The Alamo. However, he wouldn't take home the gold statue until his work on True Grit. Patrick believes that the iconic film isn't quite his father's best work. He gives that title to Wayne's work in The Shootist, which he didn't even earn an Oscar nomination for.
Patrick said, "When I did finally watch it for the second time, I have to say that it's probably his finest performance as a pure actor, using all his skills and being more than just a cardboard cutout, but more of a real human being — a vulnerable human being — and I think he pulled it off really well."
John Wayne starred in over 160 full-length movies
Wayne entered the entertainment industry working as an extra, prop man, and stuntman. He primarily worked for Fox Film Corporation, but ultimately got his first shot with Raoul Walsh's The Big Trail. However, the film was a box office failure. Fortunately, Wayne's huge success at the movies would later come to be.
Wayne ultimately starred in popular Western and war movies over the course of the 1940s onward. Some of his most notable performances include titles such as She Wore a Yellow Ribbon, True Grit, and Sands of Iwo Jima. Altogether, Wayne starred in over 160 full-length movies over the course of his extensive career.