John Wayne's Son Shares 'Worst Film Location' With His Dad: 'It Was a Pretty Miserable Experience'
Patrick Wayne once detailed one filming location that he filmed in alongside his Western star father as a 'pretty miserable experience.'
John Wayne has worked in a wide variety of filming locations over the course of his career. However, they didn't all provide comfortable conditions for the cast and crew. Wayne's son, Patrick, once noted the "worst" film location of them all, calling one of his dad's filming locations a "pretty miserable experience." Nevertheless, he still enjoyed making movies with his father.
John Wayne's son, Patrick, worked with his dad on film locations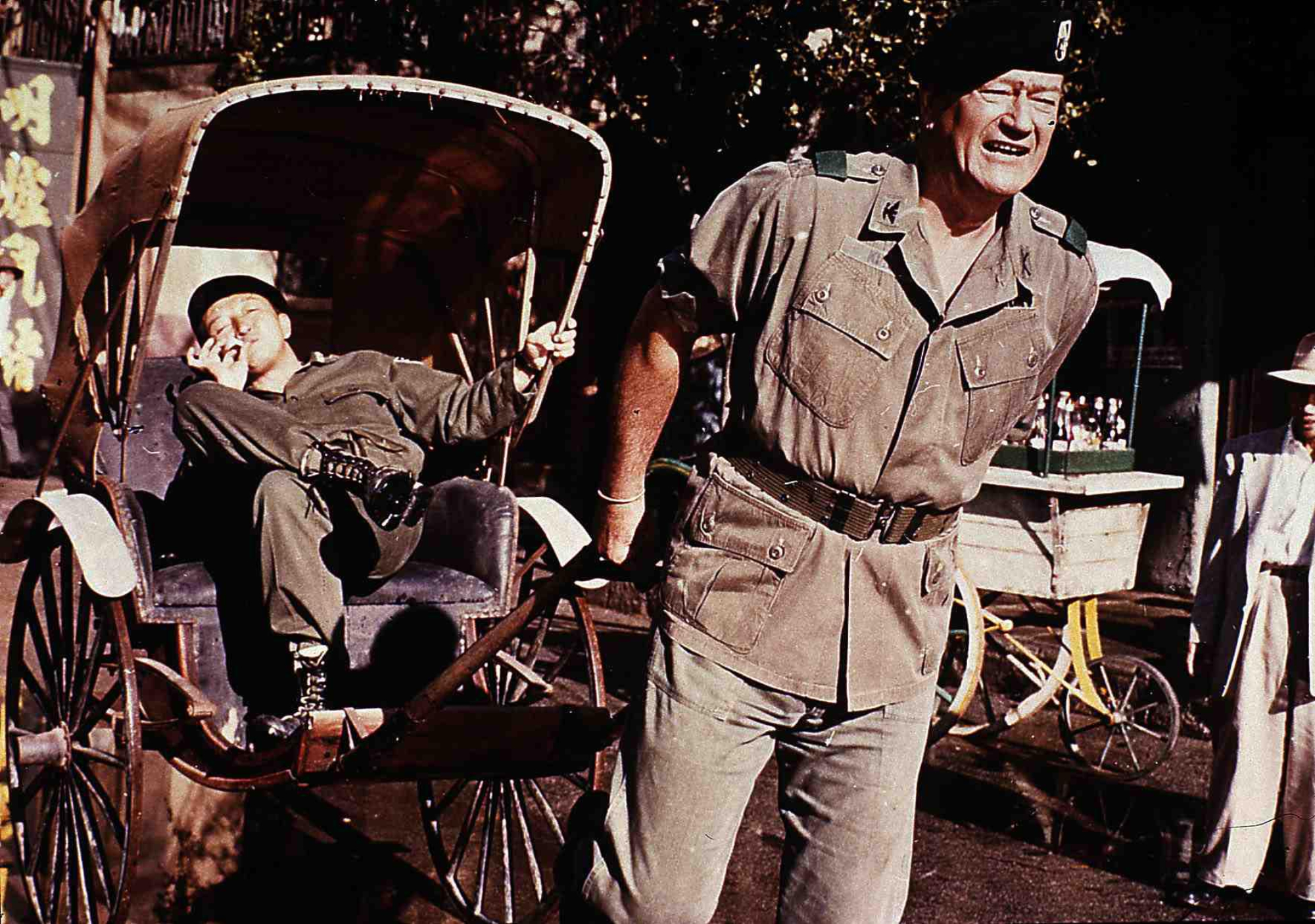 Patrick followed in his father's acting footsteps. His first roles included uncredited roles at Wayne's filming locations, which gained him momentum moving forward into bigger roles. Some of these include Rio Grande, The Searchers, The Alamo, and The Quiet Man. However, he later moved more into managing the John Wayne Cancer Institute, which pushes to advance research in the fight against cancer.
Patrick has a wide array of stories from the Wayne filming locations. His father remains one of the most iconic Western actors of all time. Patrick looked up to his dad, but they didn't always have the best time on the set of the more grueling filming location.
'The Green Berets' was the 'worst' John Wayne film location for his son, Patrick
Jeremy Roberts interviewed Patrick for Medium about some of the iconic Wayne filming locations. He explained that there was one set, in particular, that he just couldn't stand.
"That would have to be The Green Berets," Patrick said. "We were on location at Fort Benning in Columbus, Georgia, which is located about 125 miles west of Atlanta. But it was nothing like Atlanta."
Patrick continued: "Oh my God, it was pretty dreary. That's fine but it started raining to the point of where we couldn't even work. Boy, there was nothing to do except sit there and wait 'til it stopped raining. It was a pretty miserable experience from the weather aspect at that time [filming commenced on August 9, 1967]. It was past the worst part of the summer, so the humidity wasn't that bad."
Wayne's difficult conditions on the Green Berets filming location makes sense for the movie's story. It follows Col. Mike Kirby (Wayne), who selects two teams of Green Berets for a specific mission in South Vietnam. They must build and run a camp that the enemy seeks to capture, but that isn't all. They must also kidnap a North Vietnamese General behind enemy lines.
'The Green Berets' is a controversial war movie
The Green Berets succeeded at the box office, but critics found the film incredibly controversial. They slammed the film for being heavy-handed and predictable. However, its war politics particularly upset a lot of critics. Nevertheless, The Green Berets easily sold tickets to audiences, making it a financial success.
Wayne went through some rough conditions on the filming location, but it proved to be worth his time. Despite its politics, the film made the legendary actor a large sum of money and remains a well-known war picture. It was also an opportunity for Patrick to work with his father on another film.