Johnny 'Bananas' Devenanzio Says His 'Challenge' Personality Is Nothing Like How He Really Is
MTV's The Challenge is back with Total Madness, and we're excited to see how far Johnny "Bananas" Devenanzio goes.
Devenanzio is one of the many veteran players back on the show competing for the $1 million prize. And he has quite the reputation of being a ruthless and competitive force. His move against partner Sarah Rice in past seasons established him as one of the most cutthroat players the show has ever seen. And, whether fans love or hate him, there's no doubt he's here to stay, as he makes great TV.
Devenanzio may act one way on-screen, but he claims fans may be surprised by how he really is off-camera. Here's what he said.
Johnny 'Bananas' Devenanzio has a number of enemies on 'The Challenge'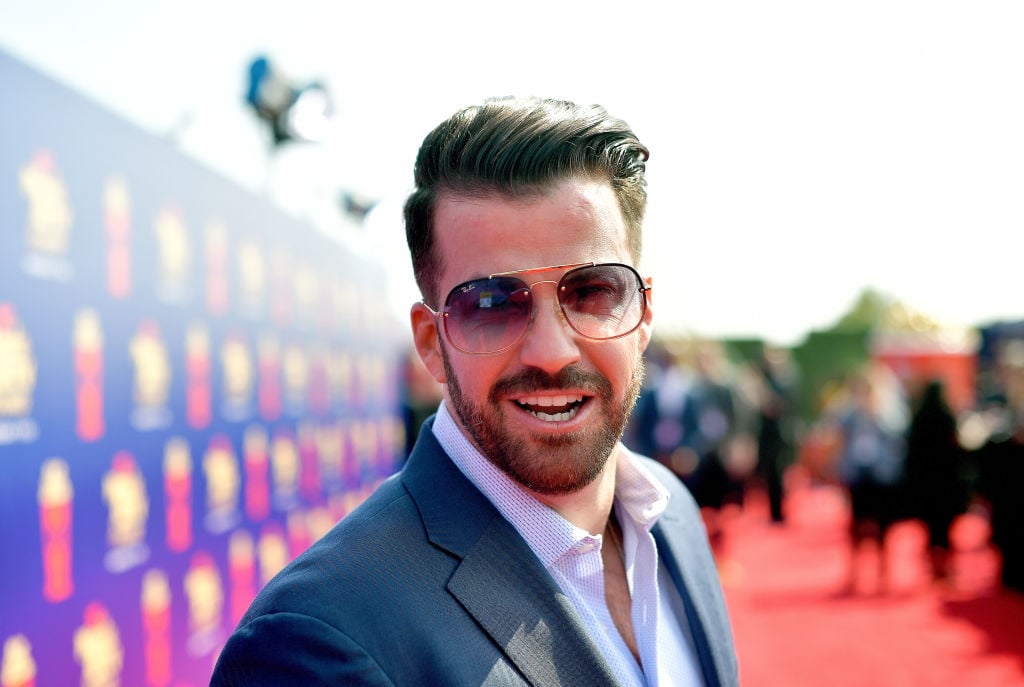 Those who've watched past seasons of The Challenge know Devenanzio has a number of lifetime-long rivalries. We know Cara Maria Sorbello's boyfriend, Paulie Calafiore, can't stand Devenanzio — and, of course, Devenanzio feels the same. Devenanzio has called Calafiore "a very sociopathic, narcissistic human being," and he also noted that he felt bad for Sorbello for even dating him. As for Calafiore, he claims Devenanzio tried to get him banned from the show.
Aside from Calafiore, Devenanzio's most notable Challenge rivalry is certainly with Wes Bergmann. Bergmann and Devenanzio have both been playing the game for over a decade together, and they didn't like each other from the start. At the beginning of Total Madness, Bergmann and Devenanzio also expressed their dislike for seeing each other.
On the first episode of Total Madness, it seems the tides have shifted, though. Bergmann and Devenanzio noted they're actually teaming up this season instead of going against one another in the hopes of upping their chances at a win.
He made the most savage move in 'Challenge' history
We're not sure how ruthless Devenanzio will be on Total Madness. But we do know that he has no regrets regarding how he treated Sarah Rice on Rivals III.
Rice and Devenanzio were teamed up for Rivals III, but it seems Devenanzio still had a chip on his shoulder for Rice throwing him into an elimination round on a season prior. While Rice and Devenanzio worked well as a team and made it to the finale of Rivals III, there was a twist at the end. The twist dictated that Devenanzio would be able to choose if he wanted to take all of the prize money for himself or do the right thing and split it with Rice. He took all the money.
"Why would they put this twist out there? And who better to do it than me and Sarah with the history we have," Devenanzio told the New York Post. "If I don't, I feel like I'd be letting people down. That's why I actually say, 'it's the fans who took Sarah's money.' I had to do it for them. Had I split the money would we still be talking about it right now?"
Devenanzio says his on-screen personality isn't who he really is
Devenanzio may have a reputation, but it seems who he is on The Challenge may not be his authentic self.
"I always say, what people envision me to be like, in reality, is not who I really am," he told the New York Post. "This guy who you are talking to — Johnny Bananas — in real life, would never survive on The Challenge. When I go on the show, it's like a coat of armor and changing who I am."
Devenanzio also noted he had to make a clear distinction regarding who he is on the show and who he is in real life, as he may "lose" his "mind" otherwise. And he makes a point to not make personal connections with everyone on the show, as hanging out with them off-screen makes the division harder.
Overall, he also noted that he's glad Total Madness is over. "That's all you have to talk about, think about, breathe. It really does get overwhelming."
We're excited to see how well he fairs this season!
Check out Showbiz Cheat Sheet on Facebook!