Johnny Carson Let Harry Belafonte 'Sit-in' at 'The Tonight Show' for a Week of Guests That Included Martin Luther King Jr.
For one week in 1968, late-night host Johnny Carson handed over his hosting desk at The Tonight Show to Jamaican-American entertainer and activist Harry Belafonte, now 94. Carson changed television history after taking over as host in 1962 because he started mixing real news into the show's material. In 1968, the U.S. was at war in Vietnam and fractured by racial and political divisions at home.
Though he was only six years into his hosting position and was at times cautious of political fallout, Carson chose to make a statement. With almost full control of the invite list, Belafonte welcomed a diverse line-up of guests that included Martin Luther King Jr. and Robert F. Kennedy, who would each be assassinated soon after.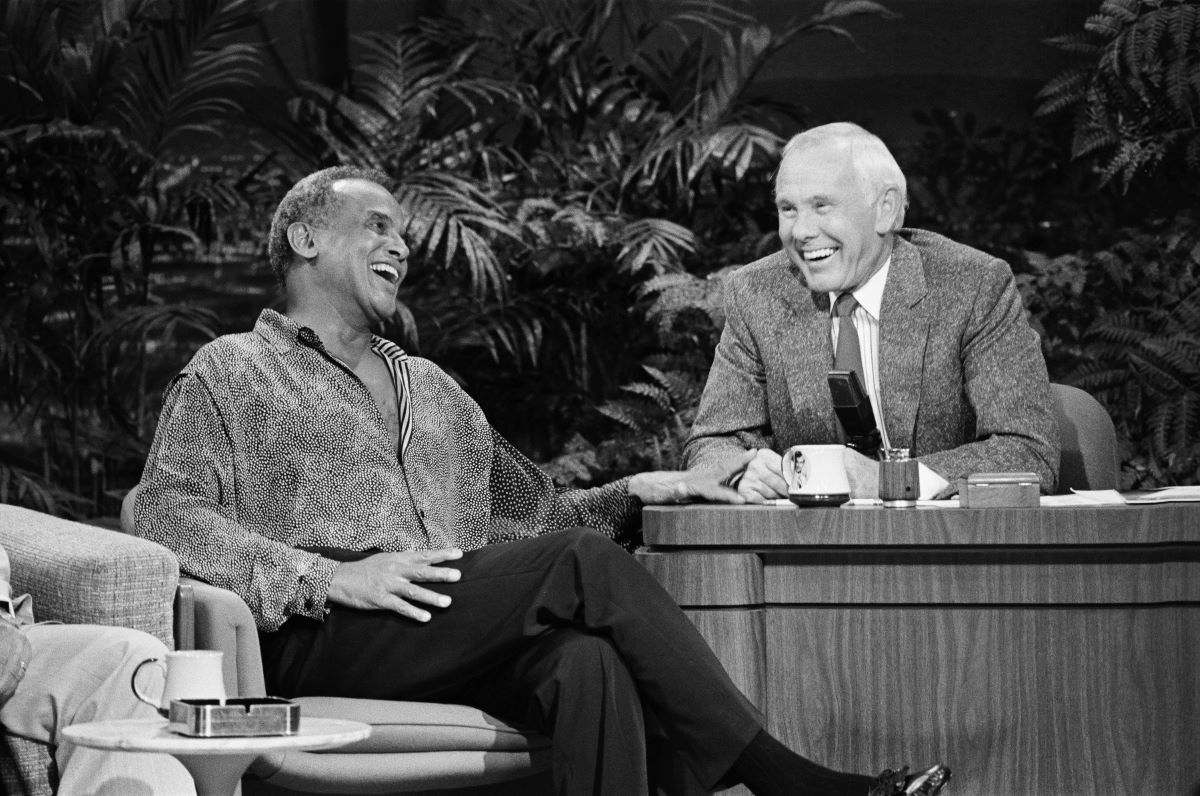 Johnny Carson handed over 'The Tonight Show' desk to Harry Belafonte
A documentary available on Peacock titled The Sit-In: Harry Belafonte Hosts The Tonight Show details how Carson gave up his hosting spot for the first time in 1968. He was sympathetic to the message of civil rights activists but didn't feel he understood the movement subjectively. So, he invited the "Day-O" singer to take his place as host for a better spotlight on the important messages.
After some bad experiences working in television, Belafonte was initially hesitant to take Carson up on the opportunity. But he said the host personally put him at ease and gave him control of the guest list — with the network's final approval, of course.
Belafonte said Carson just wanted him to be himself and present the issues as they really were. So, he invited people he thought were great artists and great thinkers in the movement. The week included guests like Paul Newman, Aretha Franklin, and a ton of other famously talented activists.
As it unfortunately turns out, NBC recorded over episodes back then, so not much footage from that week remains. But parts of two interviews featuring later assassinated guests fortunately survived to make it to YouTube.
Harry Belafonte welcomed Dr. Martin Luther King Jr. and Robert F. Kennedy to 'The Tonight Show' in February 1968
During his week hosting The Tonight Show, Belafonte interviewed Martin Luther King Jr. months before King's murder.
"Well, I'm delighted to be here, Harry," King told Belafonte as they started to chat. "And I'll tell you one of the reasons I'm so happy to be here. I flew out of Washington this afternoon and as soon as we started out, they notified us that the plane had mechanical difficulties."
King then explained he was always happier to land after experiencing such troubles in the air. He said, "I don't want to give the impression that as a Baptist preacher I don't have faith in God in the air. It's simply that I've had more experience with him on the ground."
But the talk turned serious from there. On top of speaking about the civil rights movement, King denounced the Vietnam War. With knowledge that King had received many death threats due to his activism, Belafonte forebodingly asked him, "Do you fear for your life?"
"I'm more concerned about doing something for humanity," King replied.
Belafonte also interviewed Robert F. Kennedy and hoped he might announce his presidential run. Kennedy was an ally to the civil rights movement and took the opportunity to solidify that stance on the show. However, he did not announce his presidential run until a later date.
Martin Luther King Jr. and Robert F. Kennedy died later in 1968
After Belafonte's week as host of The Tonight Show ended, it became much more than a late-night TV sit-in. While Carson and Belafonte were seemingly aware of the history they were making, the full impact of the moment wasn't felt until months later.
A gunman assassinated King on April 4, 1968, a day after he gave his famous "I've Been to the Mountaintop" speech. Then, on June 5, 1968, Kennedy met the same fate after winning the California presidential primary.