Johnny Carson and Joan Rivers: Inside Their Love/Hate Relationship That Included a Rumored 'One-Night Bounce'
TV legends Johnny Carson and Joan Rivers had a famous feud that lasted nearly 20 years before he died in 2005. And after he was gone, Rivers called him names but also claimed the two had a "one-night bounce" prior to their professional bust-up. So, what else did she have to say?
Legendary television icons Johnny Carson and Joan Rivers had a famous falling out in the '80s. While a few details made their way out, Carson was notoriously private and didn't speak publicly about his personal relationship with Rivers. However, by most accounts, the two never reconnected prior to his death.
Rivers, on the other hand, had much to say about Carson — particularly after he died. From calling him names to insisting they'd once had a "one-night bounce," she made it seem like their relationship was a bit of a rollercoaster.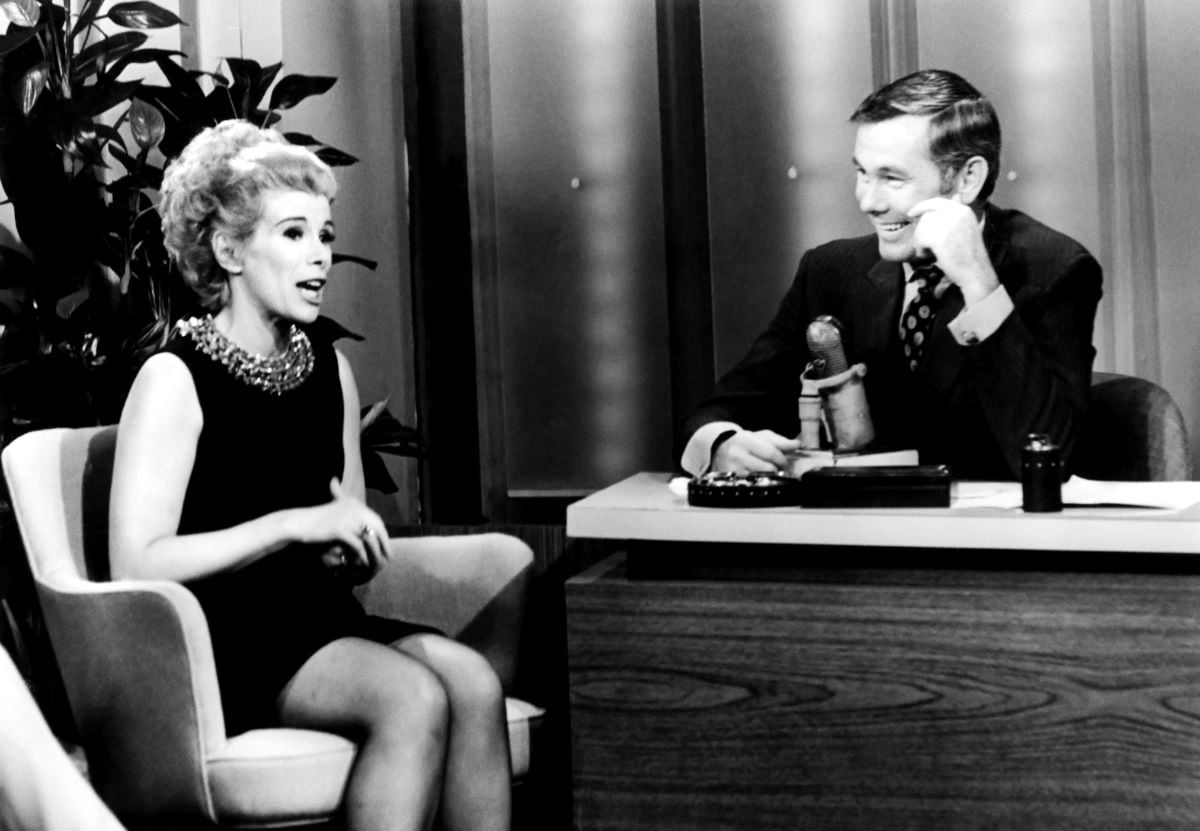 Joan Rivers first appearance on 'The Tonight Show' began her professional relationship with Johnny Carson
According to Biography, Rivers made her first appearance on The Tonight Show Starring Johnny Carson on February 17, 1965. During that visit, Carson invited her to sit next to him — a coveted spot — and she quickly won the iconic host over. Though he was rumored to be hard to personally impress, he said on-air that he thought Rivers was going to be a star.
She later said she knew her life was going to be different in that moment and it almost immediately was. Following the appearance, she started landing more prominent gigs and appearances. Eventually, she was hired as a writer for The Tonight Show. 
All in all, Rivers made nearly 100 appearances with Carson. And when Rivers launched a short-lived daytime talk show in 1968, Carson was the first big-name guest to join her. Soon enough, she was a substitute host when Carson was away from The Tonight Show on vacation. While she shared the position with several other comedians, she was the primary guest host by 1983.
According to Rivers, she received several offers to host her own show but her loyalty to Carson — who she saw as a mentor — kept her in place. However, by the mid-1980s, her relationship with NBC executives was breaking down as she wanted to be treated like her own star. They hadn't offered her a long-term deal to keep her.
Then, when NBC was concerned that Carson might retire, someone prepared a list of possible permanent replacements without Rivers on it. When the press received and printed that list, it seems like that was the final straw for her.
Johnny Carson stopped speaking to Joan Rivers for almost 20 years before he died
Biography notes that Carson was less-than pleased when he learned of Rivers' plans to leave NBC and The Tonight Show for a $10 million deal with Fox. According to Carson, Rivers never personally reached out to him to tell him about her decision. He supposedly told those close to him that he felt betrayed.
But Rivers said she repeatedly called him to explain. According to her he hung up on her before he'd given her the chance to talk. She later blamed his reaction on misogyny, saying Carson treated her as if he owned her.
Biography quotes Rivers: "I think [Carson] really felt because I was a woman that I just was his. That I wouldn't leave him. I know this sounds very warped. But I don't understand otherwise what was going on. For years, I thought that maybe he liked me better than the others. But I think it was a question of, 'I found you, and you're my property.' He didn't like that as a woman, I went up against him."
Notably, Rivers was not invited back to The Tonight Show until 2014 after Jimmy Fallon had taken over the hosting spot.
Joan Rivers claimed she and Johnny Carson had a sexual relationship
Following his 2005 death, Rivers called Carson a "bastard" and a "nasty man," according to HuffPost. But she later claimed to TMZ that she shared at least one romantic night with the usually married late-night host. And SheKnows reports Rivers claimed she and Carson would have called it a "one-night bounce" while talking to fans about his rumored endowment.
On Sept. 4, 2014, Rivers died during a minor elective throat procedure. In the 2016 book Last Girl Before Freeway: The Life, Loves, Losses, and Liberation of Joan Rivers, Leslie Bennetts says Rivers claimed to have slept with many high-profile men — from Carson to John F. Kennedy.
In the end, whether or not the two actually shared a "one-night bounce" or anything else of the sort, their feud is one that has intrigued fans for years following both stars' deaths.