How Did Johnny Carson's Son Die?
Before Jay Leno and Jimmy Fallon hit the late-night talk show circuit on NBC, there was one man that reigned supreme. Johnny Carson was the original king of late-night comedy. He hosted the long-running The Tonight Show from 1962 until 1992. For three decades, he entertained audiences with his celebrity interviews, infamous skits, and uncontrollable laughter. Despite bringing joy to millions of nightly viewers, the comedian had to face his own hardships after the tragic loss of his 39-year-old son.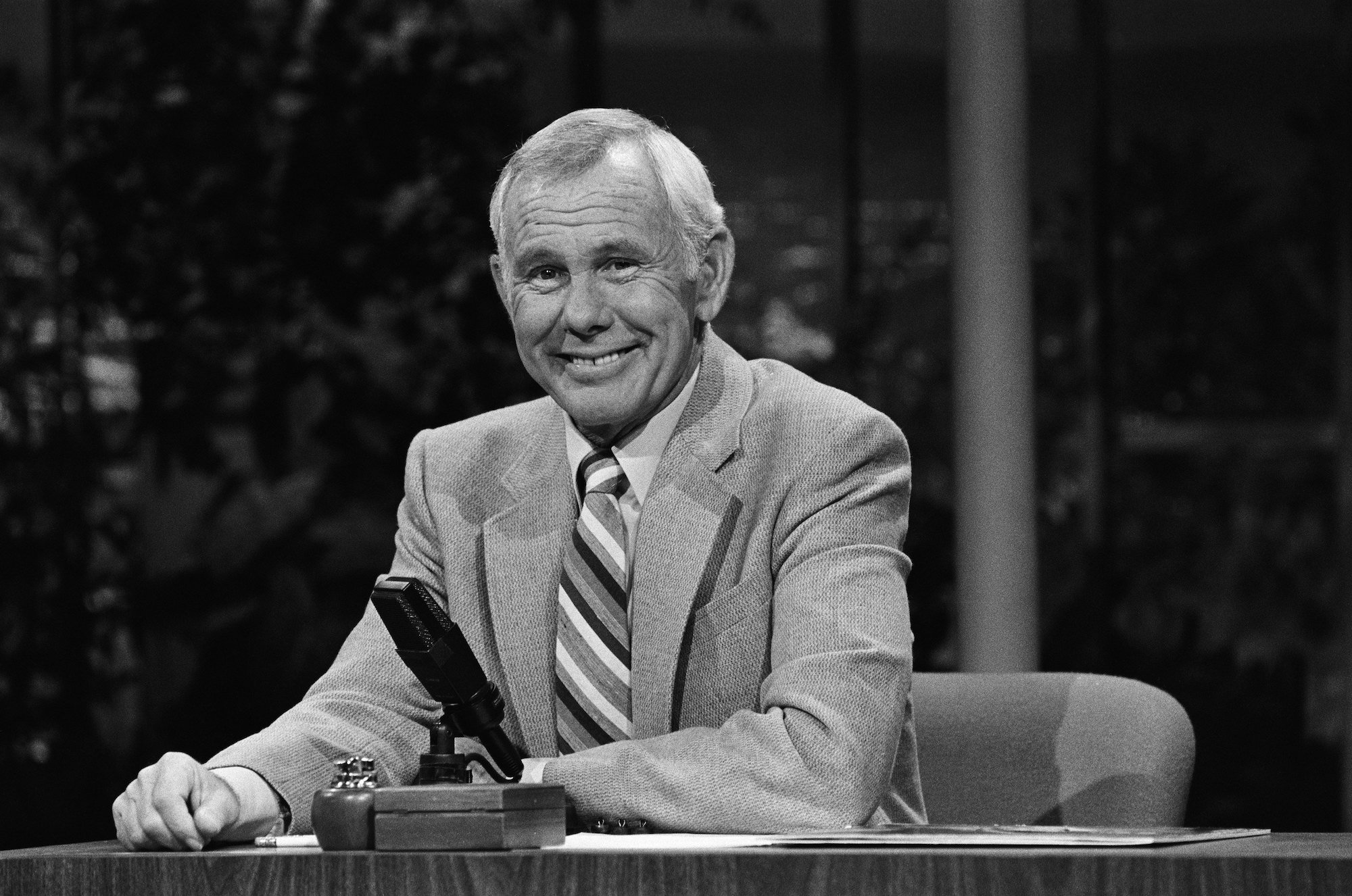 The king of late night
Winner of six Emmy Awards, Carson was known for his quick wit, charismatic charm, and good-natured personality. Audiences around the country loyally tuned in every night to forget about the daily grind. He entertained viewers into the early morning hours, helping them unwind after a long day. Year after year, the talented host interviewed some of America's greatest entertainers.
He had his finger on the pulse of pop culture and took his audiences along for a wild ride. Carson loved doing impersonations of presidents, movie stars, and other distinguished personalities. One of Carson's most memorable recurring characters was Carnac the Magnificent. The long-running host would don a colorful cape and large turban and pretend to be a psychic who had the answers to all kinds of questions.
How old was Johnny Carson when he died?
Carson led a complicated life behind the cameras. In 1948, the comedian married his first wife, Jody Wolcott, according to Biography. The couple shared three sons. They divorced in 1963, a year after Carson became a successful late-night host. Several months after the divorce was finalized, he married again, this time to Joanne Copeland. They divorced in 1972, and after an ugly court battle, Copeland received a court-ordered settlement of $500,000 and annual alimony payments. Carson married his third wife, Joanna Holland, a few months later, and their union also ended in divorce in 1983. 
Clearly, a hard man to live with, Carson married for the fourth and final time in 1987 to Alexis Maas. The couple stayed together until he died in 2005. An avid tennis player, Carson lived for more than 30 years on a palatial oceanfront estate in Malibu, California, that had a custom-built tennis court. It was in that home that Carson had a life-threatening heart attack at the age of 74. He survived after undergoing quadruple-bypass surgery. The late-night legend died on January 23, 2005, from complications of emphysema and respiratory failure. He was 79.
How did Johnny Carson's son die?
In 1991, Carson's son Richard died in a tragic car accident. The AP reported that he became distracted while taking photographs. The vehicle went off the road and plunged more than 100 feet down an embankment, landing on its top. The 39-year-old son of the late-night host was thrown from his vehicle. He died instantly at the scene of the crash. An officer from the California Highway Patrol said, "It appears his attention was just diverted. He wasn't traveling at a high rate of speed or carelessly." The late-night host was on his way to England for the Wimbledon tennis championships when he learned off his son's untimely death.
Fabiosa reported that "Carson was an incredibly private person, so it was tough for him to share such a tremendous pain with the entire world." Delivering his son's eulogy, Carson said, "Probably the most difficult moment of my life. It makes you very conscious of what's important when you lose a child." Carson buried himself in work after his son's death and one year later decided to end his reign as the late-night king. Carson signed off The Tonight Show for the final time in 1992. According to Entertainment Weekly, more than 50 million viewers tuned in for Carson's final show. His last words to the television viewing audience were: "I bid you a very heartfelt goodnight."