Johnny Depp vs. Amber Heard Trial: A Sociologist Explains Why Many Women Support Depp
The Johnny Depp-Amber Heard defamation trial has caused a media sensation, and not just because it's so easy to stream the courtroom proceedings. The trial's focus remains on Depp and Heard, but several of their celebrity friends have been caught in the middle of the back-and-forth. The deliberating jury will ultimately decide the case, but the court of public opinion is something else entirely. Depp and Heard both have supporters, but he appears to have more, including many women. A sociologist explained why many women support Depp over Heard.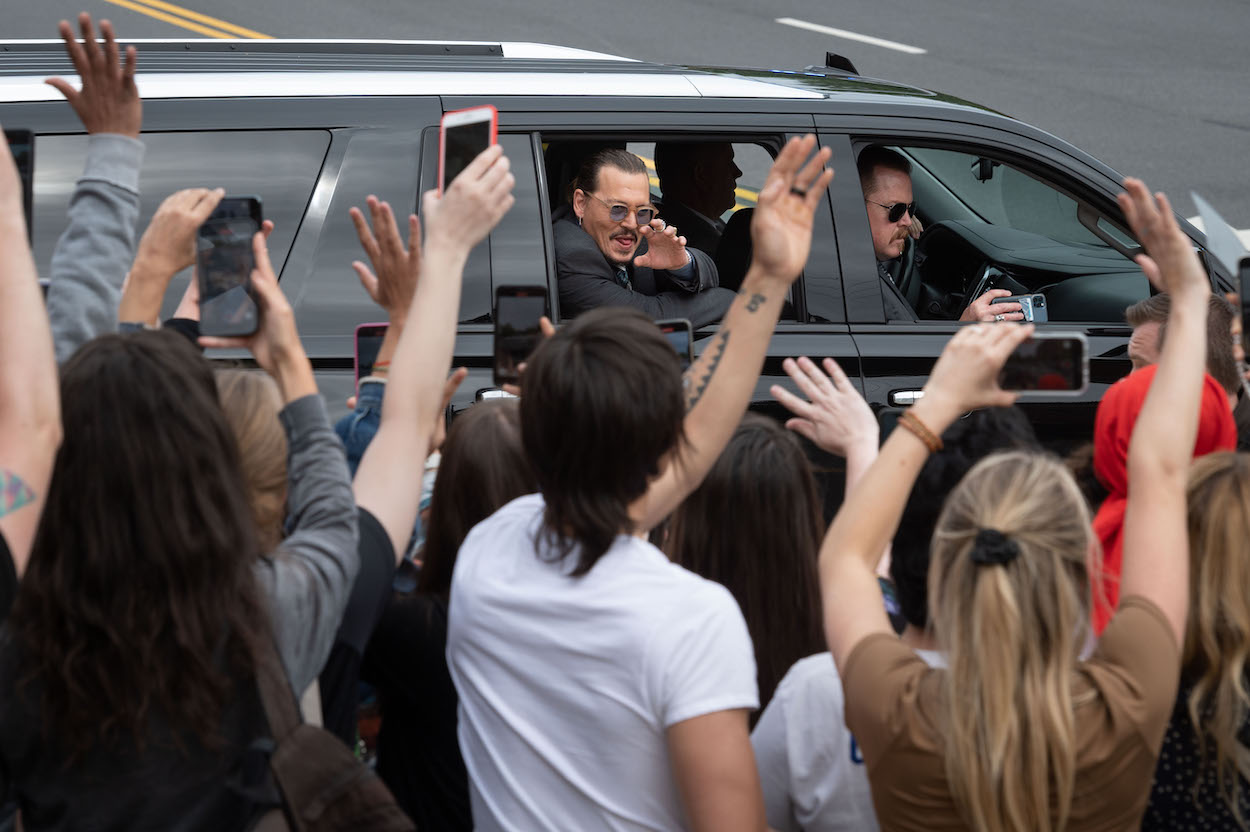 Johnny Depp and Amber Heard both have vocal supporters
Fans flocked to the Fairfax, Virginia, courthouse to support Depp and Heard during the trial, but those weren't the actors' only backers.
Angela Deem from 90 Day Fiancé made a Tik Tok video parodying the early Depp movie Cry Baby. Comedian Bill Burr called for Depp to receive a public apology should the jury rule in his favor.
Heard supporters point to the vicious online attacks against the actor for why they are coming to her defense. Still, Depp supporters, including many women, seem to outnumber Heard backers. A sociologist explained why that might be the case.
A sociologist explains why many women may support Depp
At the core of the Depp-Heard trial are Heard stating she was a public face of domestic abuse. Depp claimed he lost work because of the implication he was the abuser. It seems like women should overwhelmingly stand with Heard, but Nicole Bedera describes why women support Depp instead.
Bedera, a University of Michigan sociologist focusing on sexual violence, writes that the complexity and range of types of abuse can make it hard for one survivor to identify with another.
"[S]urvivors are experts in their experiences, but they are not necessarily experts in all experiences of gender-based violence," Bedera writes in Harper's Bazaar. "Still, many survivors see their own experiences as universal and rank the credibility of other [survivors'] stories based on how similar they are to their own."
Additionally, the persistent threat of sexual violence can lead some women to distance themselves from a survivor, Bedera writes.
"In rape trials, women jurors invoke the just-world hypothesis because they are overwhelmed by the ubiquity and unpredictability of sexual violence. It is terrifying to empathize with the survivor because it requires women to confront the possibility that they could be the next victim. Instead, women look for reasons to believe they are different from the survivor as a way to calm their fears and convince themselves that they are safe as long as they make 'better choices.' As part of this process, they may also focus their attention on empathizing with the perpetrator, which is less psychologically distressing than reckoning with violence. It is counterintuitive, but it can feel like an act of self-preservation in the moment. When problems feel too big for us to control, we often turn to denial to cope."

Nicole Bedera
The Depp-Heard trial is about defamation, but women may distance themselves from Heard as a way to subconsciously distance themselves from having to think about abuse.
Depp-Heard jurors will decide the trial, but perceptions of domestic violence won't change because of the outcome
The trial verdict won't repair the damage done to Depp's and Heard's career and reputation. Heard and Depp acting comebacks might not be automatic no matter what the jury decides. Whoever triumphs in court, survivors of abuse who are likely to lose.
Heard told her story in court, and she faced doubt and backlash from vocal Depp supporters. She gave away some of her treasured privacy, and she was mocked as she did so.
Ruth M. Glenn is the president and CEO of the National Coalition Against Domestic Violence. She believes the negative comments directed at Heard makes survivors of abuse less likely to come forward, per NBC.
And as Bedera wrote for Harper's Bazaar, women are likely to continue to doubt other women who speak about their abuse. We're seeing it now as many women support Depp.
The courtroom outcome doesn't matter — survivors of domestic violence and abuse seem destined to face doubt and criticism.
How to get help: In the U.S., call the RAINN National Sexual Assault Telephone Hotline at 1-800-656-4673 to connect with a trained staff member from a sexual assault service provider in your area.
How to get help: In the U.S., call the National Domestic Violence Hotline at 1-800-799-7233 or text START to 88788.
RELATED: How Many Movies Did Johnny Depp and Amber Heard Make Together Before Their Divorce and Trial?