Johnny Depp Calls Angelina Jolie a 'Walking Poem'
Johnny Depp has nothing but lovely things to say about Angelina Jolie. Although the actors have never dated, Depp is quite poetic when it comes to describing the actress. According to the Pirates of the Caribbean actor, Jolie is like "a walking poem." He continues to gush about his The Tourist co-star, and she, in turn, has nothing but kind things to say about Depp. Find out what the actors had to say about each other below.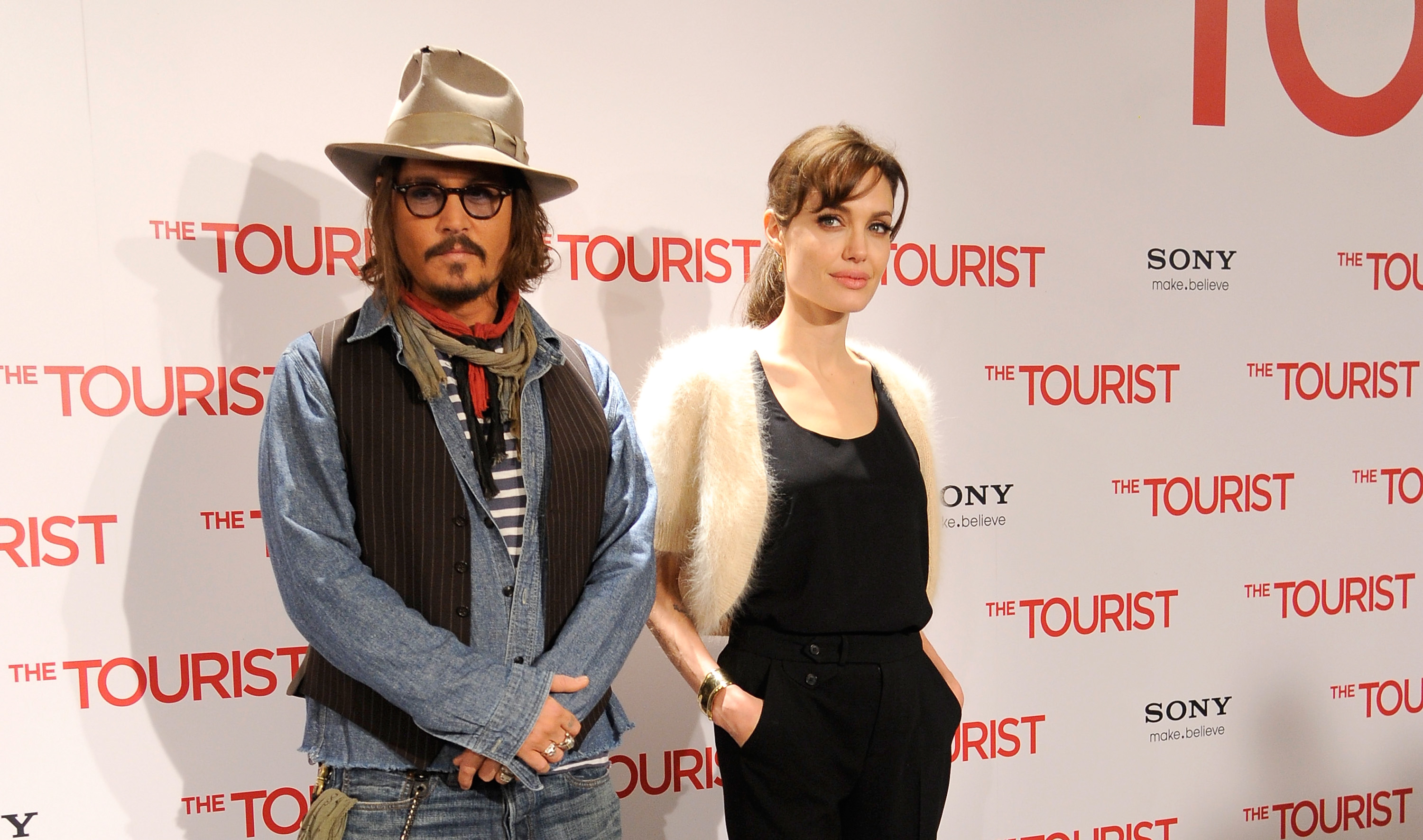 Johnny Depp and Angelina Jolie star in 'The Tourist'
While Depp and Jolie are both seasoned A-list celebrities, neither had crossed paths until The Tourist. In the 2010 film, Depp and Jolie play lovers in Venice. Although the film was met with bad reviews, receiving a 20% rating on Rotten Tomatoes, a friendship was able to bloom between Depp and Jolie on set.
Yet the way Depp describes the actress isn't exactly what you'd call platonic. In an interview, while promoting the film, Depp said meeting Jolie was a "breathless moment." He drops his jaw to indicate how mesmerized he felt when first seeing her. 
Luckily, the two were able to get along swimmingly on set because of the fact that they share so much in common. And according to Depp, there was an "innate chemistry" between the two of them.
Johnny Depp calls Angelina Jolie an 'enchantress' and a 'walking poem'
Depp always knows how to make the public swoon! According to the actor, the Girl, Interrupted star is a "walking poem."  
"She's kind of a walking poem, Angelina," gushes Depp. "You know, she's this perfect beauty." He goes on to say, "But at the same time, very deep, very smart, very quick, very clever, and very funny. She also has a very perverse sense of humor. Yeah, she's great fun."
He continues to call her an "enchantress," saying Jolie is "an unbelievably beautiful, cultured vixen." 
Jolie, in turn, says Depp is "a great guy, a brilliant artist, and a very generous actor."
Angelina Jolie was a big fan of Johnny Depp before they met
Although the actors hadn't been properly introduced before The Tourist, they had a lot of respect for each other as actors. Jolie was especially smitten on Depp, considering her love of the film Edward Scissorhands. 
In Angelina: An Unauthorized Biography, the book details how much the movie inspired Jolie as a teenager. The Tim Burton film, which stars Depp, tells the story of a man with scissors for hands. Since Jolie has an obsession with sharp objects and knives, it's no wonder she was so drawn to the character. 
A passage from the unauthorized biography reads,
"At the same time, Angie dressed like a punk and identified with outsiders like the hero of Edward Scissorhands, the cult movie released in December 1990 that was a must-see for every goth worth her black mascara. Angie was smitten with actor Johnny Depp, who played Edward, an isolated figure with scissors for hands who lives in an attic and falls for the teenage daughter of a suburban family. The movie's themes of alienation and self-discovery spoke to the angst-ridden Angie."