Johnny Depp's Gift Inspired a Paul McCartney Grammy-Winning Song
Johnny Depp's unique gift to Pul McCartney inspired the former Beatle to write a Grammy-winning song with the surviving members of Nirvana.
For an actor, Johnny Depp sure hangs with a lot of musicians. He played guitar on an Oasis album, formed in two supergroups, and collaborated with Tom Petty. So it's not shocking that he rubbed shoulders with legendary Beatle Paul McCartney. Long before we knew about the Hicksville trailer and his missing fingertip, Depp's unique gift inspired McCartney to write a Grammy-winning song. Now, Sir Paul seems to be showing support for Depp in his defamation trial against ex-wife Amber Heard.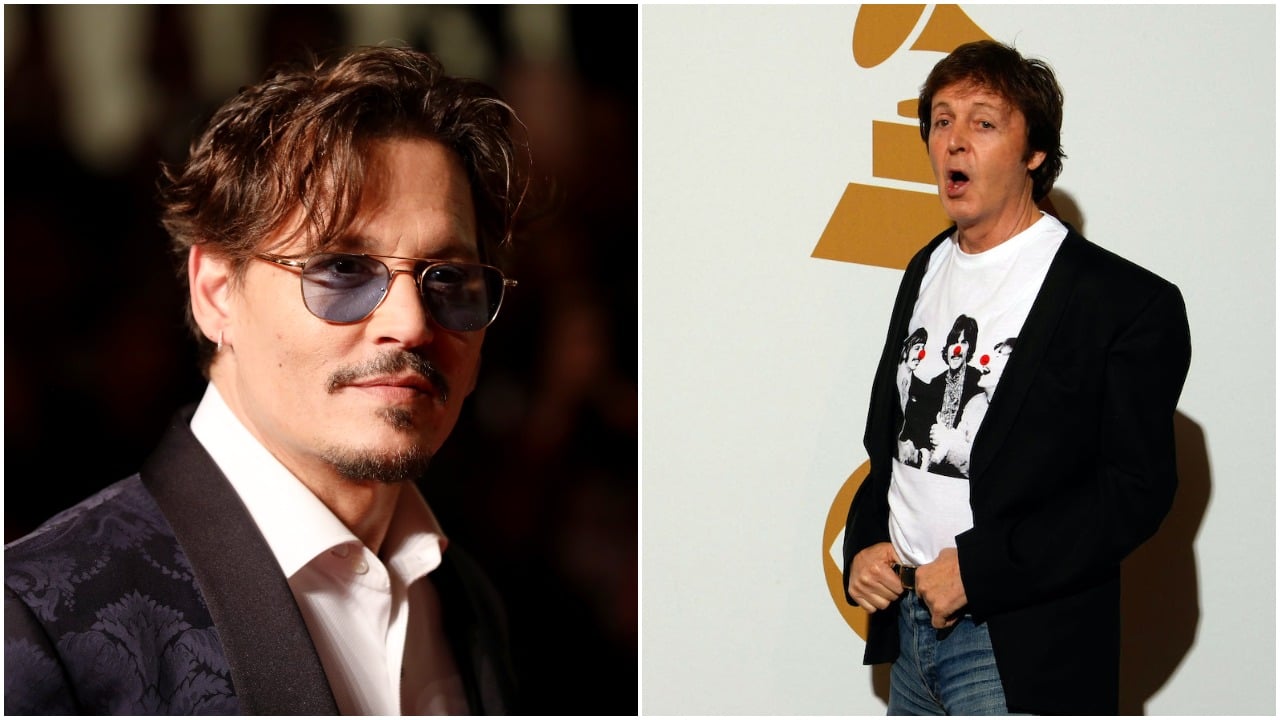 Paul McCartney: "I blame Johnny Depp" for inspiring Grammy-winning song with a unique gift
After decades of writing hit music — first with The Beatles, then Wings, and on his own, McCartney probably knows how to inspire himself. But Depp inspired McCartney with a unique gift — a short-necked cigar box guitar. So of course McCartney had to go out immediately and write a Grammy-winning hit.
McCartney teamed with the surviving members of Nirvana — Dave Grohl, Krist Novoselic, and Pat Smear — to record "Cut Me Some Slack." The quartet won for best rock performance at the 2013 Grammys for a song that only took a few hours to complete.
"I blame Johnny Depp because he had just given me this little cigar box guitar that I was [wildly] excited to play," McCartney said at the time, per Parade. "We only had three or four hours. It was an excuse for my wife and daughter to go over to their family's and play with the kids. We sneaked out. We made the song really quickly."

Paul McCartney
Depp's unique gift for McCartney triggered the itch to write "Cut Me Some Slack," and it ended up being a Nirvana reunion that led to a Grammy win for the quartet. 
McCartney shows support for Depp during defamation trial
There was Depp's guitar gift to McCartney. And Depp appearing in the videos for McCartney songs "My Valentine," "Early Days," and "Queenie Eye." And McCartney showing up as Jack Sparrow's uncle in Pirates of the Caribbean: Dead Men Tell No Tales.
Depp and McCartney have a strong relationship, which manifested in Macca seeming to show support for the Chocolat actor during a concert.
As McCartney played the piano, video of Depp strumming a guitar played on a giant screen behind him, as Yahoo reports. Yet, the publication also noted McCartney has used footage of Depp during past concerts. Whether or not McCartney vocally supports Depp in his defamation trial, the legal drama doesn't seem to be affecting their friendship.
Depp dreamt of being a musician before turning to acting
Depp's musical talent has never been a secret. He still gets to hang and jam with famous artists (and hand out unique gifts to all-time legends), but he might have had a career in music if not for Nicolas Cage and Depp's first wife.
He arrived in Los Angeles hoping to score a recording contract with his band, The Kids, but Depp's music career didn't pan out as he hoped.
His first wife, Lori Anne Allison, and Cage, her friend, encouraged Depp to focus on acting, and it didn't take long for success to follow. He landed a part in Nightmare on Elm Street in 1984, starred in 21 Jump Street starting in 1987, and by 1990, he had a starring role in Edward Scissorhands. 
Depp's music career might be more of a hobby now, but his acting fame allowed him to mix with some of the most famous musicians of all time. Eventually, that led to Depp giving a unique gift to Paul McCartney, which in turn led to one of Sir Paul's many Grammy wins.