Johnny Depp Testified He Wanted a 'Peaceful, Private' Divorce From Amber Heard
Johnny Depp testified in court about seeking a divorce from Amber Heard and how he hoped they could put a "peaceful stop" to their constant fights.
In court testimony, Johnny Depp spoke at length about the end of his marriage to Amber Heard and claimed he eventually sought a divorce for his well-being.
He wanted a "peaceful, private" resolution to years of constant arguments, according to his testimony. He claimed their union caused physical ailments and even prevented him from detoxing. And in the end, he plainly stated he was a victim of domestic violence.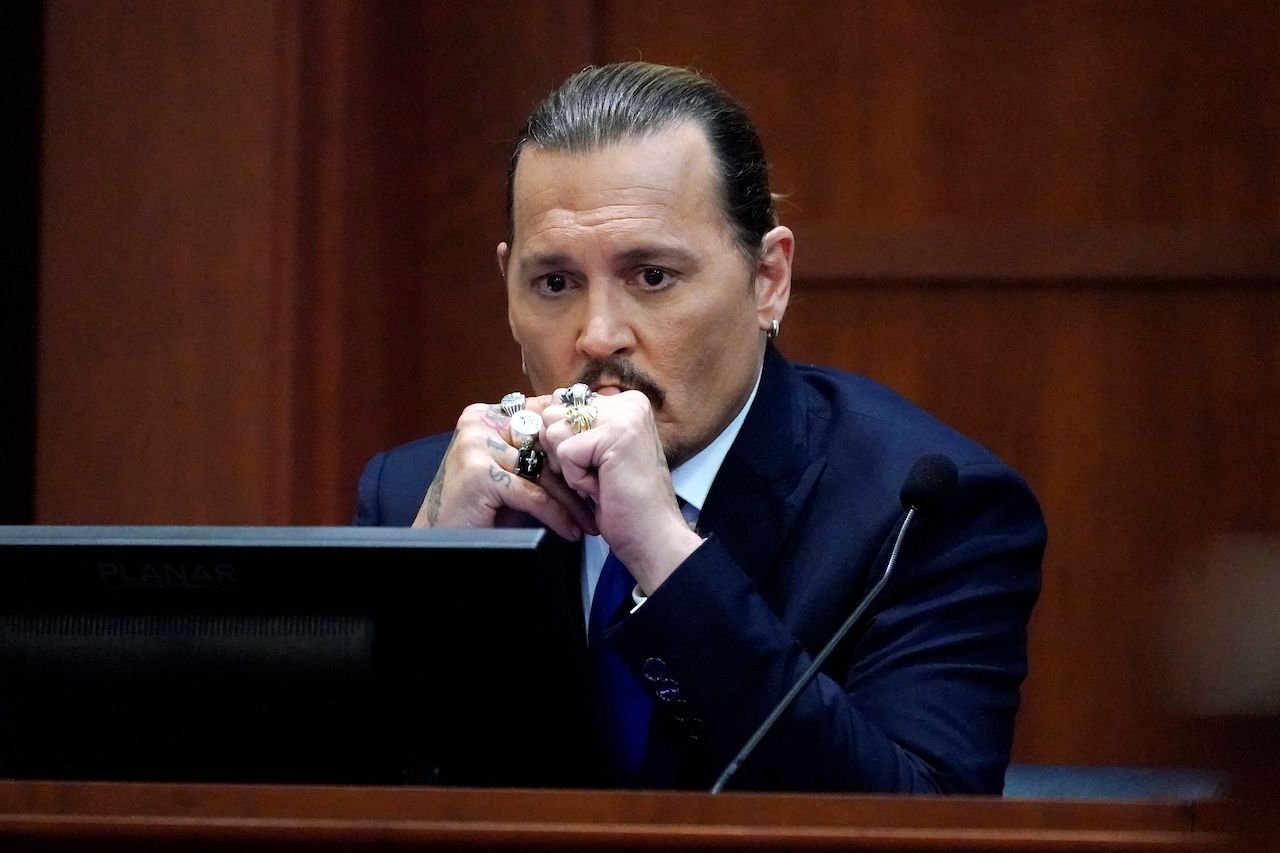 Johnny Depp said fights with Amber Heard made him 'physically ill' leading up to divorce
In Depp's testimony, he claimed his fights with Heard sometimes caused him to vomit and made him, in his words, physically ill. He alleged living with the Aquaman star in a deteriorated state of marriage made it hard to detox from opiates. But he said trying to get away from the fights would often make things worse.
His legal team played tapes of multiple encounters with Heard where Depp plainly stated he wanted to leave. Meanwhile, she seemingly became irritated by his attempts and pleaded with him to stay. In testimony broadcast by Law & Crime Network, he told her he wanted to be away from her during one heated conversation and said, "You're a pain in the a**, and I can't stand it no more."
Depp said he knew he needed to end the marriage when he eventually realized, "If you don't stop it yourself, it will stop you."
Johnny Depp said 'no one deserves' to live the way he and Amber Heard were before their divorce
Depp's testimony implied he was trying to end the relationship because Heard was easily agitated, gave him rules to follow, and became violent at times when they disagreed.
He accused her of severing the tip of his finger by throwing a bottle at him. Furthermore, he said she threw a can of mineral spirits at him, striking him around the bridge of his nose and his forehead.
Depp told the court he was trying to find a way out for both of them. In one text message to Heard, he referred to giving her a call and having a conversation that he hoped would leave her with a "sense of ease."
When asked, he explained he meant he wanted to put a "peaceful stop" to the "constant arguments" and hoped for a "peaceful, private" divorce. Allegedly, he tried to explain to Heard that neither of them was happy. He expressed a desire for their marriage to work but emphasized that "no one deserves to live like that."
But Depp seemingly had a hard time getting Heard to let him go. During one stressed conversation played in court, Depp tried to "walk away" from Heard. She told him, "You're making it worse for me. You're causing me immense stress when you walk away like that."
Johnny Depp claimed to be a victim of domestic violence
Eventually, a tape played of Depp and Heard discussing her accusations of domestic violence. On the recording, Heard said she went public with her claims after Depp's team went "on the offense."
Depp suggested they write a letter together. He wanted them to state their love for each other and their desire to work through their problems privately. He repeatedly told her she should retract her accusations against him but she worried about her reputation. "Every ounce of credibility has been taken from me," she told him.
In another conversation, she asked him if he was willing to tell the world as a man that he was a victim of domestic violence. His counsel had him repeat his answer for the court, which was simply, "Yes, I am."
How to get help: In the U.S., contact the Substance Abuse and Mental Health Services Administration helpline at 1-800-662-4357.
How to get help: In the U.S., call the National Domestic Violence Hotline at 1-800-799-7233 or text START to 88788.