Johnny Depp Trial Is a Wild Circus, Complete With Captain Jack Sparrow, Courtroom Insider Reveals [Exclusive]
Johnny Depp trial insider Danielle Dell'Olio offered exclusive insights into what it's like to get into court everyday – a feat that is becoming more and more difficult.
The Johnny Depp trial in Virginia began relatively quiet, surprisingly enough. Spectators who wanted to sit in court managed to gain entrance without an issue, but that has totally changed in recent days.
Since the first day of the Johnny Depp trial, courtroom observer and podcast host Danielle Danielle Dell'Olio would arrive outside the courthouse at a pre-dawn hour to line up for court. She made a few friends and saw familiar faces but something shifted in recent days.
Dell'Olio started filming the growing crowds, massive numbers of people leaning against the hard courthouse walls – which appeared to be more like people waiting for concert tickets than court. Crowd numbers continue to grow with each day and Dell'Olio is capturing it all.
The Johnny Depp trial attention is becoming massive
Dell'Olio describes the environment outside the courtroom as turning into a circus – she saw a spectator dressed as Depp's signature Pirates of the Caribbean character Captain Jack Sparrow strolling down the breezeway. Initially, she was surprised that the trial wasn't a circus considering the main players involved. But now, it's becoming a competitive sport to get into the courtroom.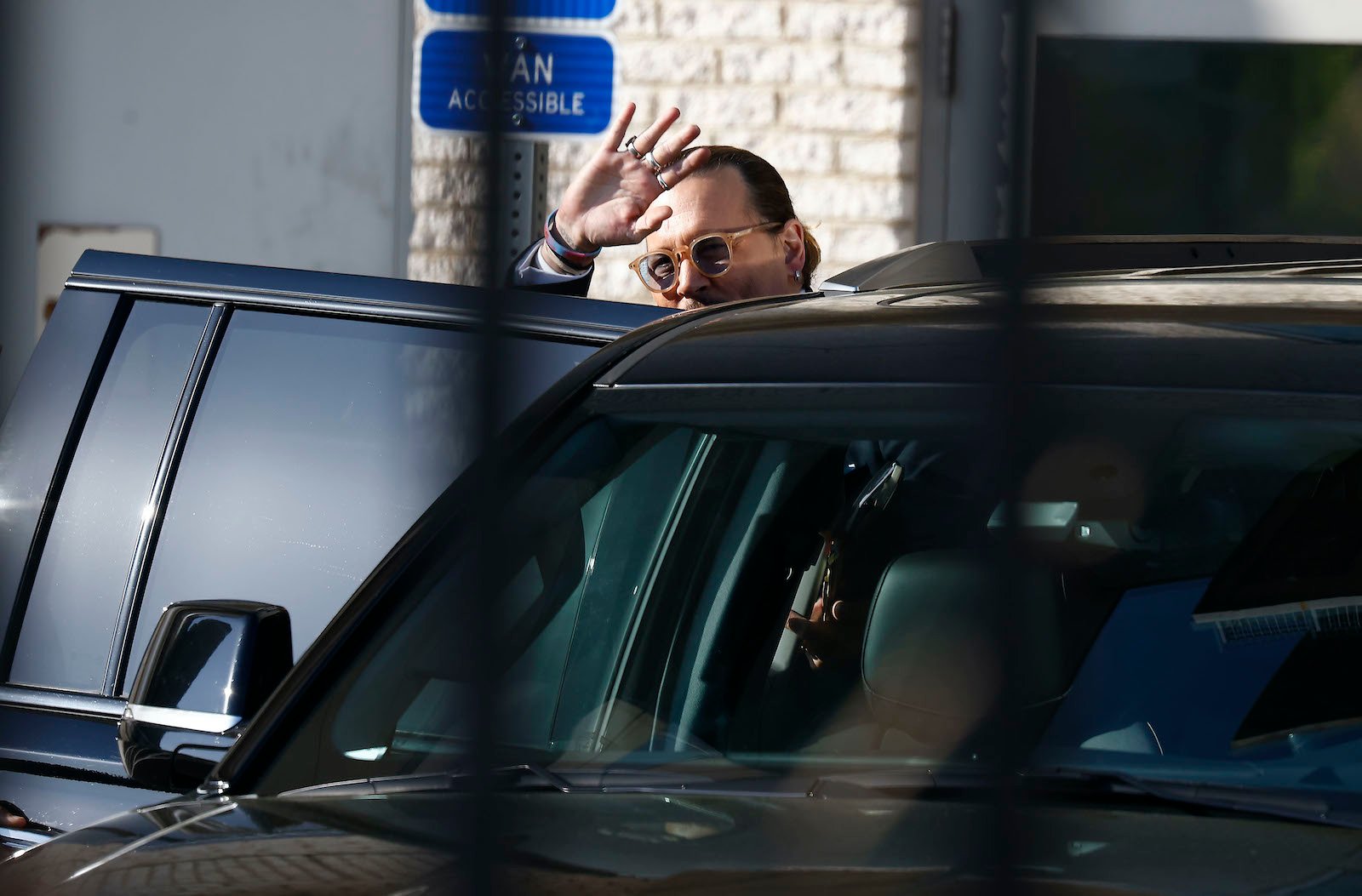 "So I've been averaging about two or three hours a night of sleep," she told Showbiz Cheat Sheet. "If I'm lucky four. And it is kind of like a cattle call. It got kind of crazy today. There was a Jack Sparrow impersonator there. I'd never seen anything like that until today." Because getting into court is so competitive, Dell'Olio wouldn't share when she would arrive at the courthouse to get in line.
"But usually, we just line up and start to get our wristbands around 7 [am] is when they start passing those out," she said. "And the first 100 people that are in line, they are who gets into the courtroom. There's 50 for the overflow room, which is where I was today. Every other day I've been in the courtroom, but today, no. And I will say about the overflow room, I hadn't been in it yet and that was actually super fun because in court you're not supposed to give any reaction at all. And the overflow room, they don't care. So it was kind of funny to hear the reactions of people as things were being dropped. And it was fun. It was a more fun experience."
Who is arriving at pre-dawn hours for the Johnny Depp trial?
The court isn't distinguishing between spectators and press, Dell'Olio said. So courtroom eyewitnesses are reporting the testimony in blogs, podcasts, and TikTok, like Dell'Olio. She currently has more than 1.1 million TikTok followers and provides daily Depp trial updates.
Dell'Olio has made a few friends in line, including a dedicated Depp superfan who arrives before anyone. "My favorite person in the world right now is Yvonne. She is Johnny Depp's number one fan," she dished. "She's there every morning. First one in line. You won't be able to beat that woman. She's there! I don't know how she keeps up with them. She's his age. She's wild. And he knows who she is. She's been to so many meet and greets and everything. So it's cool to see her there supporting him because she's been supporting him for years."
Some Johnny Depp trial spectators are domestic abuse survivors
Dell'Olio said many spectators are Justice for Johnny supporters, but also some are survivors of domestic abuse. "For the most part, I will say the people that I've been surrounding myself with have been the other Justice for Johnny Depp creators," she shared. "And they're mostly domestic violence survivors, including myself. So that's a case that we're super passionate about, especially since we're extremely hurt that Amber [Heard] has told so many lies."
"So it's something that has been really important to us, and we've just been really glad that after years of researching it, because I've been researching this case for over two years now, to be able to go in and visualize the people that we've been reading about. I mean, even his security guards, his sister. Today we heard from Amber's nurse. It's people you just have read about, you never saw a photo of or anything else and hear their side of the story of what happened between the two of them."
Depp is suing ex-wife Amber Heard for defamation after her op-ed in the Washington Post destroyed his reputation, his family's reputation and cost him millions in lost jobs. He's seeking $50 million in damages and the trial is ongoing.