Johnny Depp v. Amber Heard: Both Release Statements Following Her Startling Testimony
Following Amber Heard's graphic testimony about domestic violence, both she and Johnny Depp released public statements through their spokespeople.
In the $50 million Johnny Depp versus Amber Heard defamation trial, both Depp and Heard released statements through their spokespeople. They reiterated their claims of innocence and updated the public on how they think things are going. What did they each have to say about the trial so far?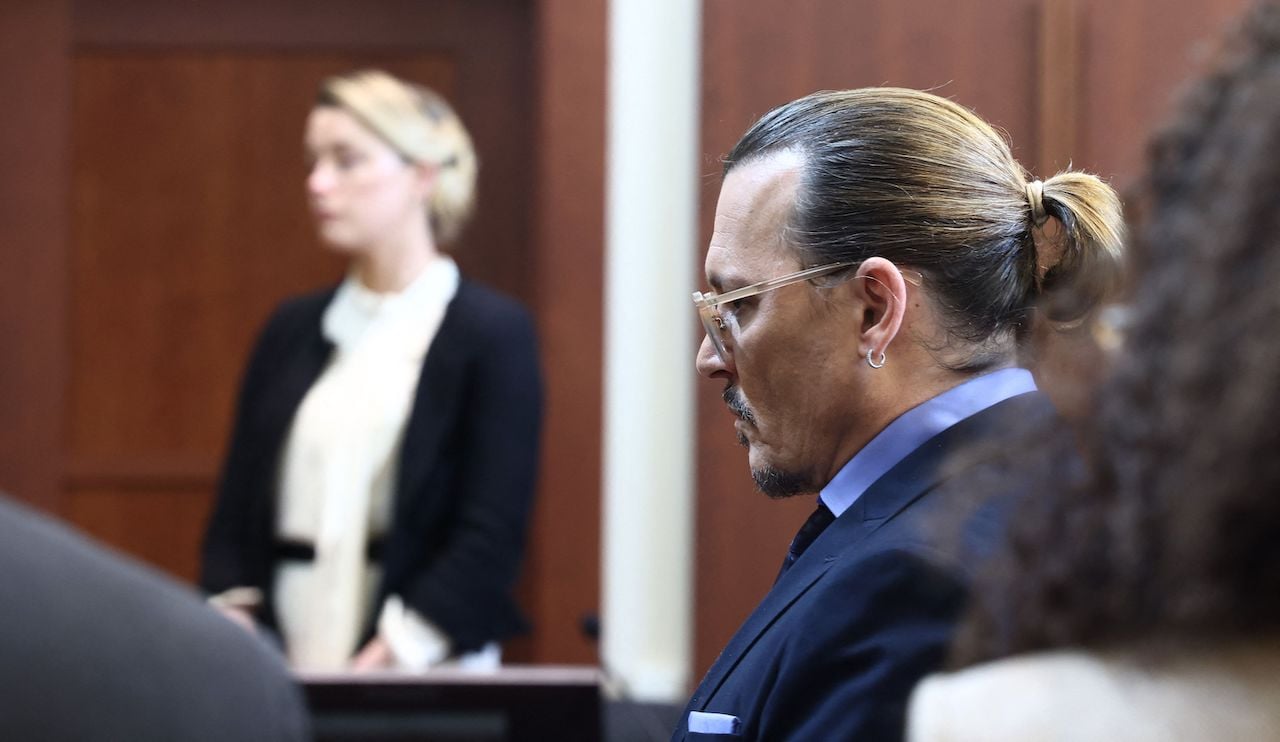 Amber Heard gave graphic testimony about alleged abuse at the hands of Johnny Depp before releasing her statement
During Heard's testimony in the defamation trial, she detailed how Depp allegedly verbally, physically, and sexually abused her. She said that occurred throughout the duration of their relationship. Specifically, she claimed he punched, kick, and shoved her, ripped out her hair, and assaulted her through forced sexual penetration with a liquor bottle.
Depp has strongly denied accusations of being a perpetrator of Heard's described acts of criminal domestic violence. On the contrary, he claimed he was the silent victim of abuse. He claimed in his testimony Heard severed part of his finger by throwing a bottle at him and left him bloody when she threw a can of mineral spirits that hit him in the head. Furthermore, he said she consistently instigated physical fights which resulted in her hitting or punching him.
Heard described in testimony what she said was the first time she hit Depp and claimed it was self-defense. She contended he was aggressive toward her sister, and they were at the top of some stairs. At that moment, she allegedly recalled how someone told her Depp shoved Kate Moss down the stairs.
Heard confessed she "swung at" Depp due in part to that story about Moss. Notably, Depp's legal team seemed to celebrate that claim.
Following Heard's testimony, both sides released statements to the public.
Johnny Depp's Amber Heard statement claimed she included 'new and convenient details' in testimony
A spokesperson for Depp released a statement shared by the Law&Crime network on Twitter. It addressed Heard's testimony and reiterated the Pirates of the Caribbean star's claim of innocence in regards to physical and sexual violence against her.
"As Mr. Depp's counsel correctly predicted in their opening statements last month, Ms. Heard did indeed deliver 'the performance of her life' in her direct examination," they wrote. They went on to say her "stories have continued to grow new and convenient details" while "Depp's recollections have remained exactly the same throughout the six painful years since her first allegations were made."
The statement concluded by sharing Depp's legal team will "certainly highlight the many fallacies Ms. Heard has now attempted to pass off as fact" on cross examination.
Amber Heard's Johnny Depp statement declared he lacks the 'fortitude or courage' to look at her in court
Law&Crime also took to Twitter when Heard's team released a statement. Her spokesperson suggested Depp "consider a new strategy rather than the recycled approach of attacking the victim and refusing to take responsibility for his own conduct."
"Small wonder Mr. Depp does not have the fortitude or courage to even look at Ms. Heard at all throughout the proceedings — as he could not in the U.K. trial — and instead he doodles and snickers," the statement went on.
They concluded by stating Depp's "behavior in this trial has been as pitiful as it was in their marriage" and accusing him of trying to "distract the jury and demonize the victim."
The trial is now on pause while the judge attends a previously scheduled conference. Depp and Heard are expected back in court when testimony resumes on May 16, 2022.
How to get help: In the U.S., call the RAINN National Sexual Assault Telephone Hotline at 1-800-656-4673 to connect with a trained staff member from a sexual assault service provider in your area.
How to get help: In the U.S., call the National Domestic Violence Hotline at 1-800-799-7233 or text START to 88788.