Johnny Depp Warned Warner Bros About Amber Heard After Helping Her Land 'Aquaman' Role
Part of the Johnny Depp and Amber Heard trial has revolved around Heard's role as Mera in Aquaman. Heard has claimed that her role in the series was damaged by the ongoing trial with her ex-husband Depp. Depp testified on Wednesday that he helped her get the role in Aquaman, but gave caution to Warner Bros. after their split. 
Johnny Depp says he helped Amber Heard land the role of Mera in 'Aquaman'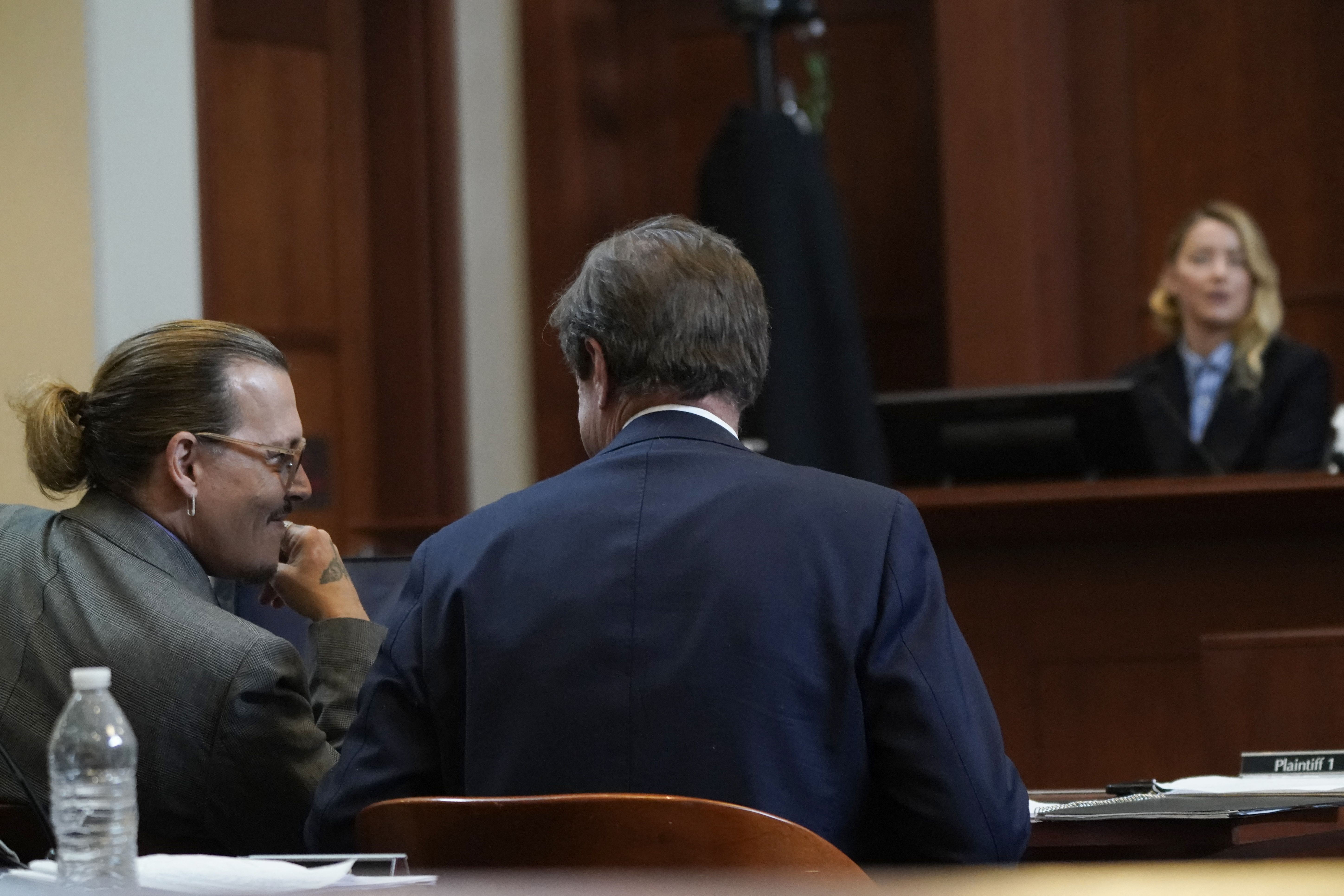 Depp took the stand on Wednesday and told the court that he helped Heard land her role in Aquaman. According to Entertainment Weekly, the 2018 DC film was shooting in Australia and Heard was concerned about shooting there due to past legal troubles. In 2016, she was "prosecuted for illegally bringing her dogs into the country." 
The charges were dropped but she still felt that Warner Bros. would have reservations about casting her. Depp said that he made phone calls to the studio to alleviate their concerns about her.
"She asked if I would — I had a multi-film deal with Warner Bros., so we'd been in business together, so I knew these people — speak to them," Depp said. "I made a phone call, and I spoke to three upper echelon Warner executives: Kevin Tsujihara, Sue Kroll, Greg Silverman."
Johnny Depp warned Warner Bros. about Amber Heard after they split up
On Wednesday, Heard's legal team argued that Depp tried to get Heard fired from her Aquaman role after they broke up. They presented to the court a June 4, 2016, text he sent to his sister, Christine Dombrowski, that read "I want her replaced on that WB film!!!" The text was sent shortly after Heard gained a restraining order on him.  
Depp said he sent the text because he felt guilty about helping her get the role and he wanted Warner Bros. to know what he said was the truth.
"Honestly, I felt responsible for having gone to those people and painted such a beautiful picture," Depp explained. "I felt it was my responsibility to get the truth to Warner Bros. about what they were going to be facing down the line, which was two franchises that would be causing problems for one another, especially as … any news, any press, any media that came out about me at that time had been turned into, you know, I was Charles Manson; I was the worst thing on earth and they just kept coming, it was like a nonstop fire."
"On one level, yes, it's just acting, it's just movies," Depp continued. "But it's business, and it's your word, and I had given my word to them, and I felt responsible that I had to tell them exactly what was going on and that it was going to end up ugly."
Depp also denied ever asking Tsujihara, Kroll, and Silverman to fire Heard from the role.
Heard denied that Depp helped her get the role
Previously in the trial, Amber Heard testified that Depp did not help her get the role in Aquaman. Depp's attorney, Camille Vasquez, suggested Depp got her the role to which the actor responded "No, Ms. Vasquez. I got myself that role by auditioning. That's how that works."
During Depp's testimony on Wednesday, he didn't confirm whether his call to Warner Bros. was the deciding factor for her getting the role.
"I can only say that ultimately, she did get the job in the film," Depp said. "I curbed their worries to some degree."
Heard is set to reprise the role of Mera in Aquaman and the Lost Kingdom, which arrives in theaters on March 17, 2023. 
RELATED: Amber Heard Explains Why Her Kiss With Johnny Depp During 'The Rum Diary' Felt 'More Real'